Berlin Living & Travel Guide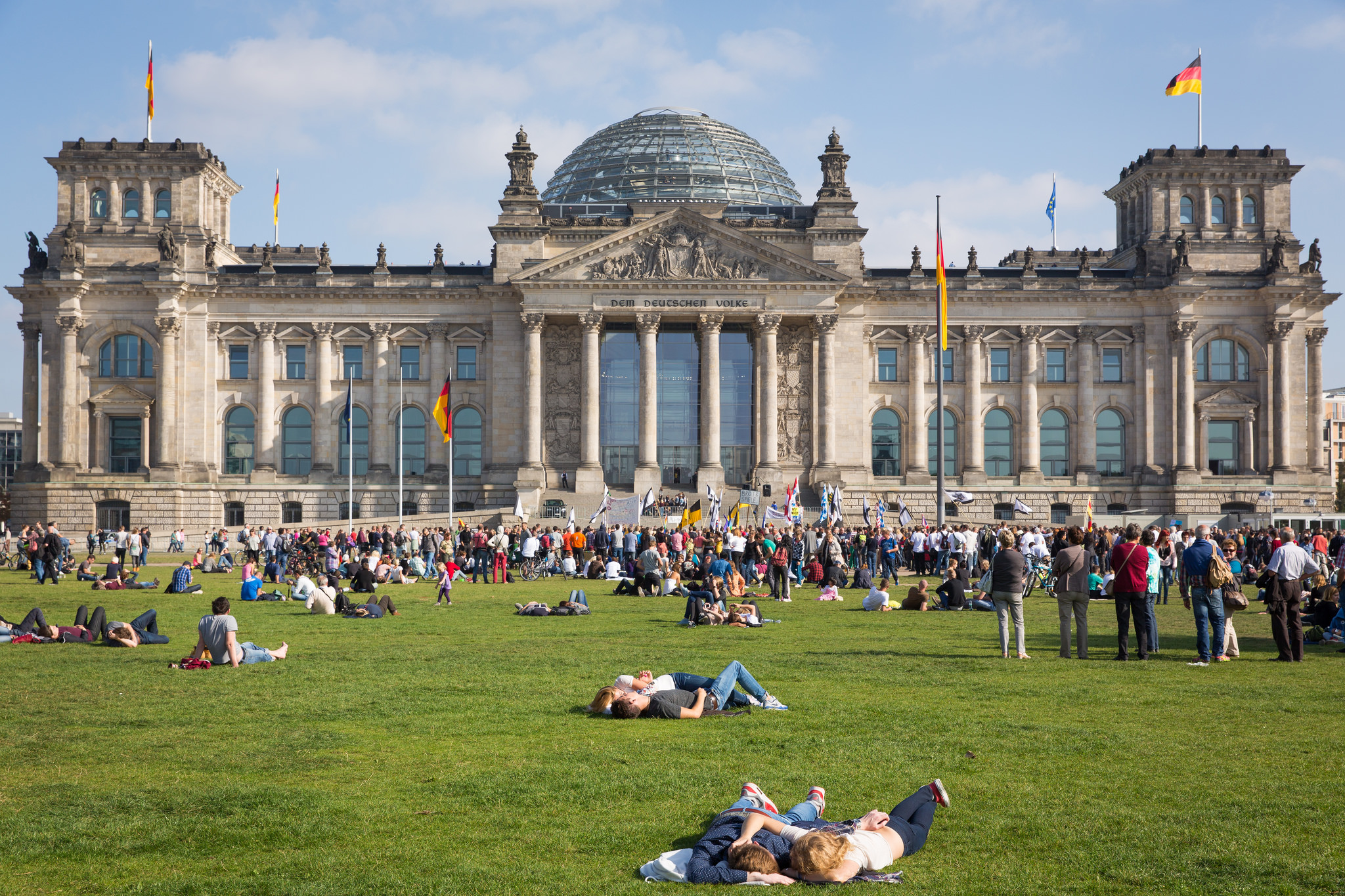 In this post, I will try to give all necessary tips about living in Berlin, and I will also provide an awesome travel guide for you to discover the city.
Accommodation & Transportation
If you are coming to Berlin as a tourist, accommodation won't cause any problem for you. There are many hotels or hostels in the Berlin. Unfortunately, I won't be able to give specific hostel/hotel names. I stayed at Pegasus Hostel Berlin (near to Berlin Ostbahnhof) during my first visit to Berlin as a tourist, and it was okay. I can say that staying in a hotel which is close to city center would be beneficial for you. For this purpose, you may want to stay in Mitte, Kreuzberg, Schöneberg districts of Berlin. Nonetheless, if you stay another district, that's okay as well since public transportation is quite advanced in Berlin and you can go anywhere you like using public transportation. During weekends, SBahns and Ubahns works all day including night. During weekdays, they are closed after some time at night, but there are Night Buses in the same routes. By the way, I should mention that Buses always work 24 hour. Hence, transportation in Berlin never disappoints you. There are no ticket barriers in metro. You should buy appropriate ticket for you. Officers perform ticket check during the week at random times.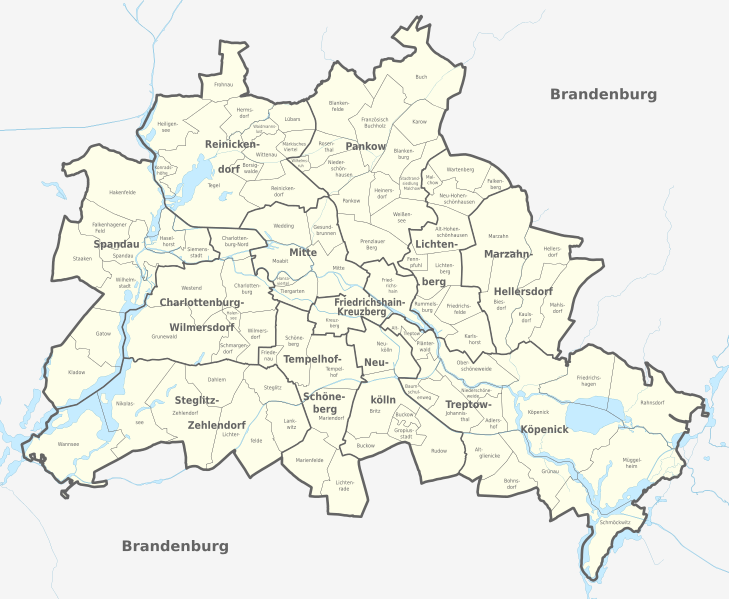 For navigation, I prefer to use Google Maps. I definitely suggest it for you. You can see all possible routes in real time. Trust me, you are going to need this, since there are many SBahn, UBahn and Bus routes. It is quite easy to get lost, especially in first days :).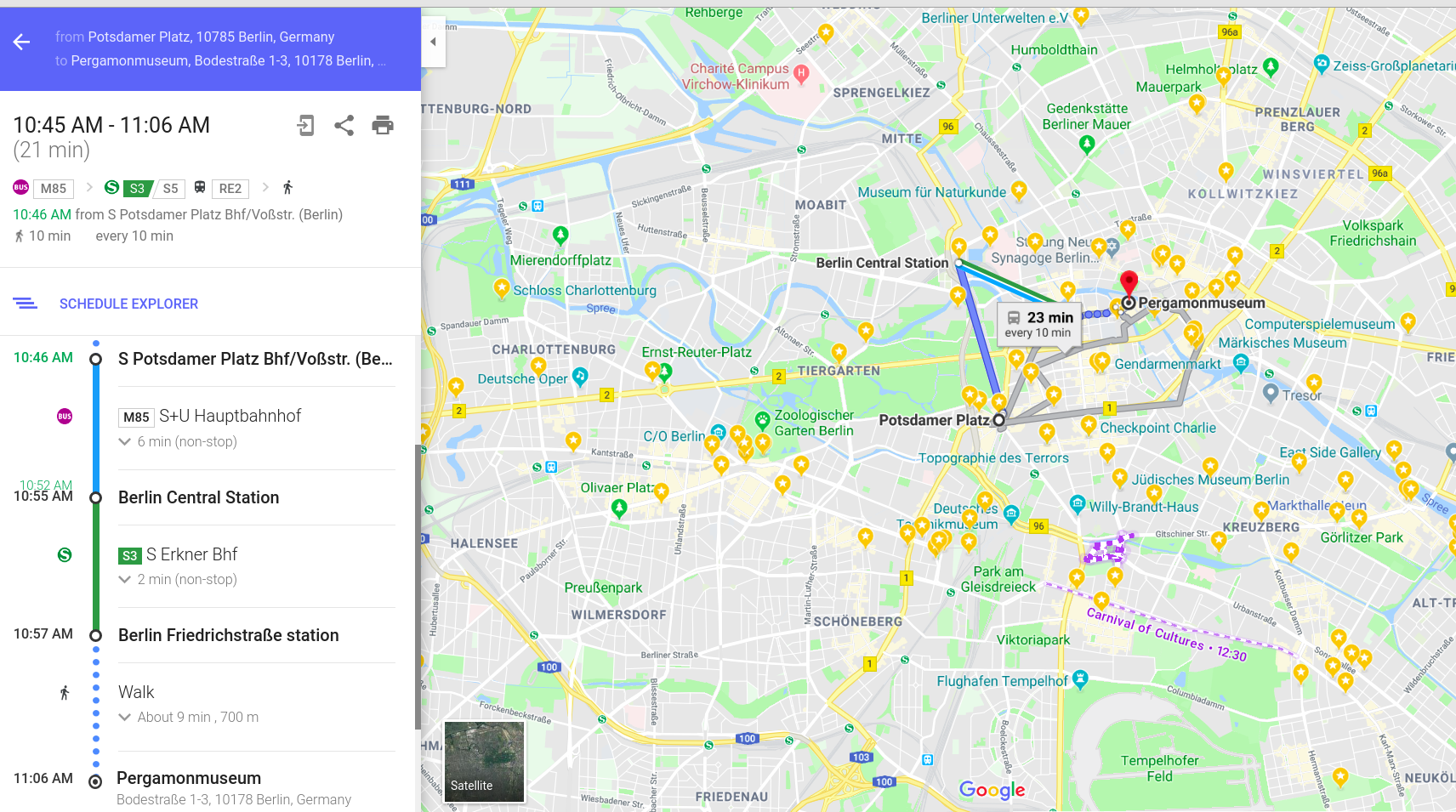 Supermarkets
There are many different supermarkets in Berlin. Aldi and Lidl are the cheapest ones. Edeka could be an alternative option as well. Of course, generally the closest market to your house is always the best, but they might be small like Penny or Netto. For bigger supermarkets, you can check Rewe or Kaufland. However, as I mentioned, they don't have too many branch like others. If you are looking for Turkish supermarkets, Eurogida, Bolu, Nazar etc. would be a perfect option. You can get more information about supermarkets visiting this blog.
Germans are not very used to have quite big shopping malls like us, so if you are looking for someplace like that, you could be dissappointed. As far as I know, Kaufhaus Des Westens a.k.a. Kadewe and Bikini Berlin are the only shopping malls in Berlin. I personally don't recommend to visit for shopping since the prices are unnecessarily expensive. You can visit for touristic purposes, and I will mention it in the following sections.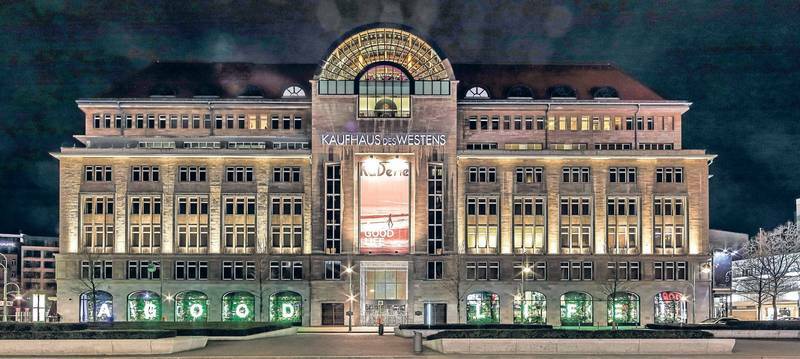 Almost all supermarkets are closed on Sunday like every country in Europe, so be aware of that and get prepared. There are some places called Spätkauf to buy simple stuff. You can also use them in late night. As you expect, they are more expensive than normal supermarkets, but not too much.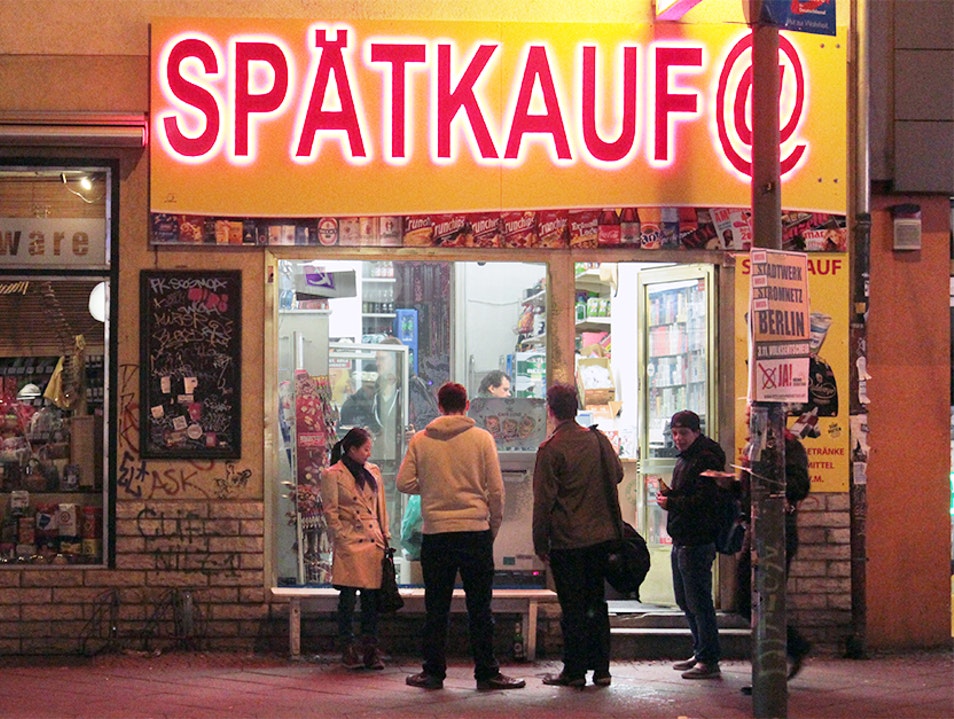 You should also visit traditional flea markets. They are like bazaars and set up in public parks. You can discover incredible things with incredible prices. If you are looking for some souivenirs for your lovings, flea markets would be perfect place for you. You can visit this link to learn more about flea markets.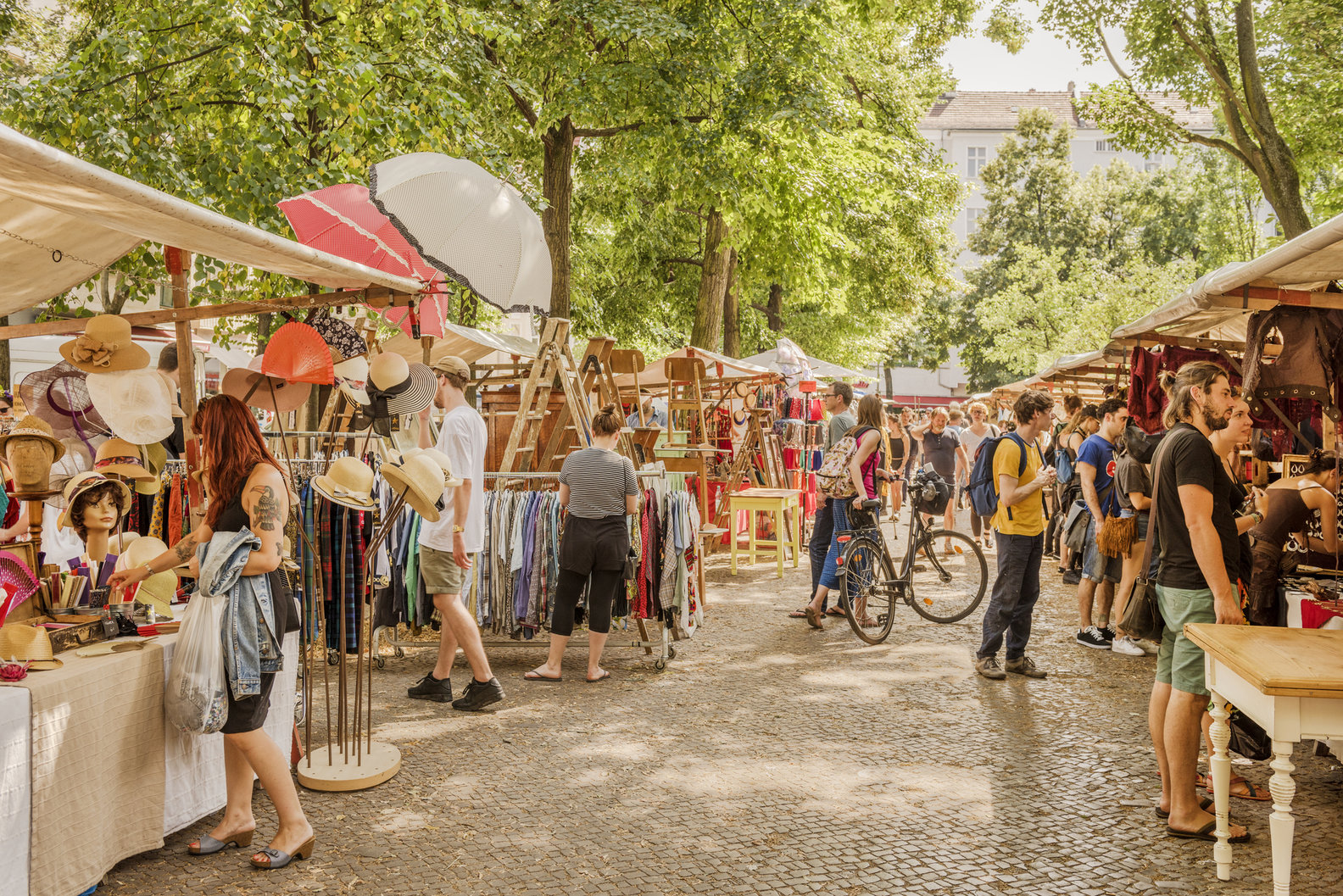 In this section, I can talk about recyling lastly. In Germany, you need to seperate your trash properly for recyling like every coutry. Of course, the seperations differ from country to country, but it is not going to be problem for you. The thing which is different is the term Pfand. Whenever, you buy something to drink, you will see that there is an extra fee called Pfand. It means refundable. You can return these items to the places called Pfand Station, you can get your money back. You can find these stations mostly in bigger supermarkets. Moreover, when you are at outside, don't surprise if you see somebody picking up all the pfand-able bottles around. Some people earn their money using this way. In short, it is good for both environment and your pocket. You can follow this link to get more information about recyling in Germany.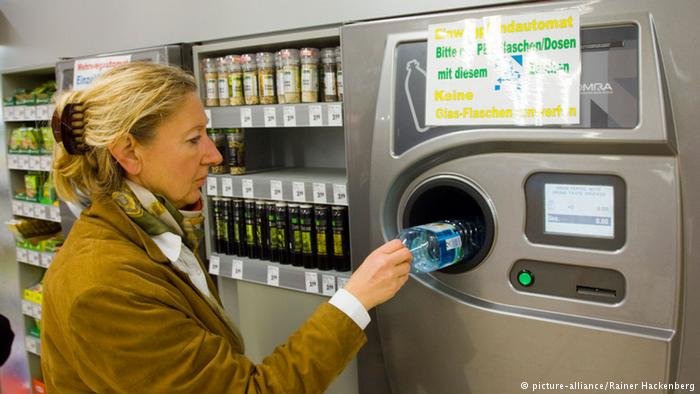 Mobile Operators and Internet
If you are going to stay in Germany for a short time, it is wise to buy a prepaid simcard rather than making contract. There are many different prepaid simcard options with different mobile operators. When I was in Berlin, I used Ayyildiz mobile operator with an offering 15 GB Internet per month for 15€. It was more than enough for me. You can visit this link to learn more. If you are going to stay longer, you might want to make a contract. Please follow this link to see a comparison between different mobile operators.
NOTE: One good thing about Berlin is that there is Free Wifi in Ubahn stations and it is quite fast!
For Internet usage (both mobile or home), you need to be careful. You shouldn't use Torrent or IPTV or you shouldn't make illegal downloadings. Germany is quite strict about illegal downloadings. If you get caught, you might have to pay a fine (more than 1000€), so please be careful!
Discover the City
1-)
The first thing you should do to learn more about the City is attending a tour. You can attend SANDEMANs Free Tour of Berlin which takes 3 hour. If you like it, you can take other paid tours as well. You can visit their website to learn tour dates and hours.
The tour starts from Starbucks at Brandenburg Gate. Look out people with Red Umbrella, they are the guides.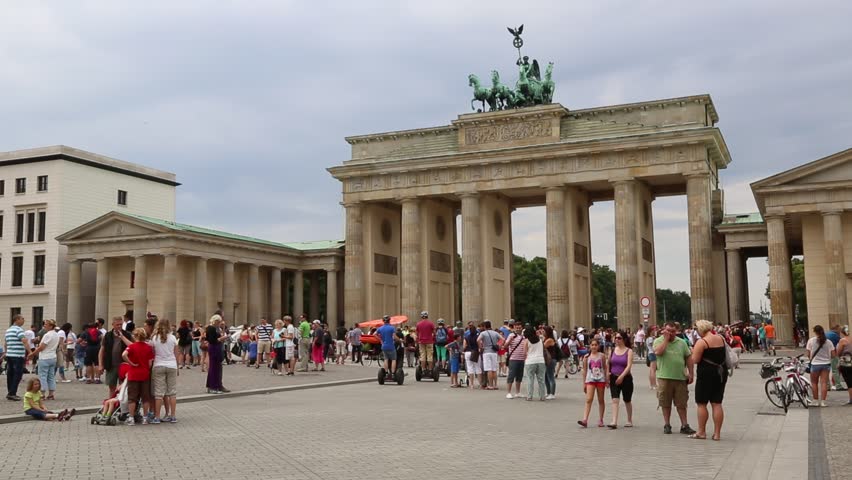 The tour route may vary from guide to guide, but you will see the main tourist attractions like Memorial to the Murdered Jews of Europe (Holocaust Memorial), Some Parts of Berlin Wall, Checkpoint Charlie and Gendarmenmarkt. The tour will end at Bebelplatz. This tour is really a good way to make a quick start.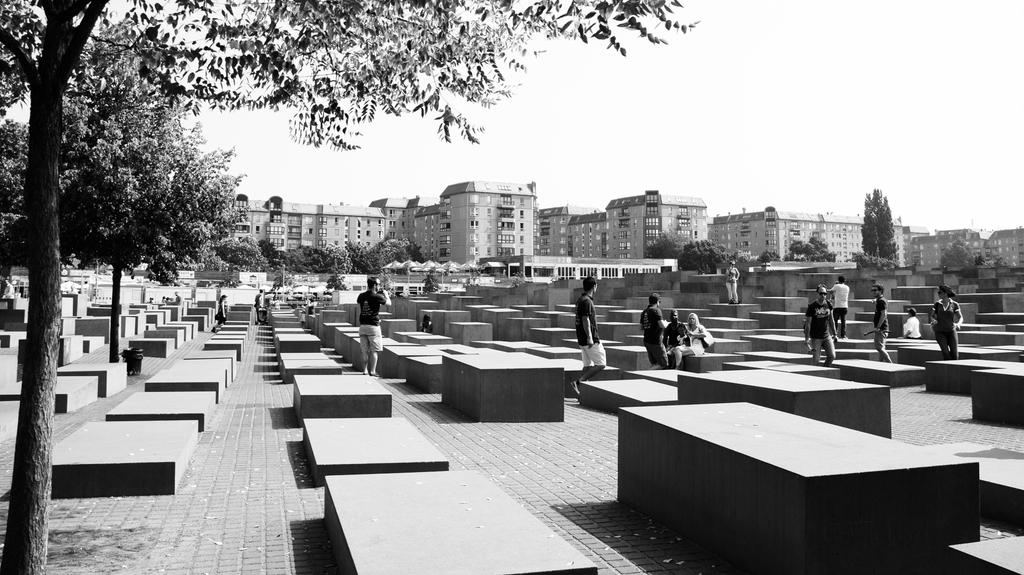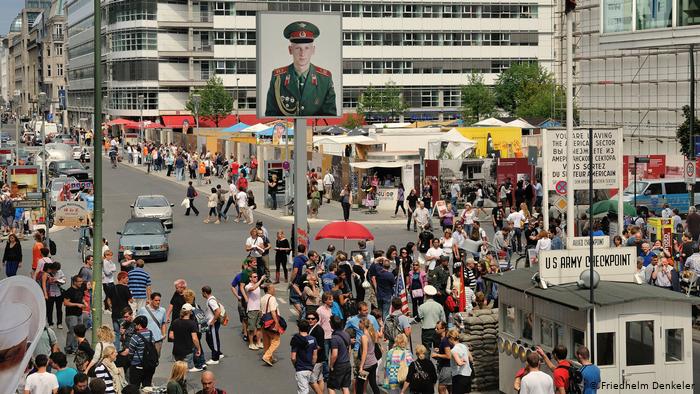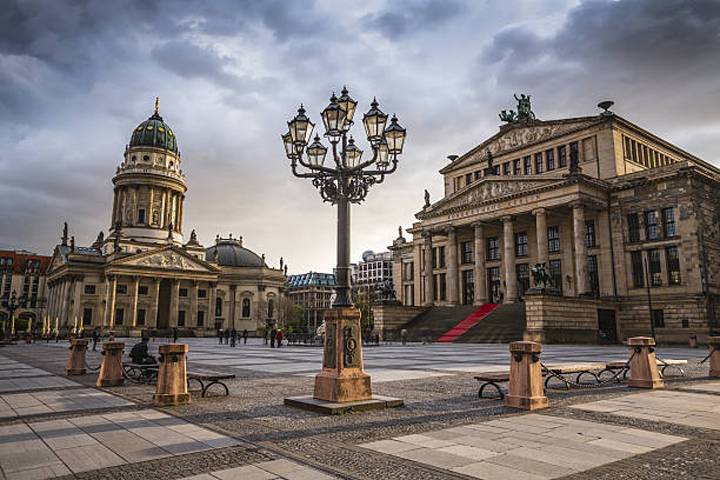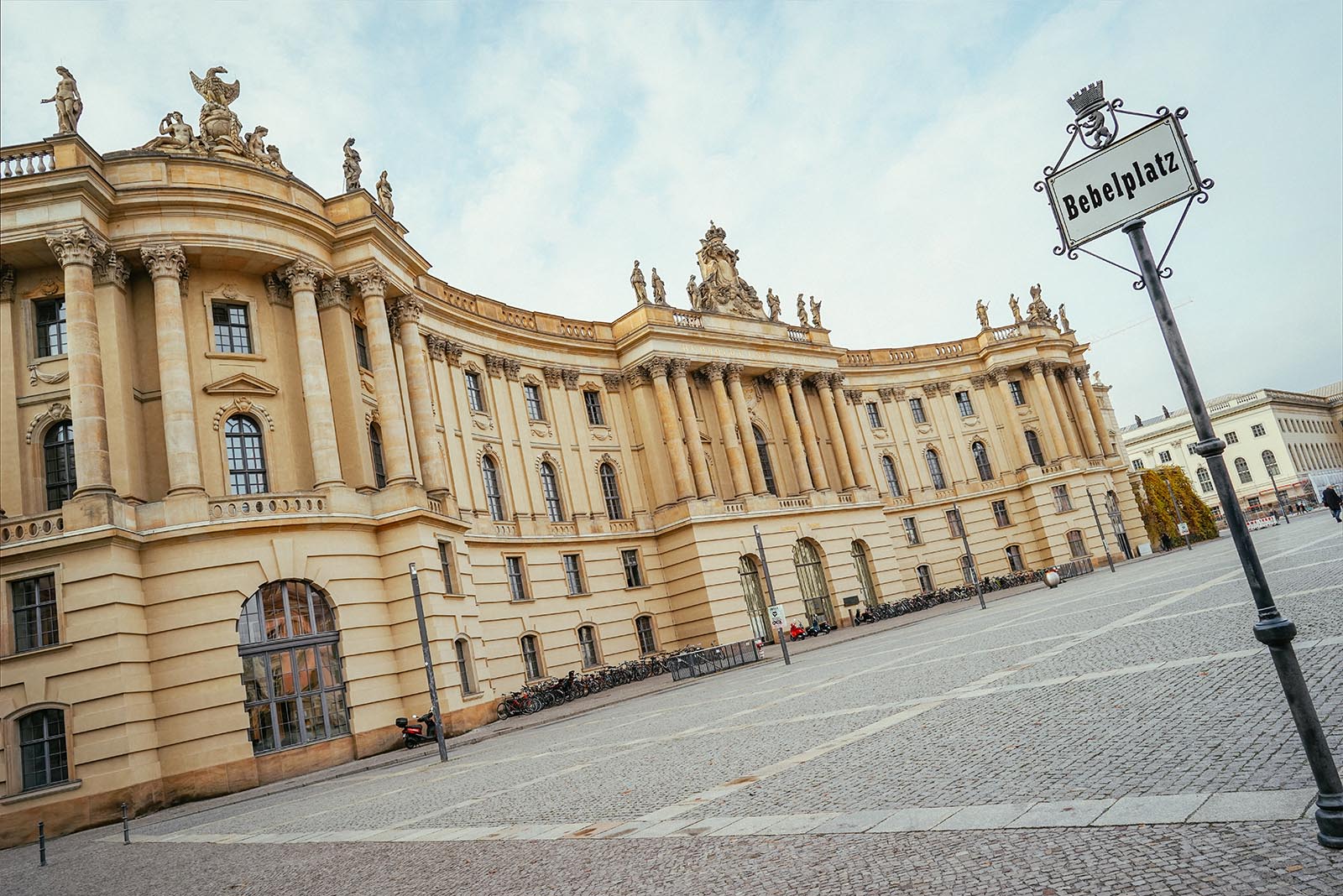 2-)
You can visit Mauerpark on Sundays. There are karaoke, street performance and lots of fun. It is definitely a great way to spend a lovely Sunday.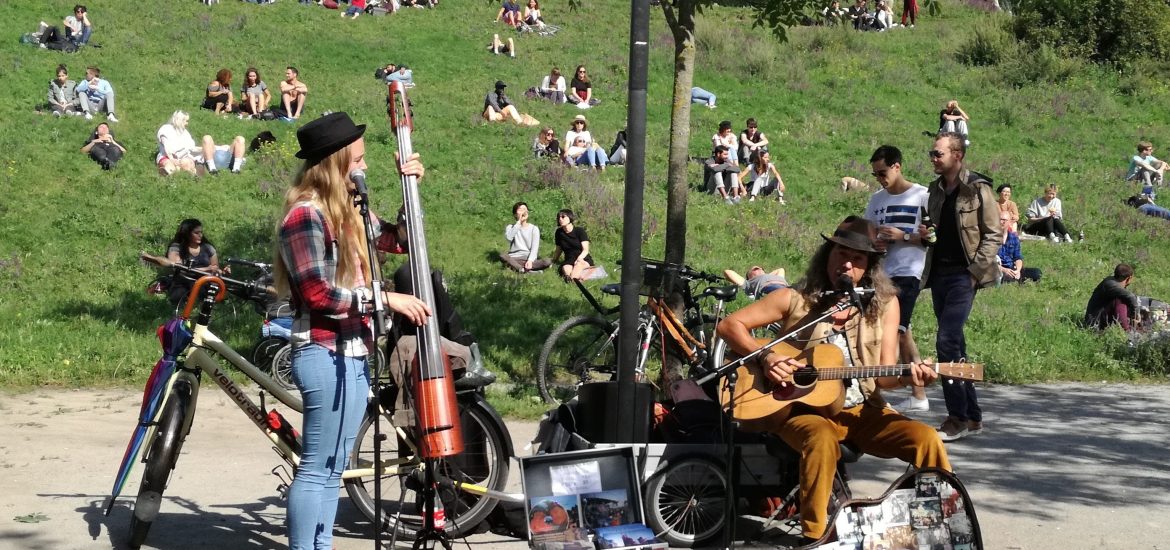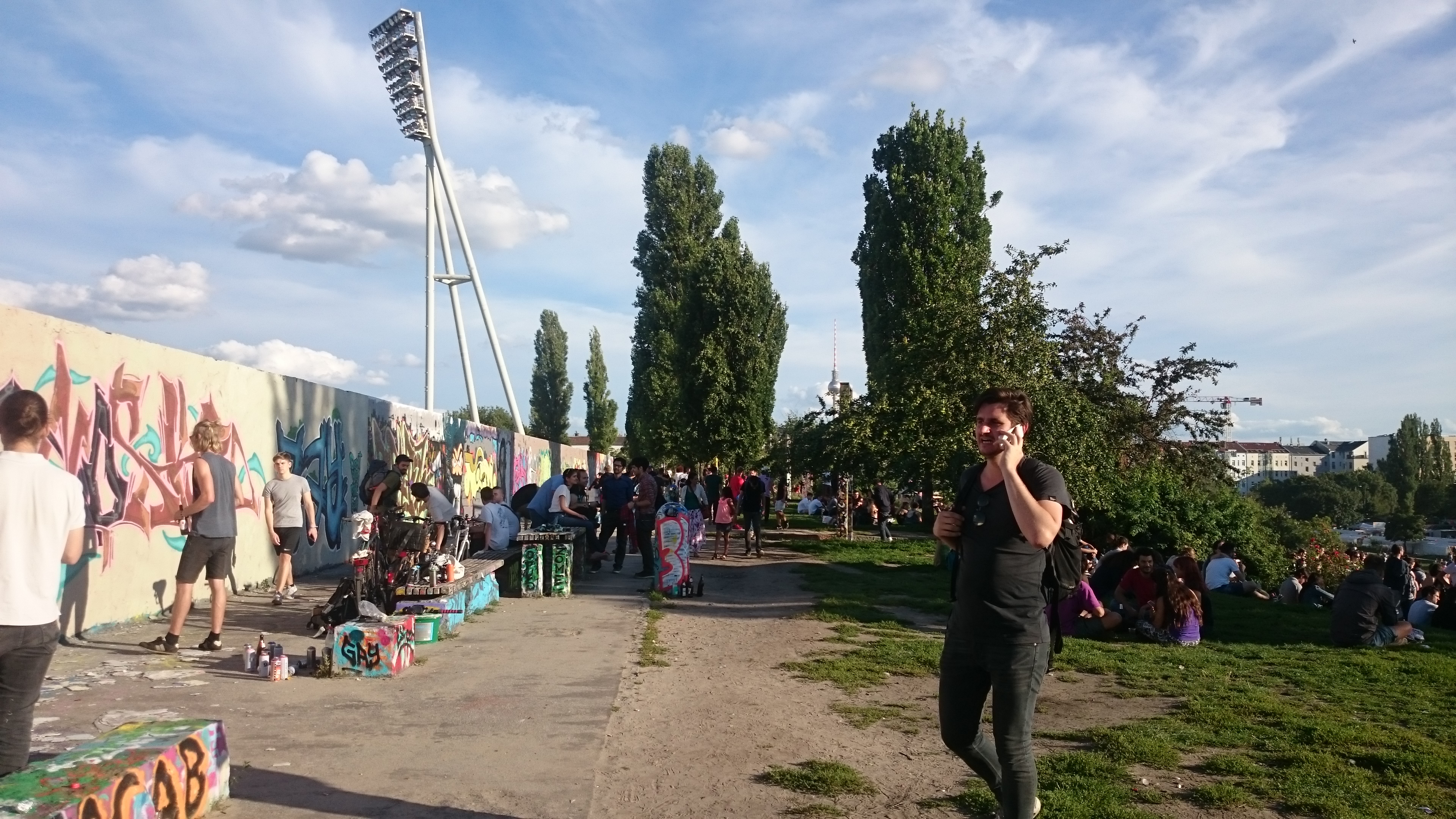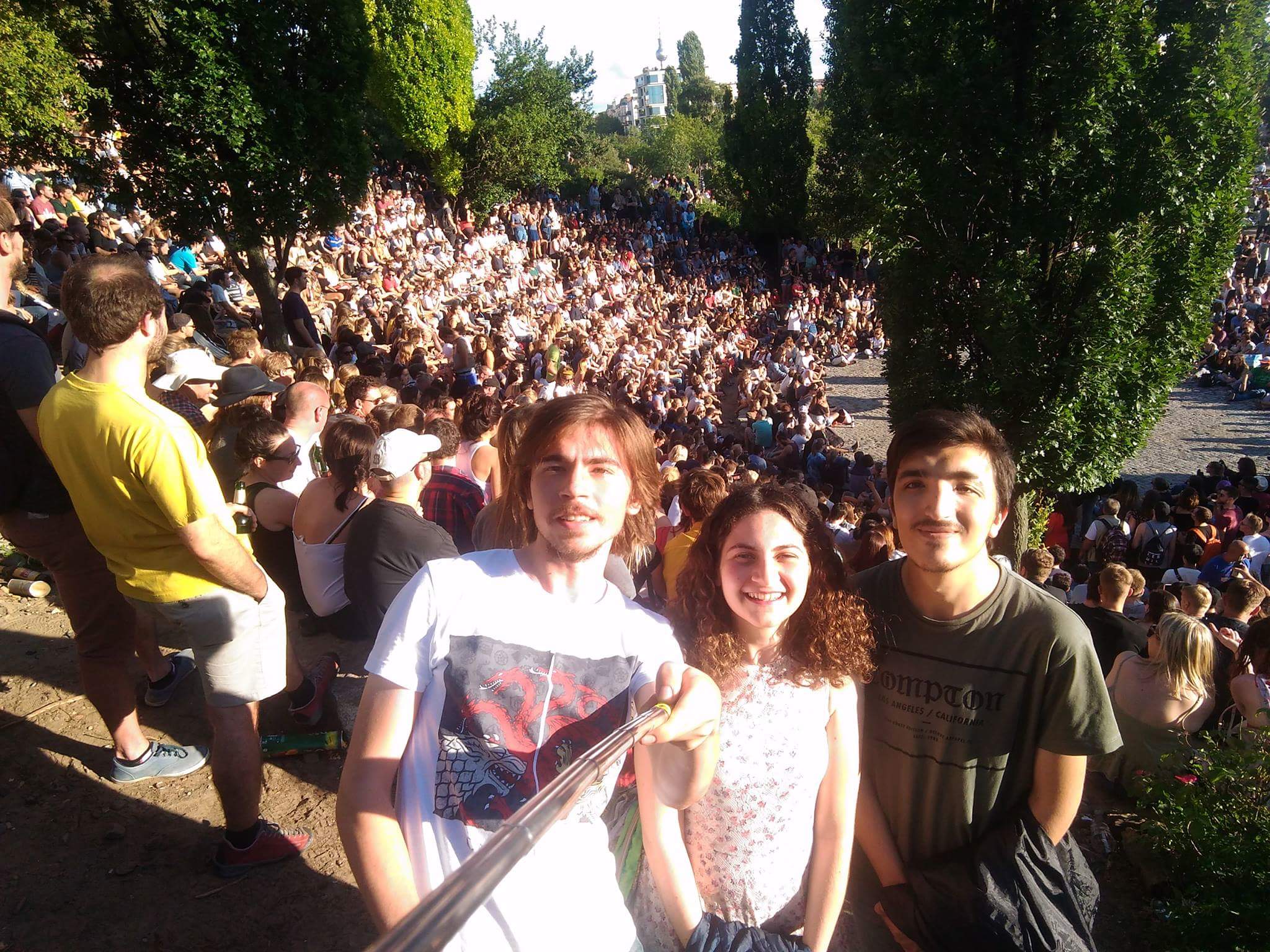 3-)
Visit Klunkerkranich to watch the sunset over the rooftops of Berlin. It is a rooftop bar with a fantastic view.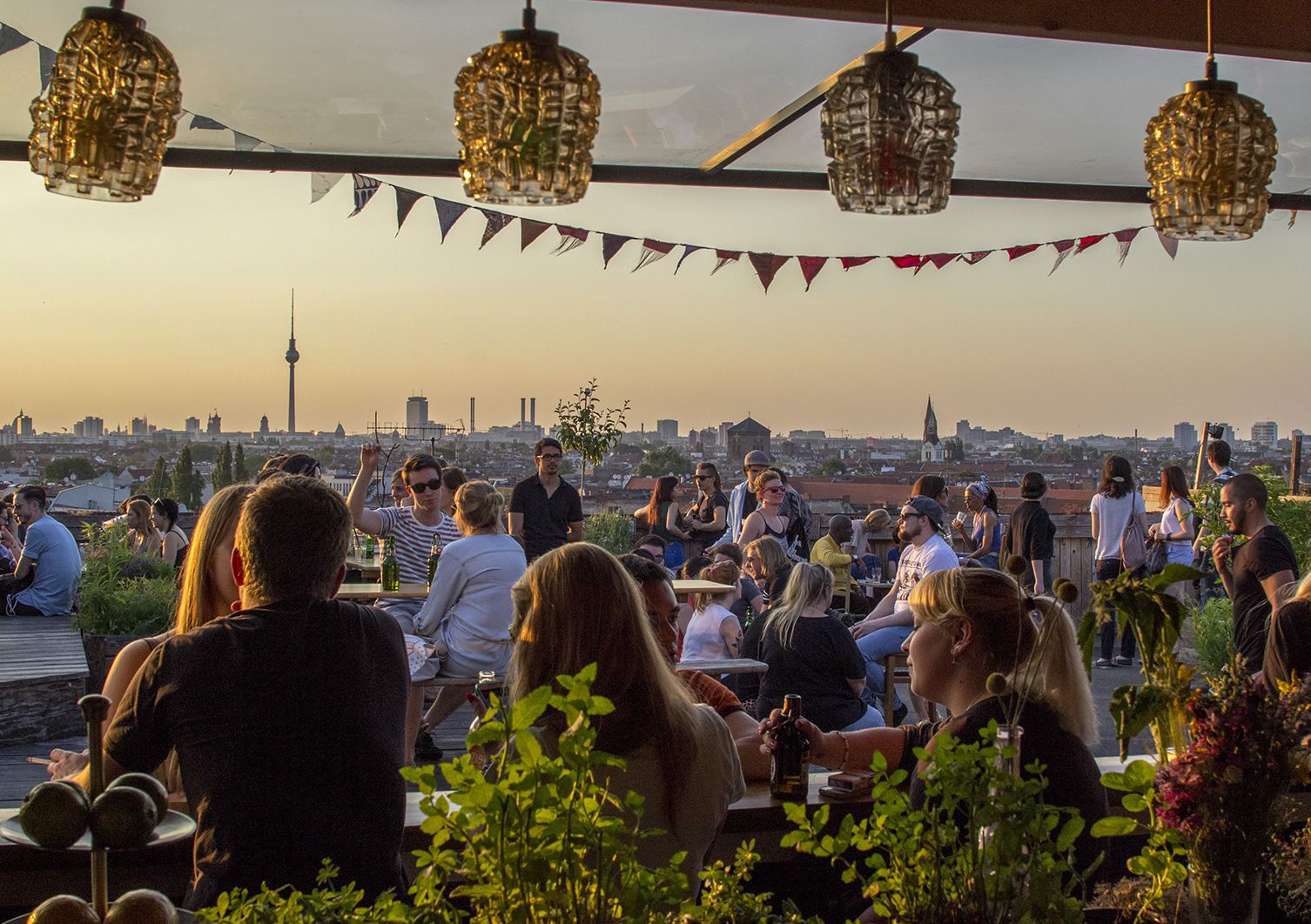 4-)
See the Kaiser Wilhelm Memorial Church which is damaged during the World War 2. You can enjoy the view from the terrace of Motel One, Monkey Bar or NENI BERLIN.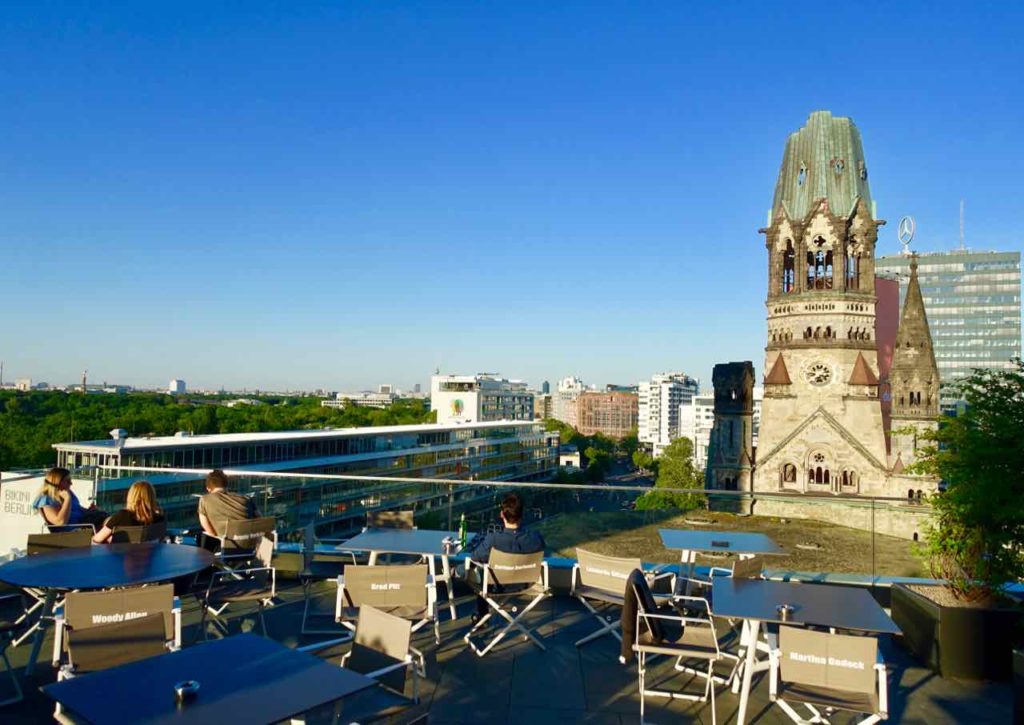 5-)
Visit East Side Gallery: the longest air gallery in the world. Take a long walk along the East Side Gallery to learn the history of Berlin Wall and see amazing art work.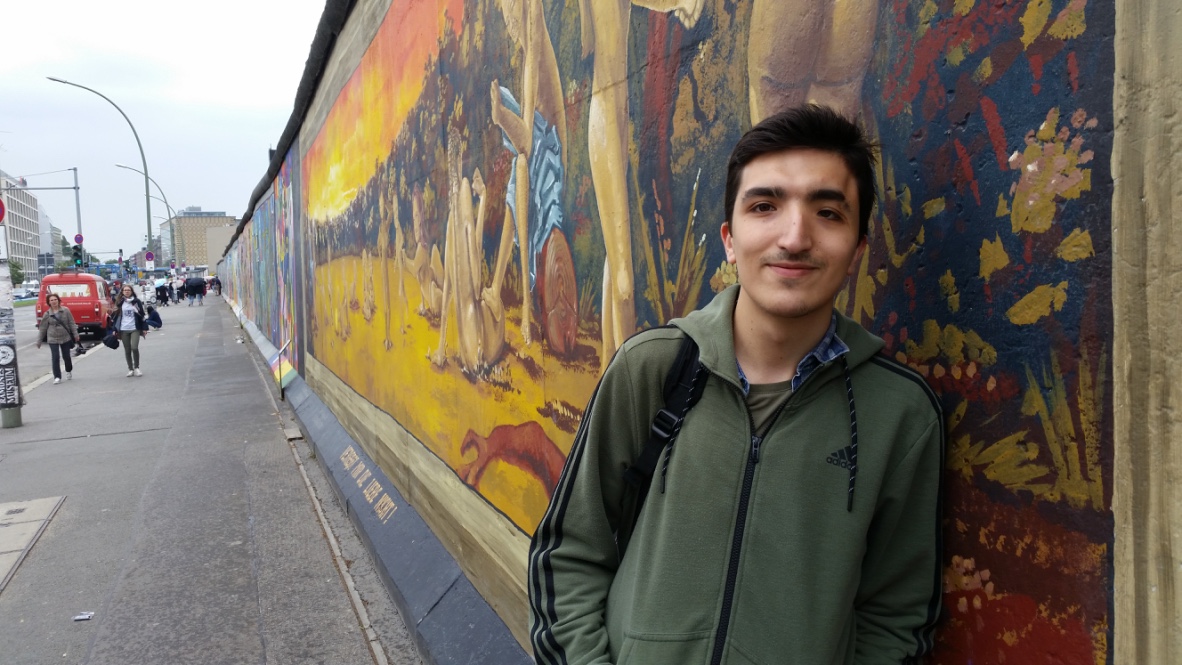 After that you can use beautiful Oberbaum Bridge to cross the river. This bridge will provide you amazing background for a new profile picture :).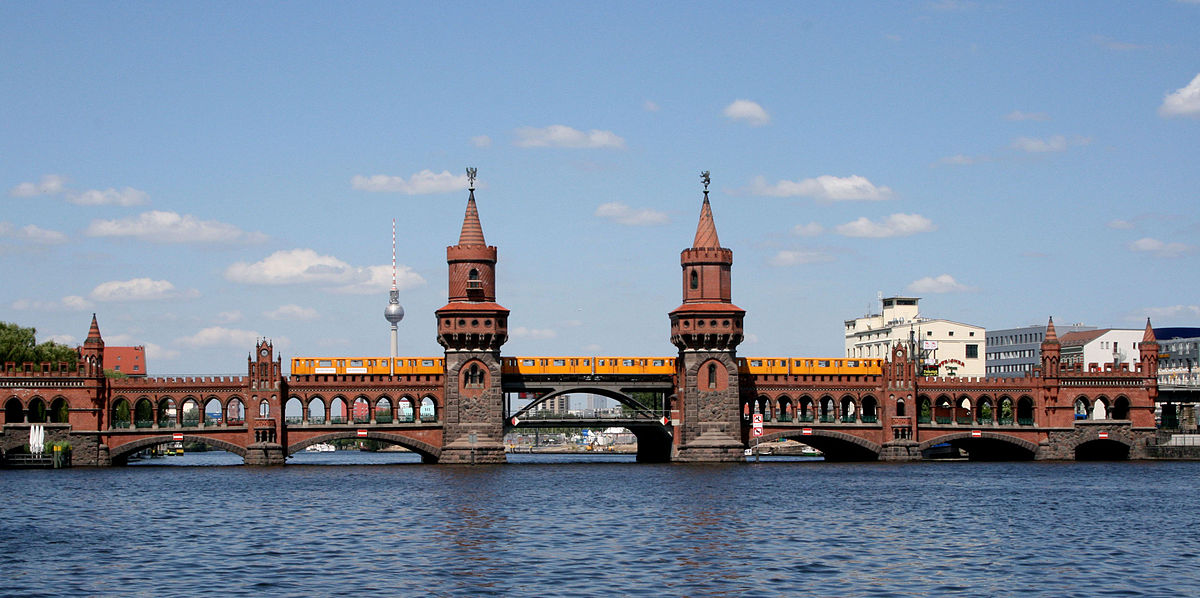 There is a hamburger restaurant named Burgermeister at the end of Oberbaum Bridge. Their hamburgers and fries are delicious, but I should warn you about long waiting line. They have another shop in Kreuzberg. There is generally less people there, so you won't need a lot. Nonetheless, I prefer this one because while eating your hamburger, you can enjoy the amazing view of East Side Gallery and Oberbaum Bridge.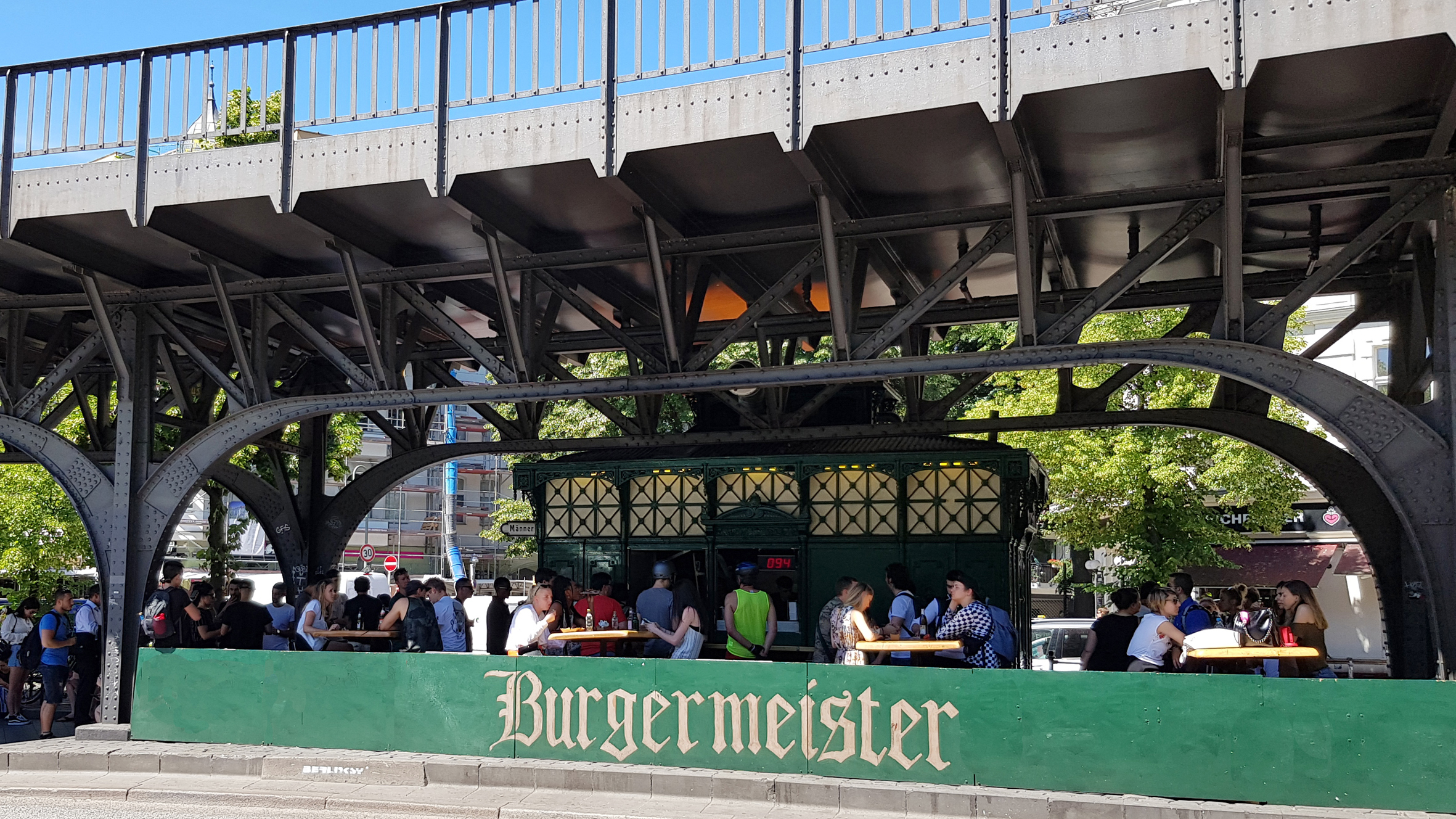 6-)
Visit Kruezberg Canal (Landwehr Canal/Urbanhafen) and embrace the nature. Great place to take your drink and socialize with your friends. You can also visit Admiral Bridge in the same area. It offers great atmosphere.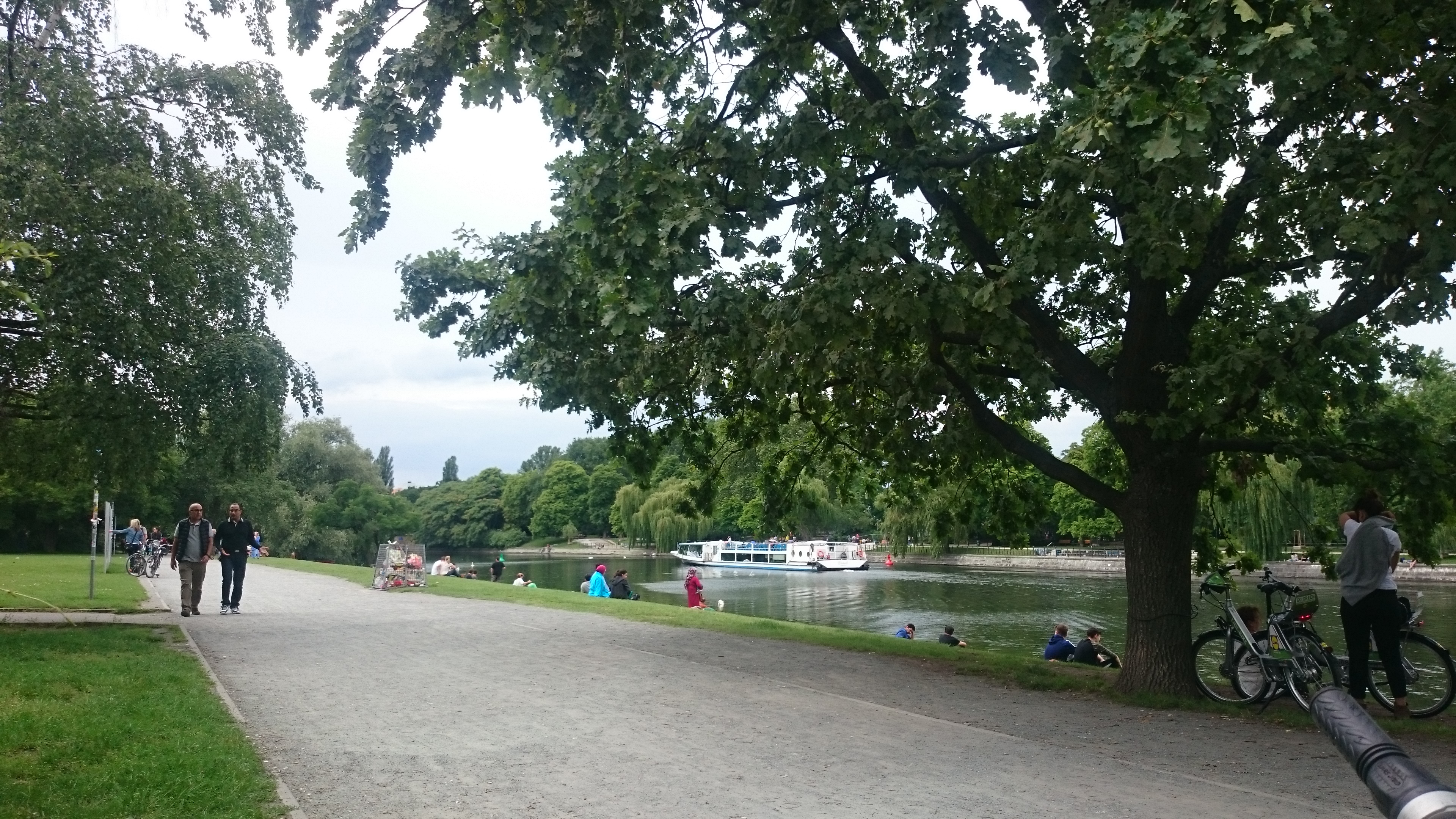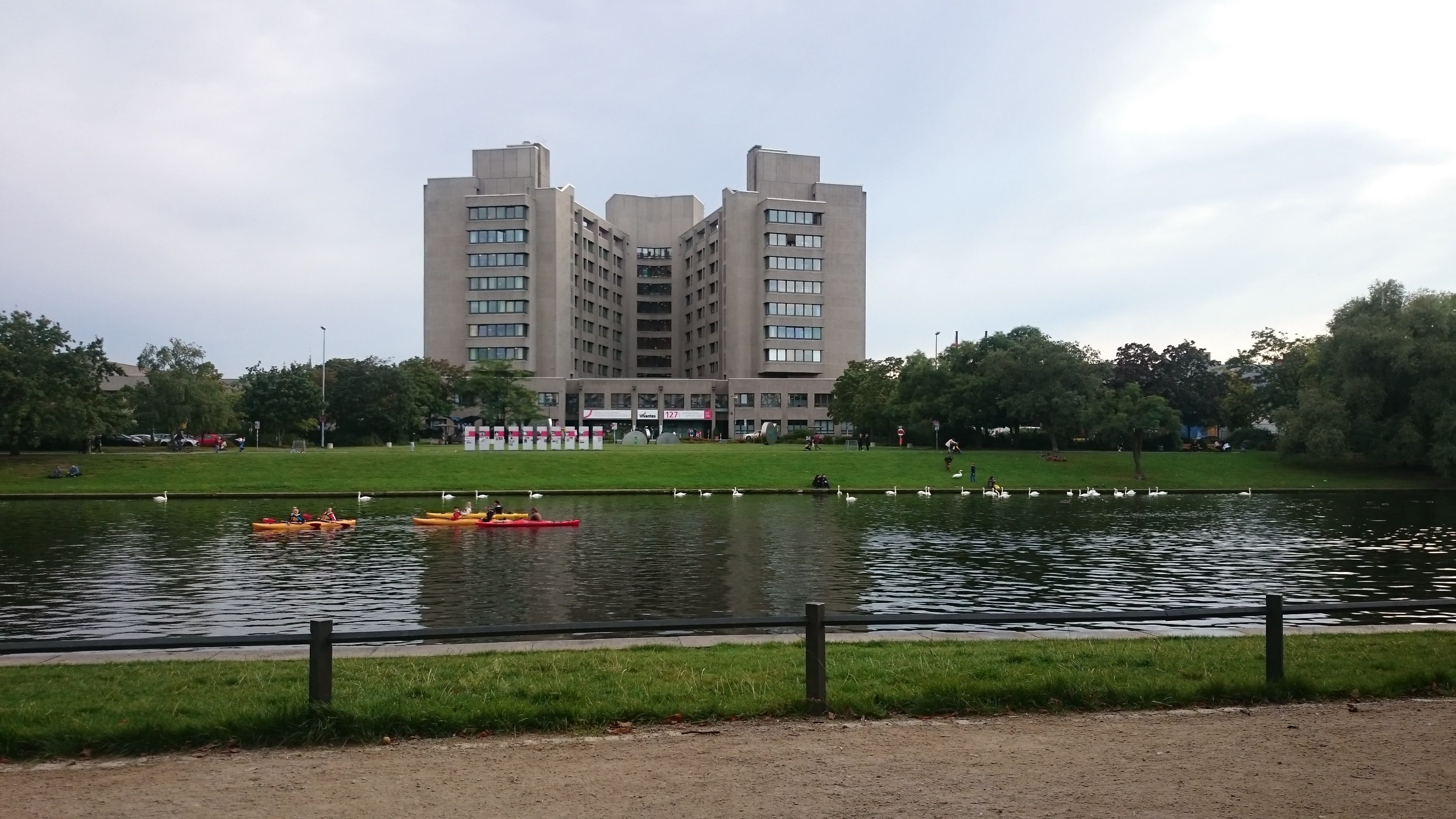 7-)
Berlin offers various cafes, pubs, clubs. Here are some near Görlitzer Park. However, you should be careful and stay away from the park itself. Generally the park is unfortunately known for drugs.
Birgit & Beer is a beer garden with exotic ambience.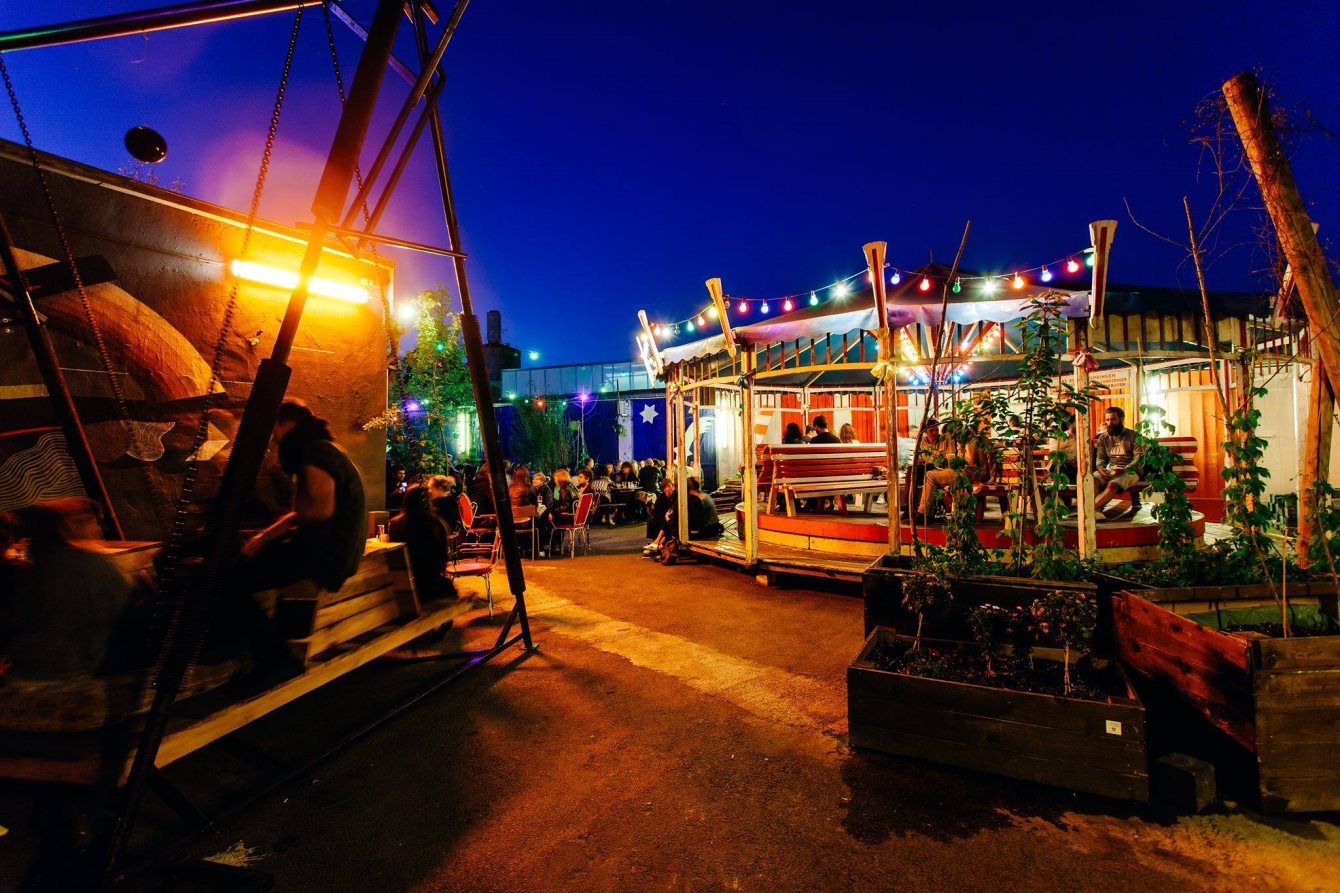 Das Edelweiss holds great jazz sessions.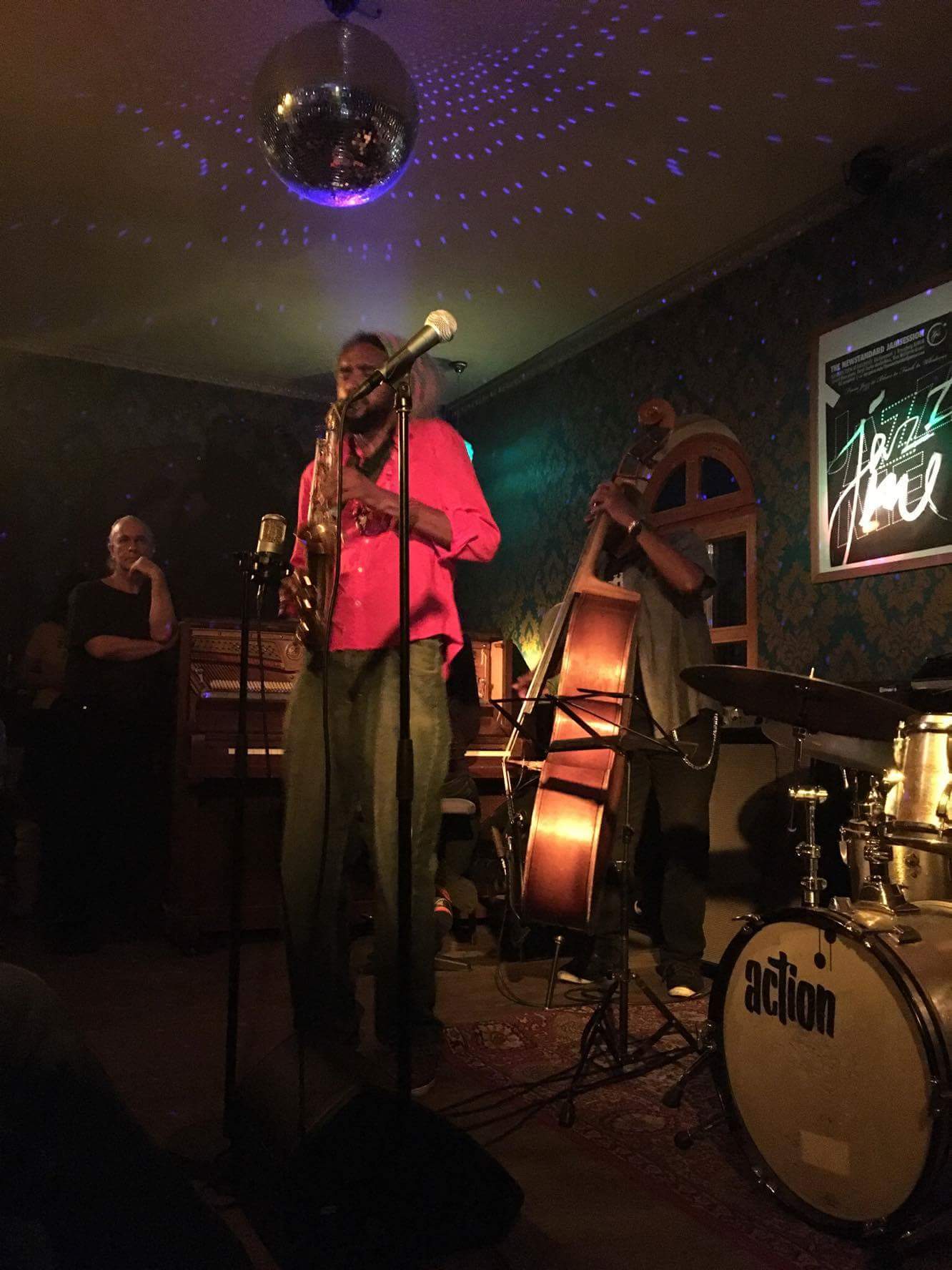 Mano Cafe is a cosy place with vintage aura and enough space for small crowds.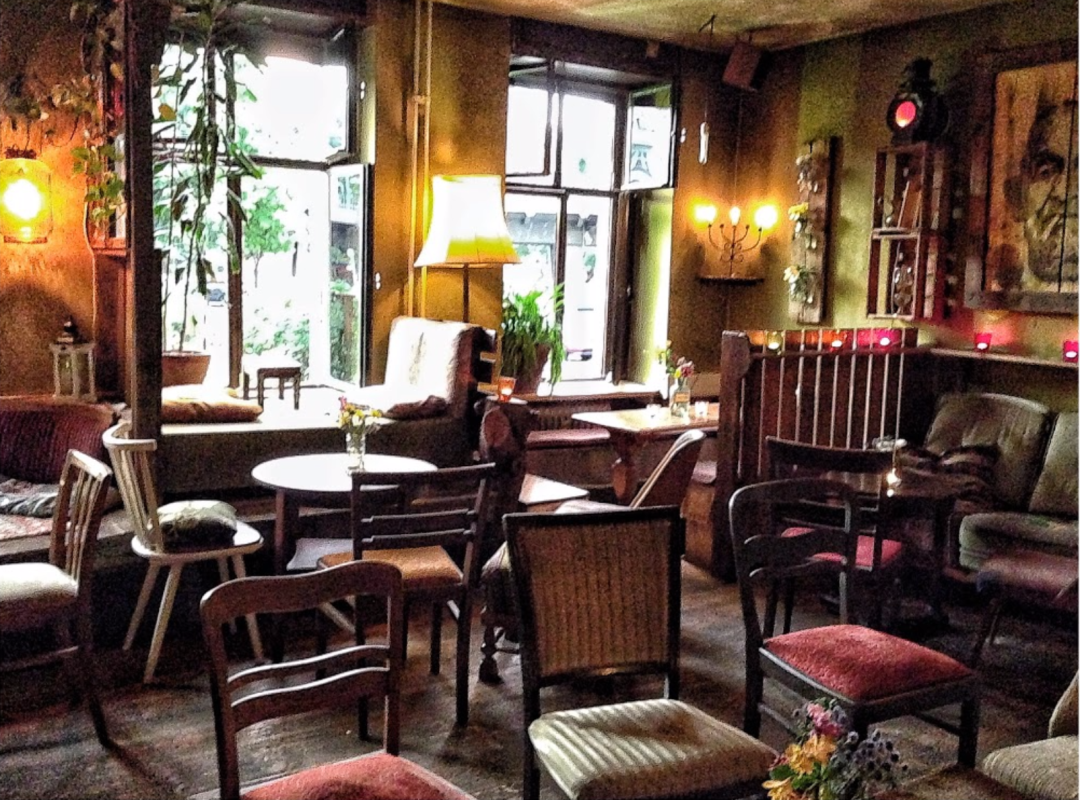 Bite Club holds an open-air food festival in summer months. You should visit if you like street food. Check their website for more information.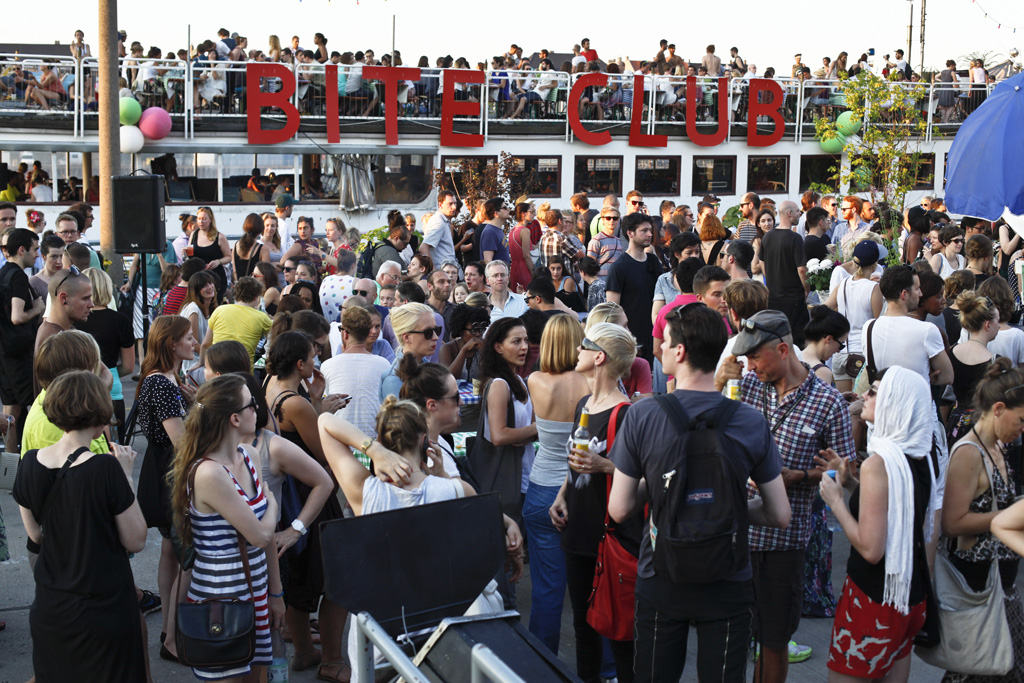 Club der Visionaere is a riverside bar with electronic music and parties at nights.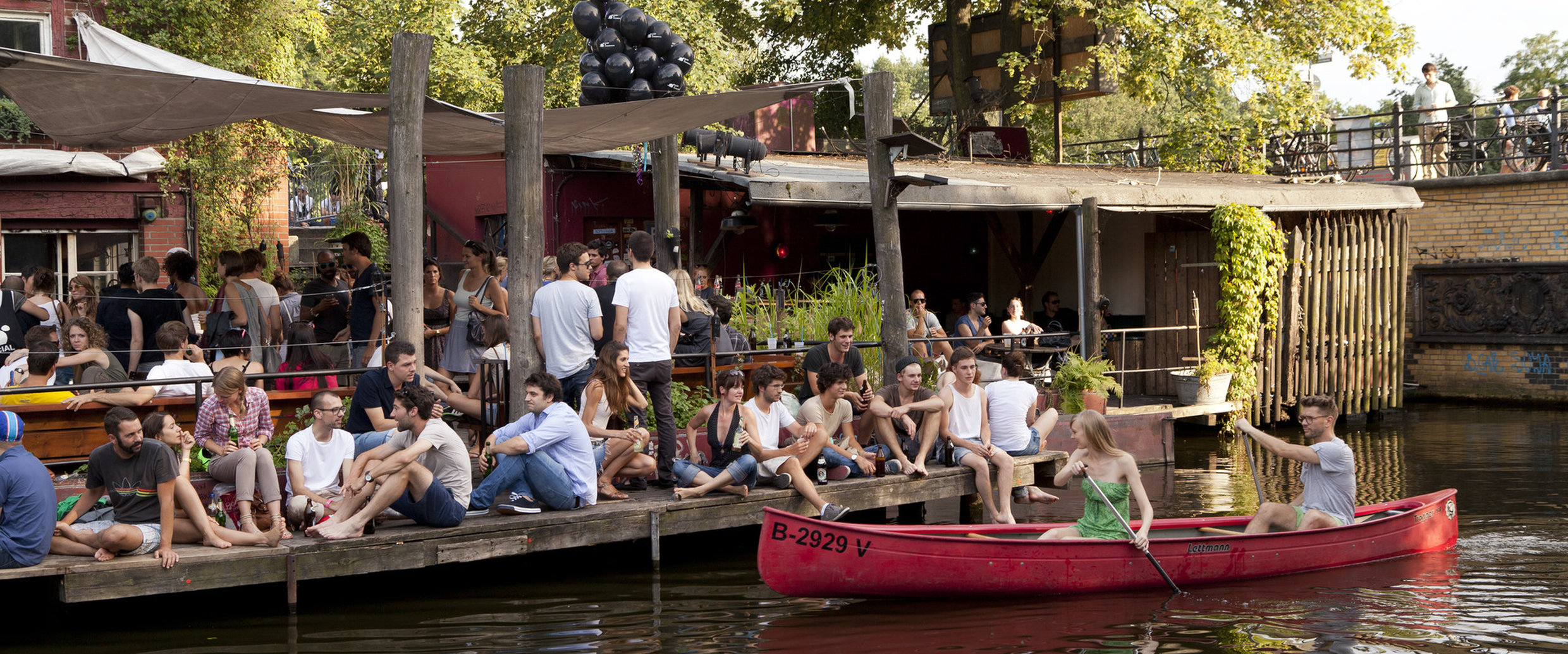 8-)
Viktoriapark is a great public park with waterfalls and viewpoints to relax.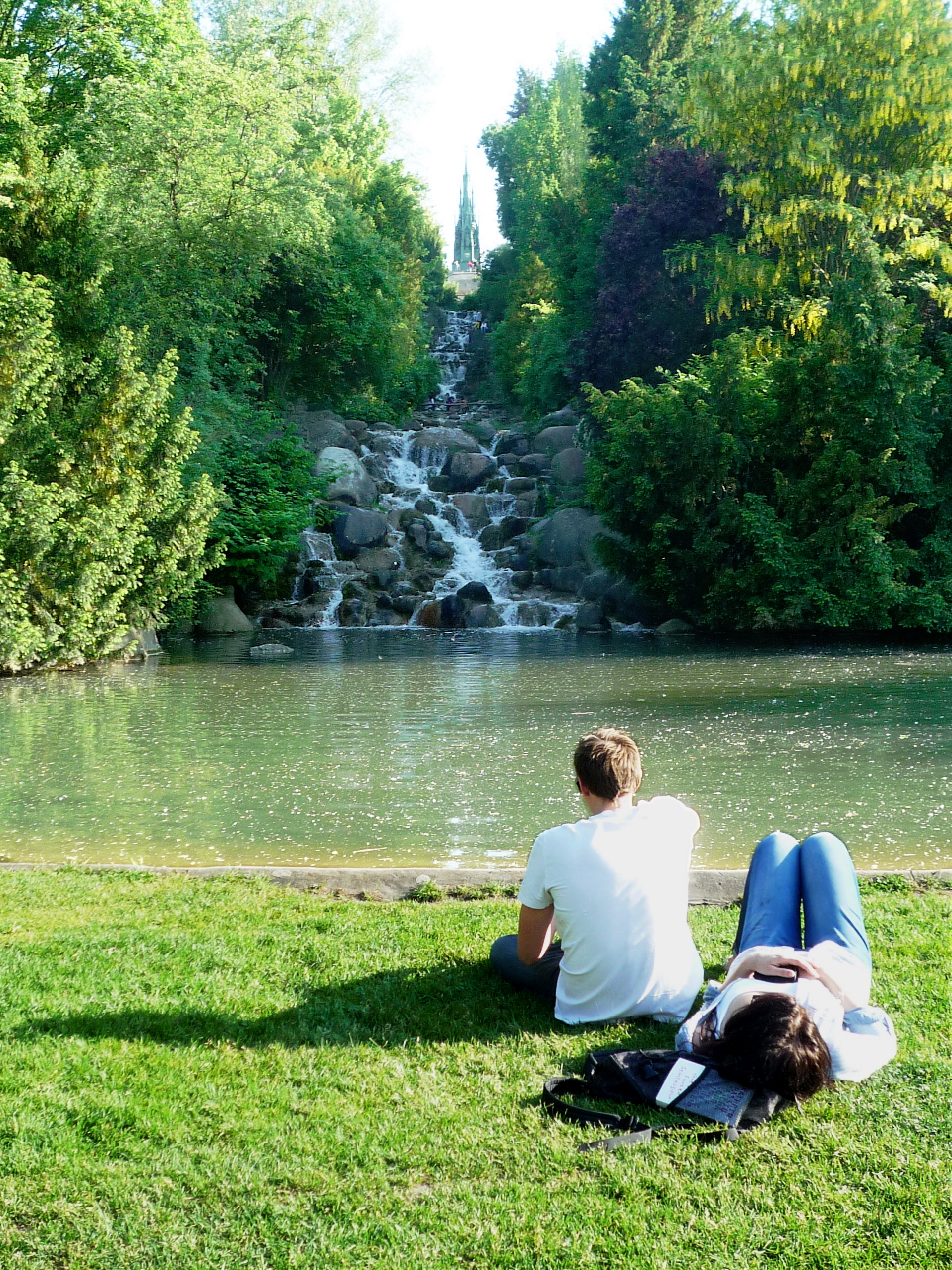 9-)
Schlachtensee is always a good idea to run away from the city. If you go summer, you will see that a lot of people swim in this lake. If you like biking, visiting this lake by bike would be perfect for you. If you feel a bit lazy, you can take your bike with you to SBahn/Ubahn and use your bike only to discover the lake. However, check that your train ticket involves the right to carry bike.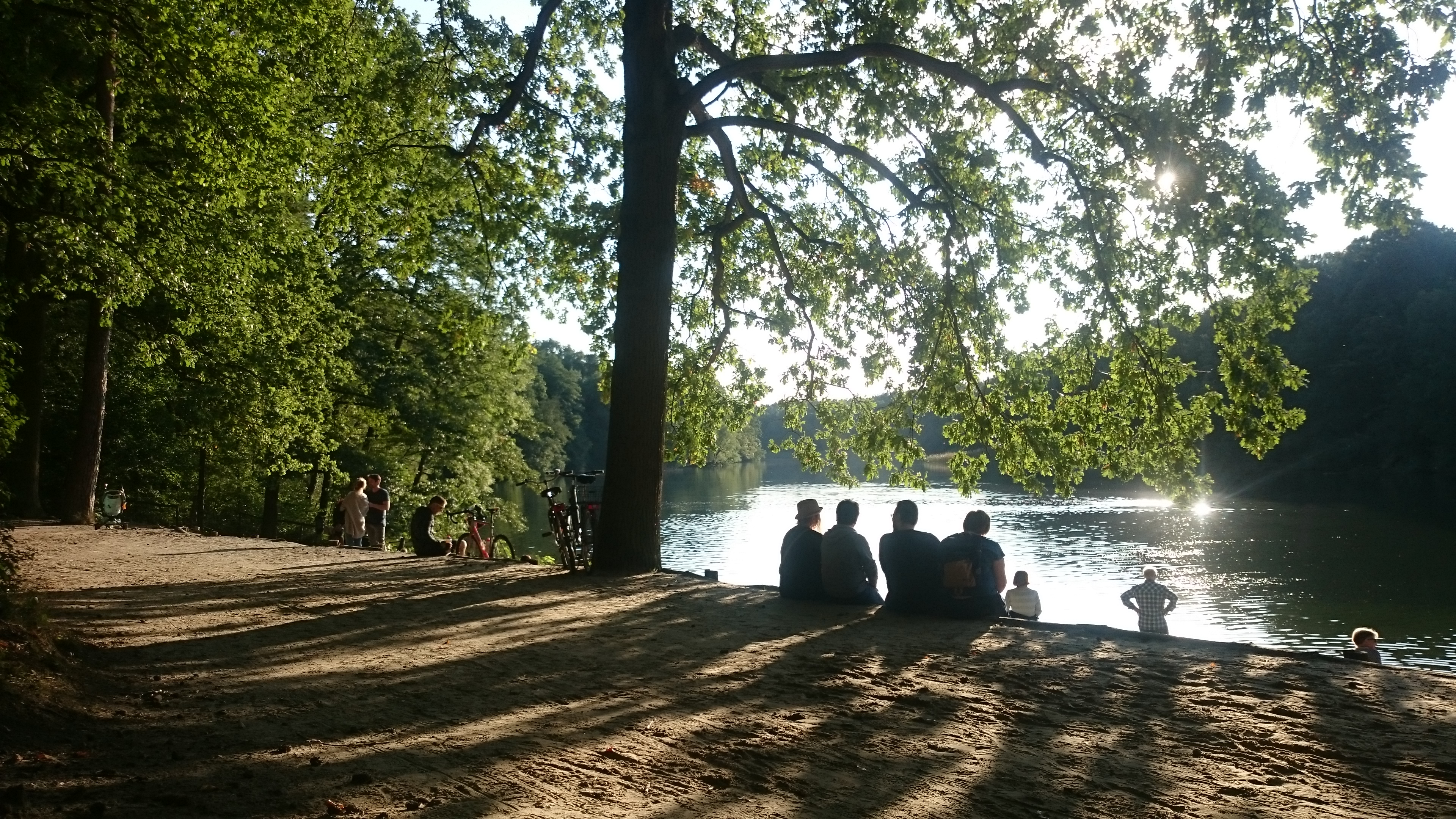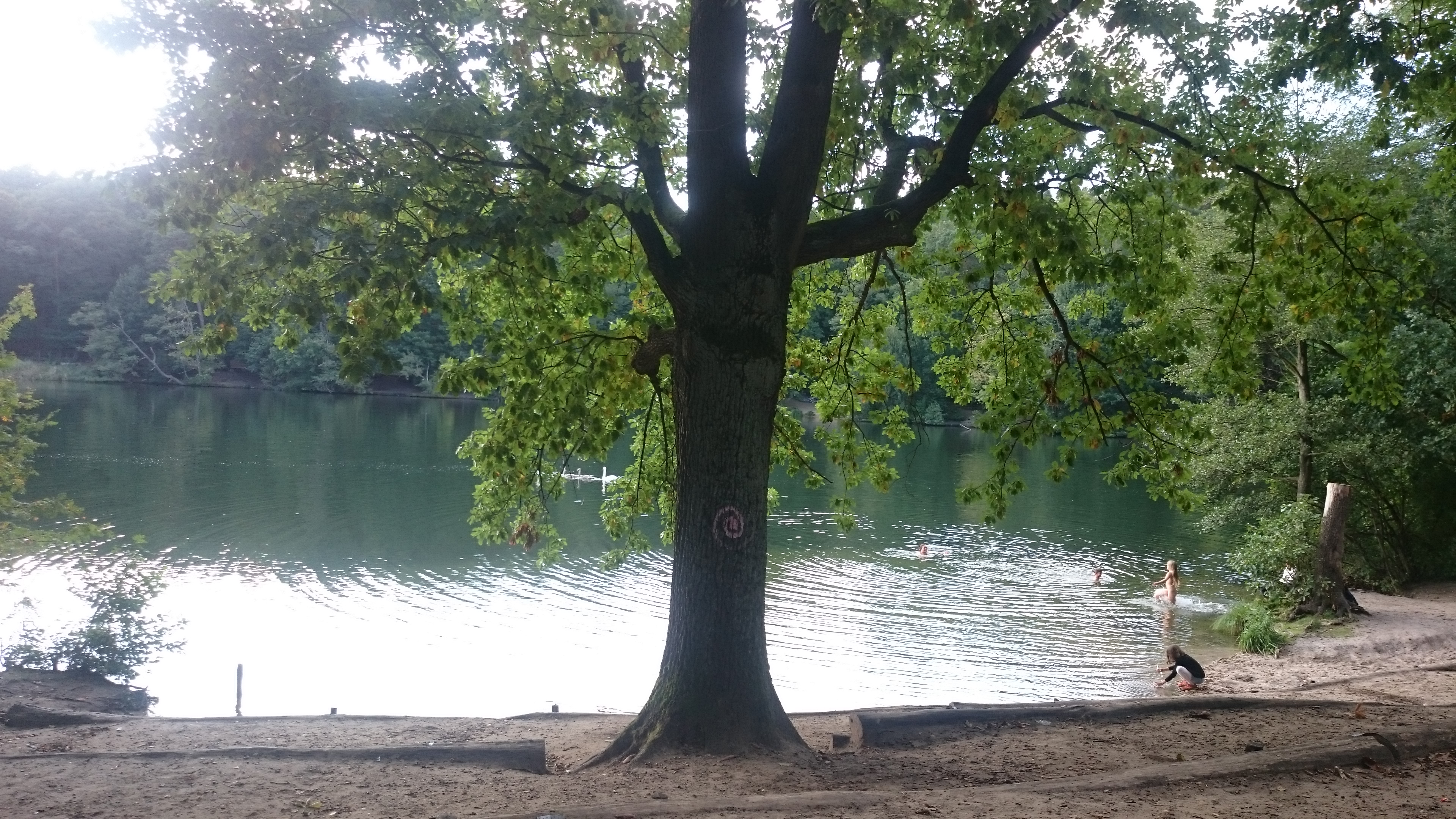 10-)
Hackesche Höfe is composed of historical small and sweet courtyards. After that you can taste rose shaped delicicious ice-creams of Amorino.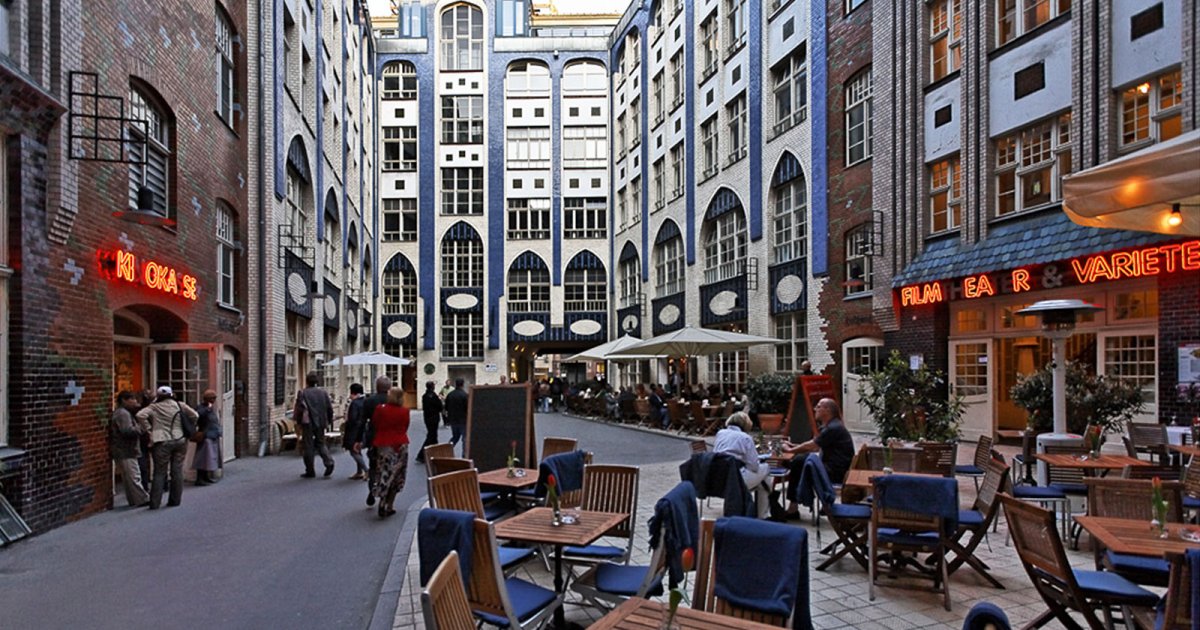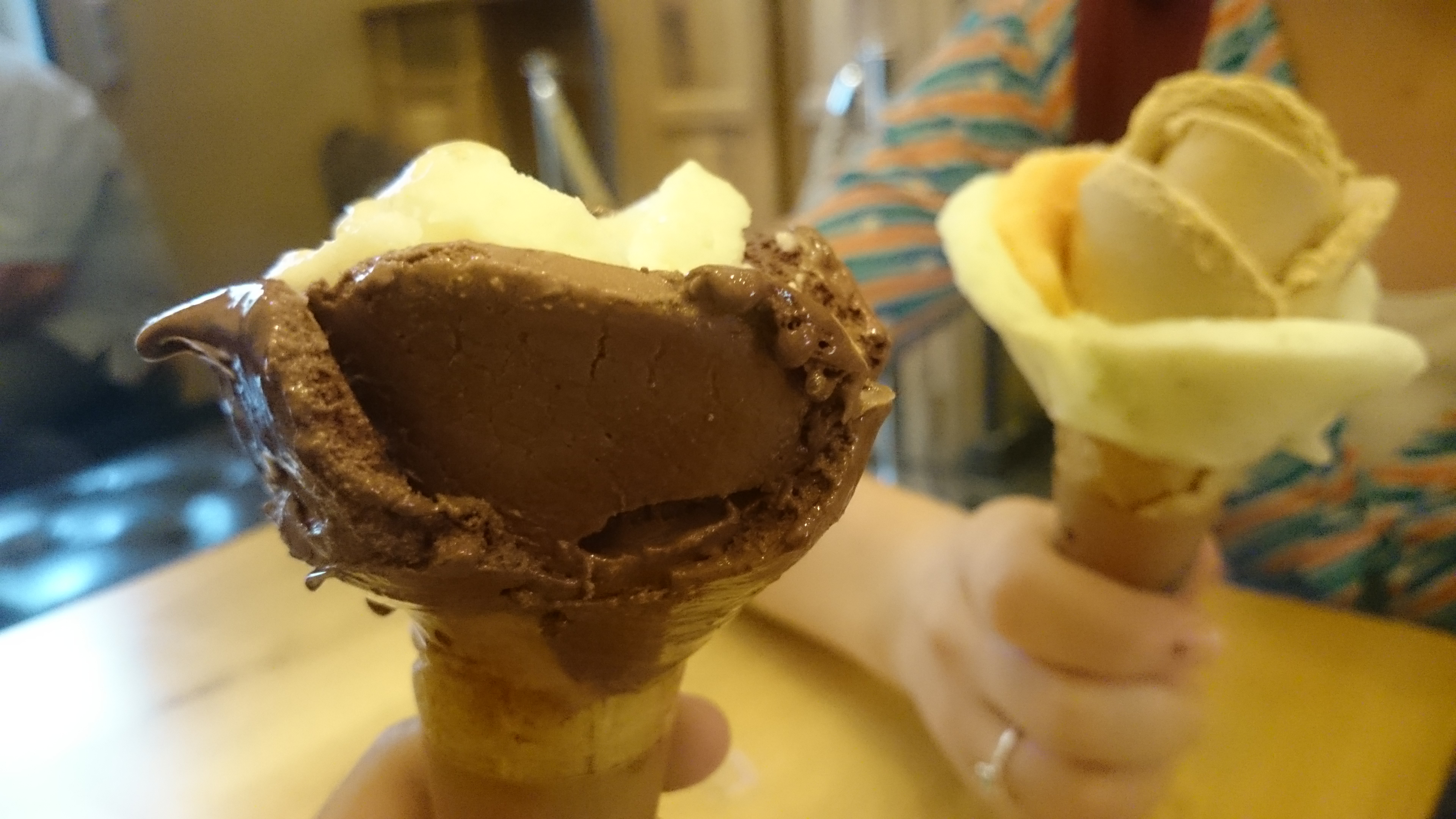 11-)
Even if they are expensive, it is still delightful to visit shopping malls KaDeWe and Bikini Berlin. I personally like foodhall and suparmarket part of KaDeWe. Shops in Bikini Berlin are also charming.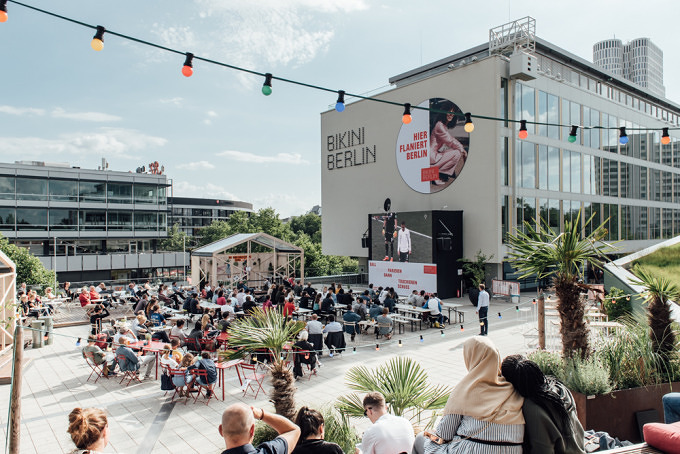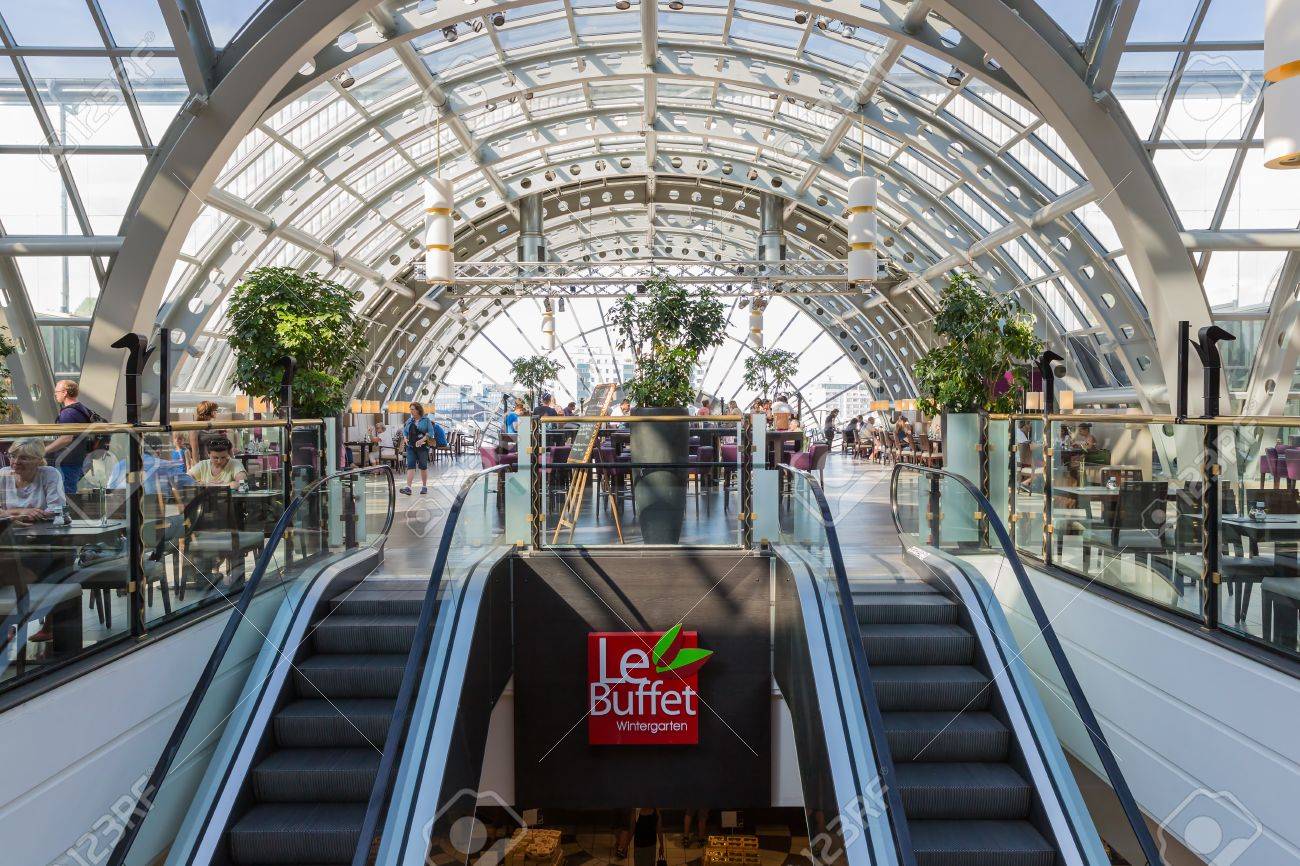 12-)
There is a small church named Nikolaikirche. Behind this course, there exists a small area named Nikolaiviertel. I really like narrow paths in this area with humble cafes.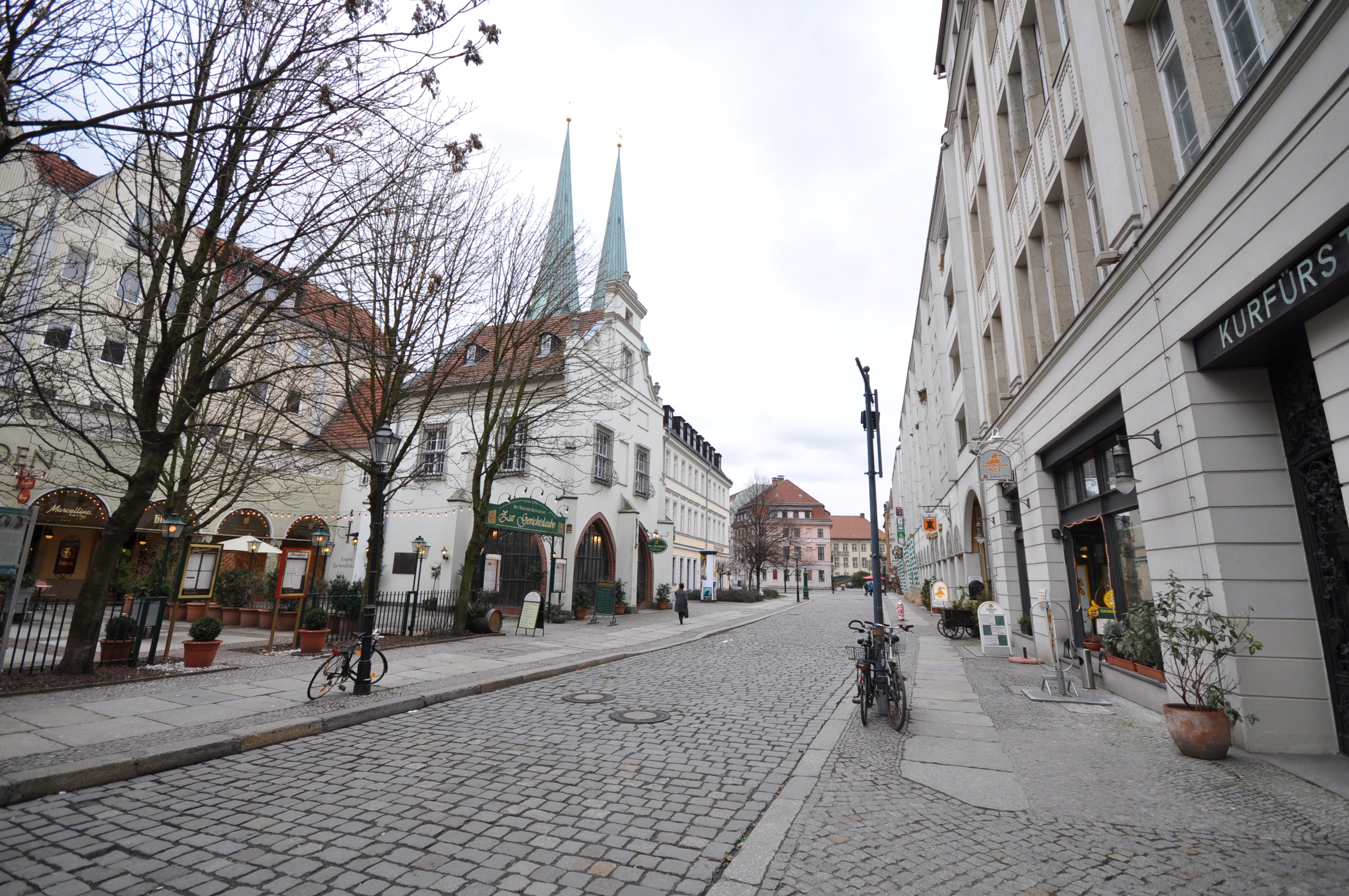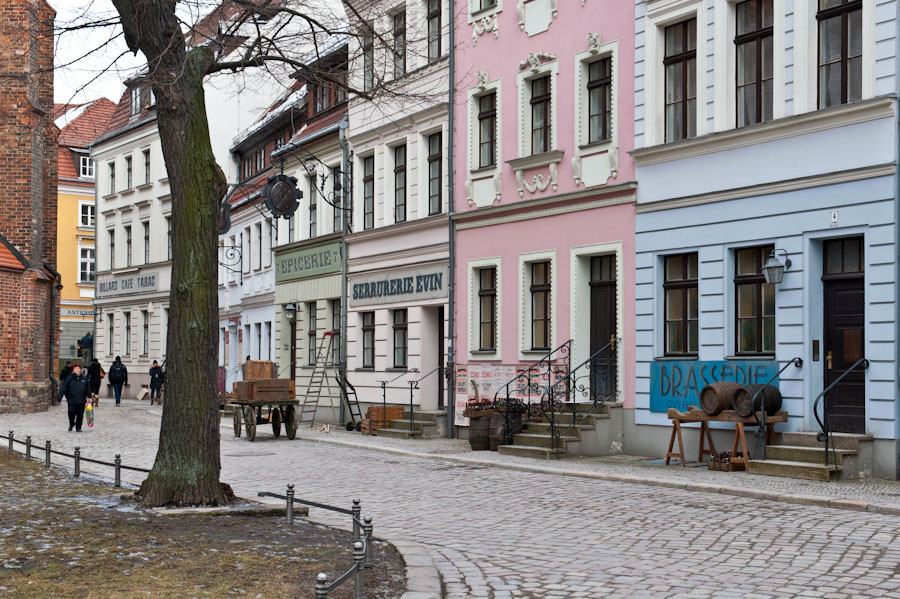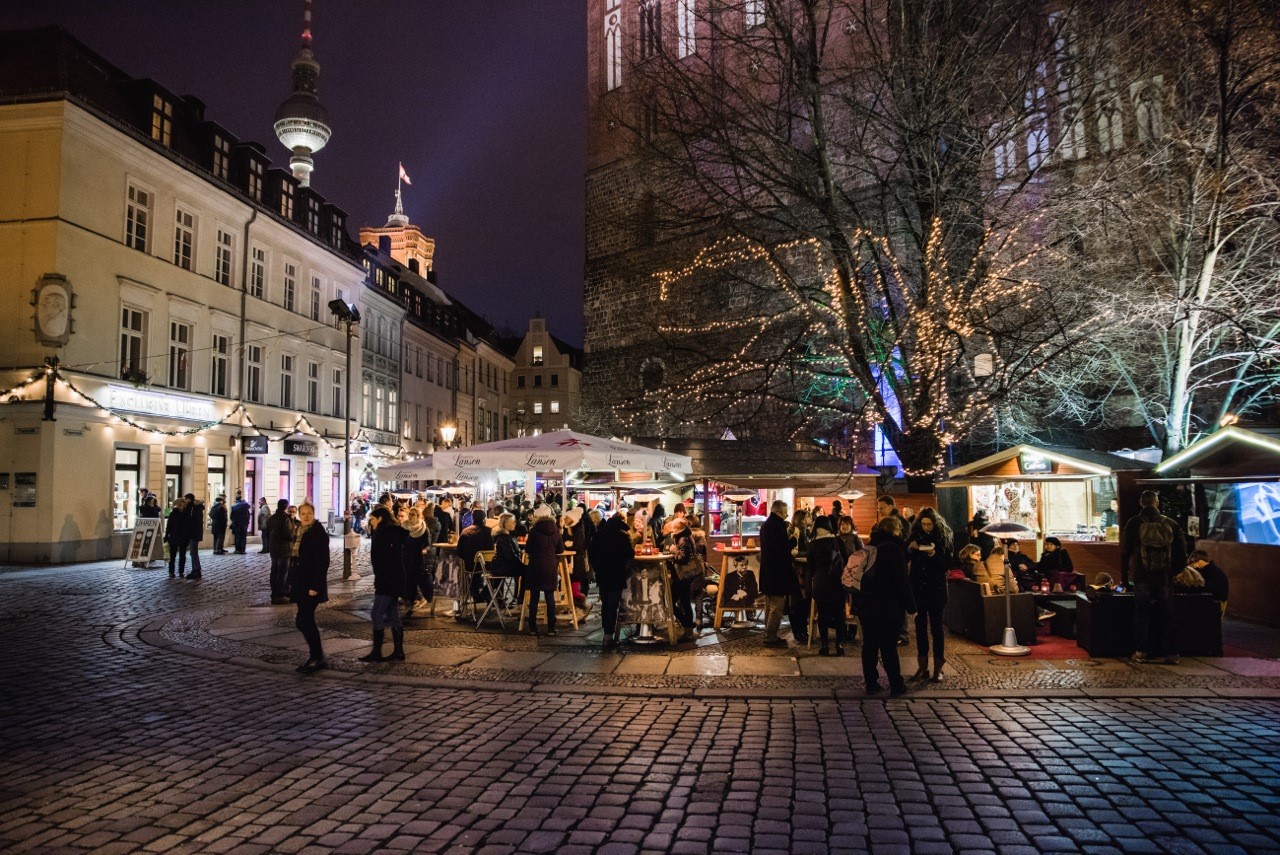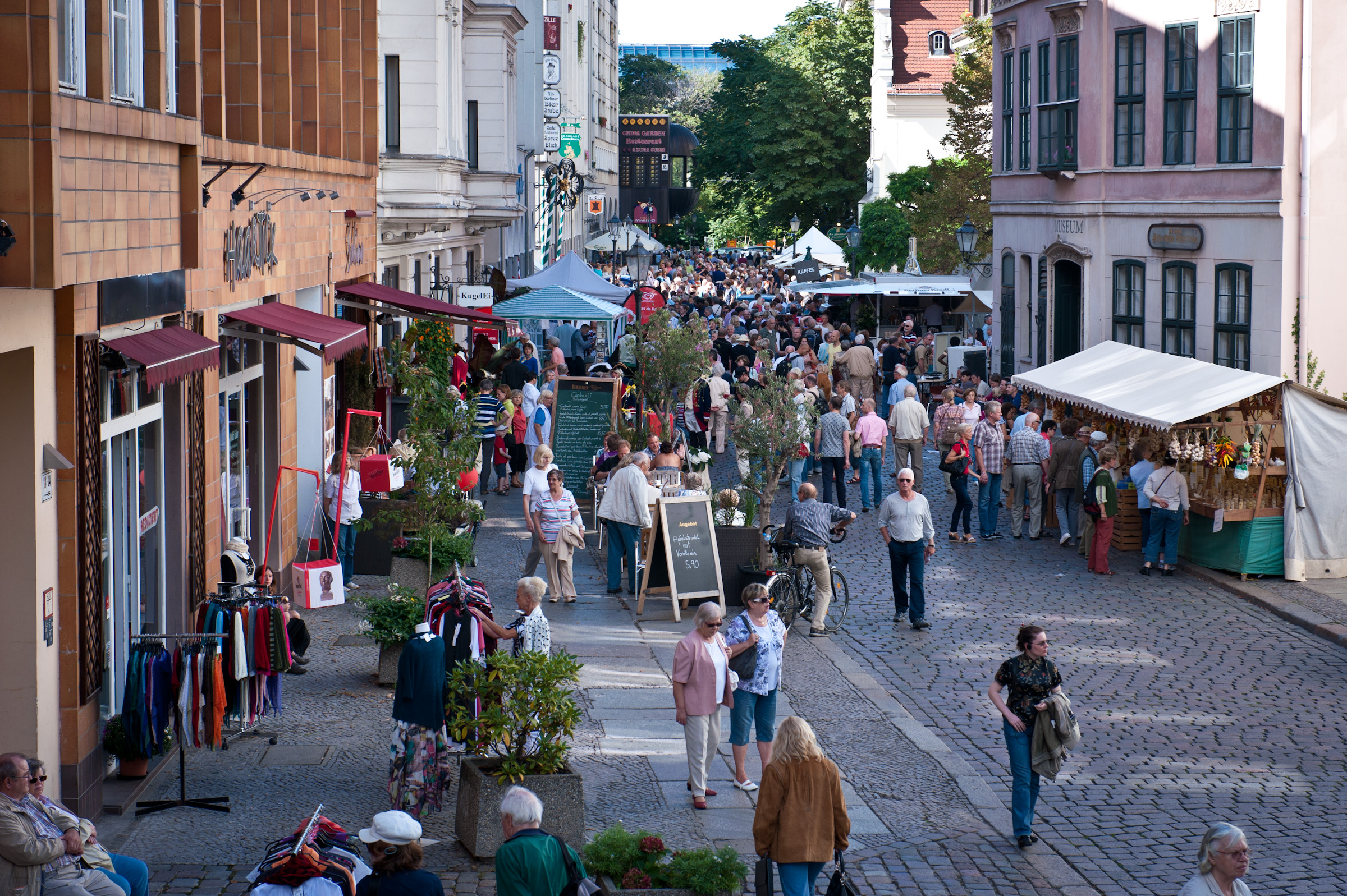 13-)
Clärchens Ballroom could be a satisfactory choice for people who are looking for a classy German restaurant with live music.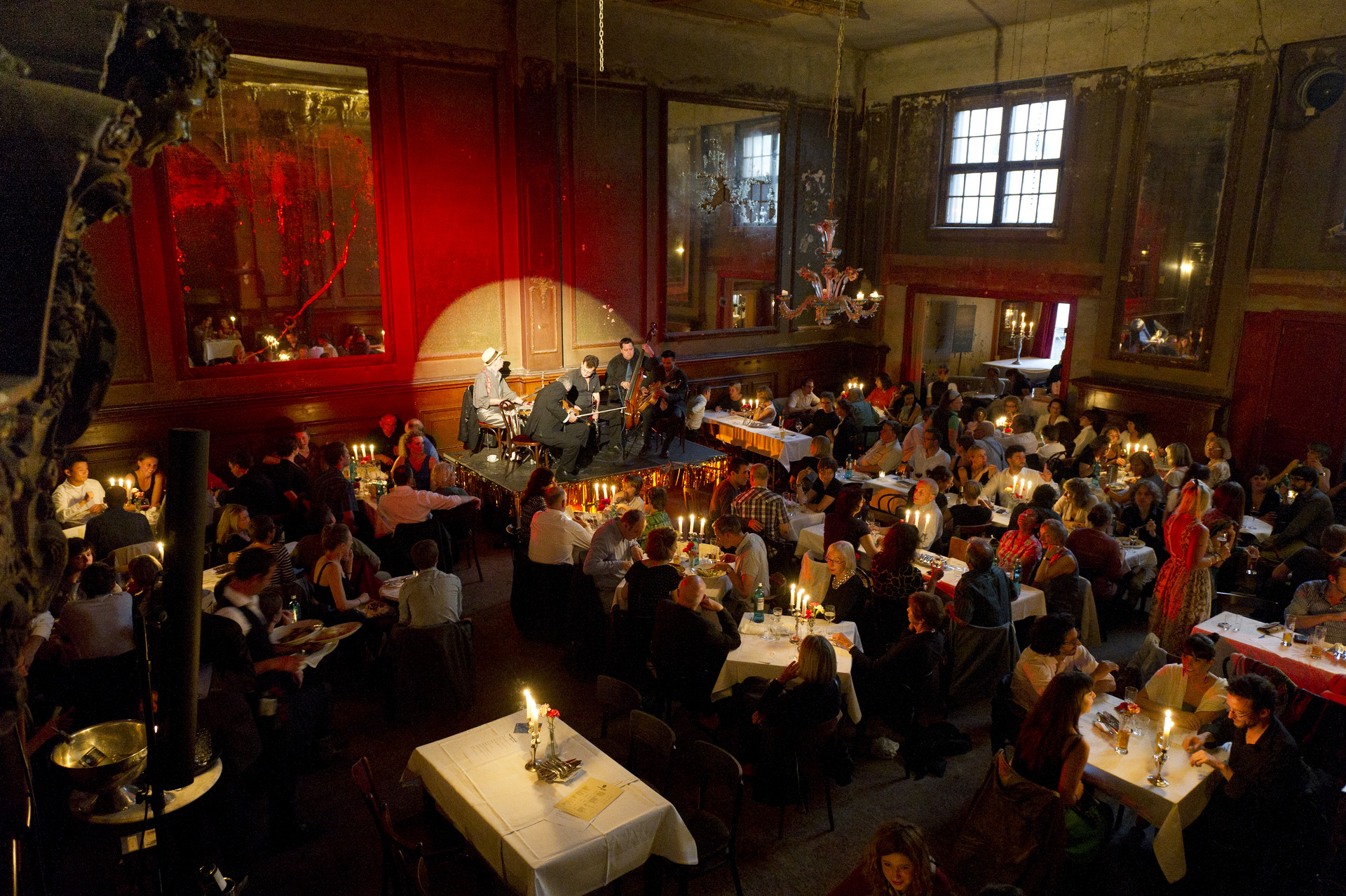 14-)
Kastanienallee is one of the hit regions of Berliners. You can find lots of cafe, restaurant throughout this region. It also provides great street views with fascinating architectures. Whether you are with your friend or alone, it is always a good idea to go for a walk in this region.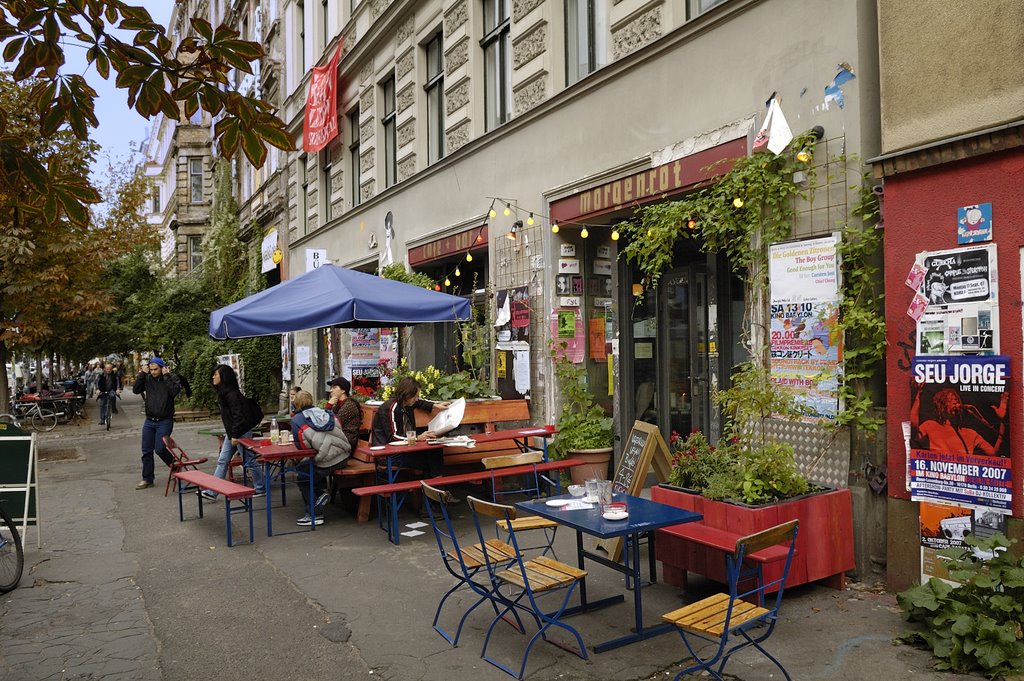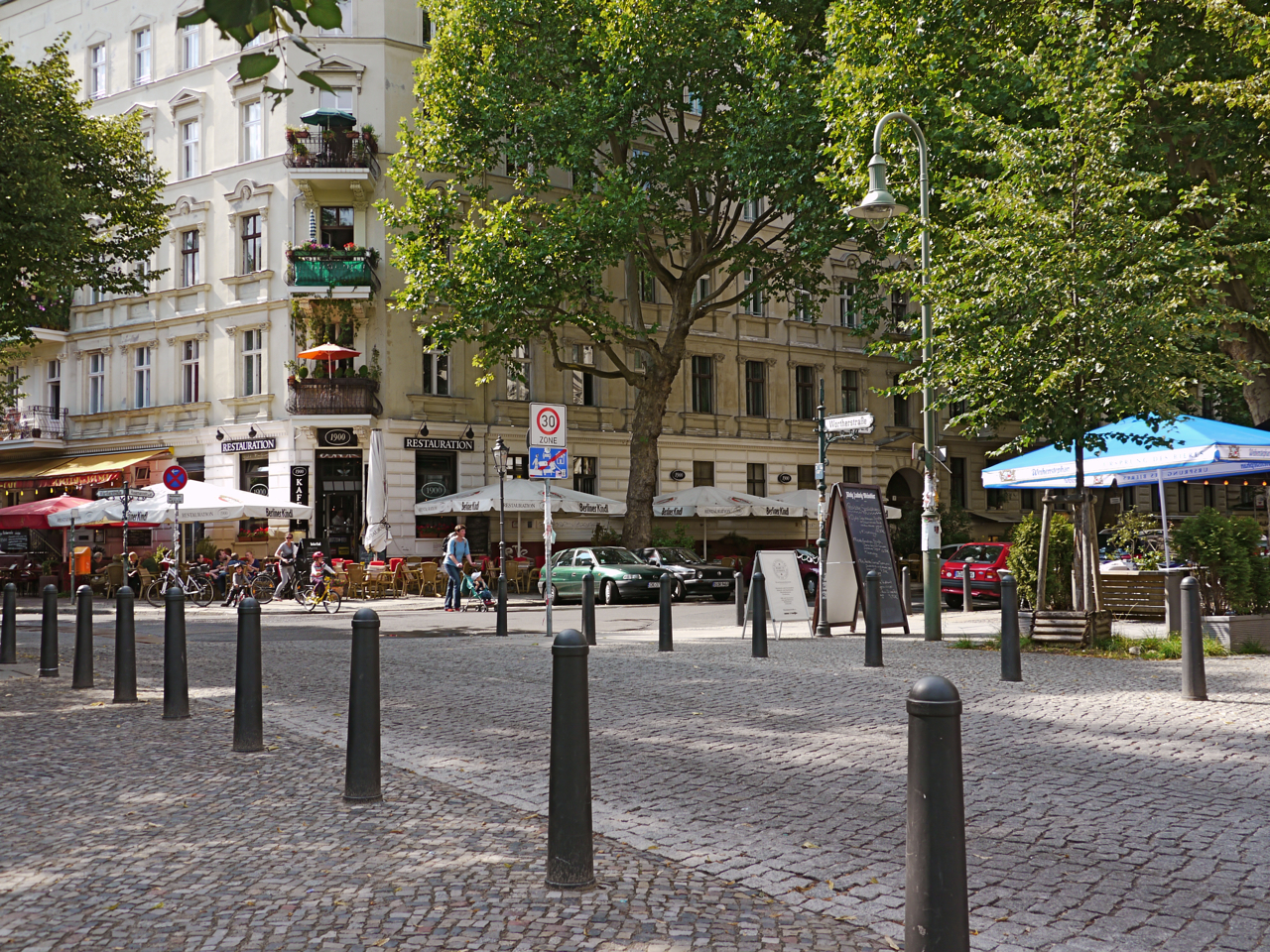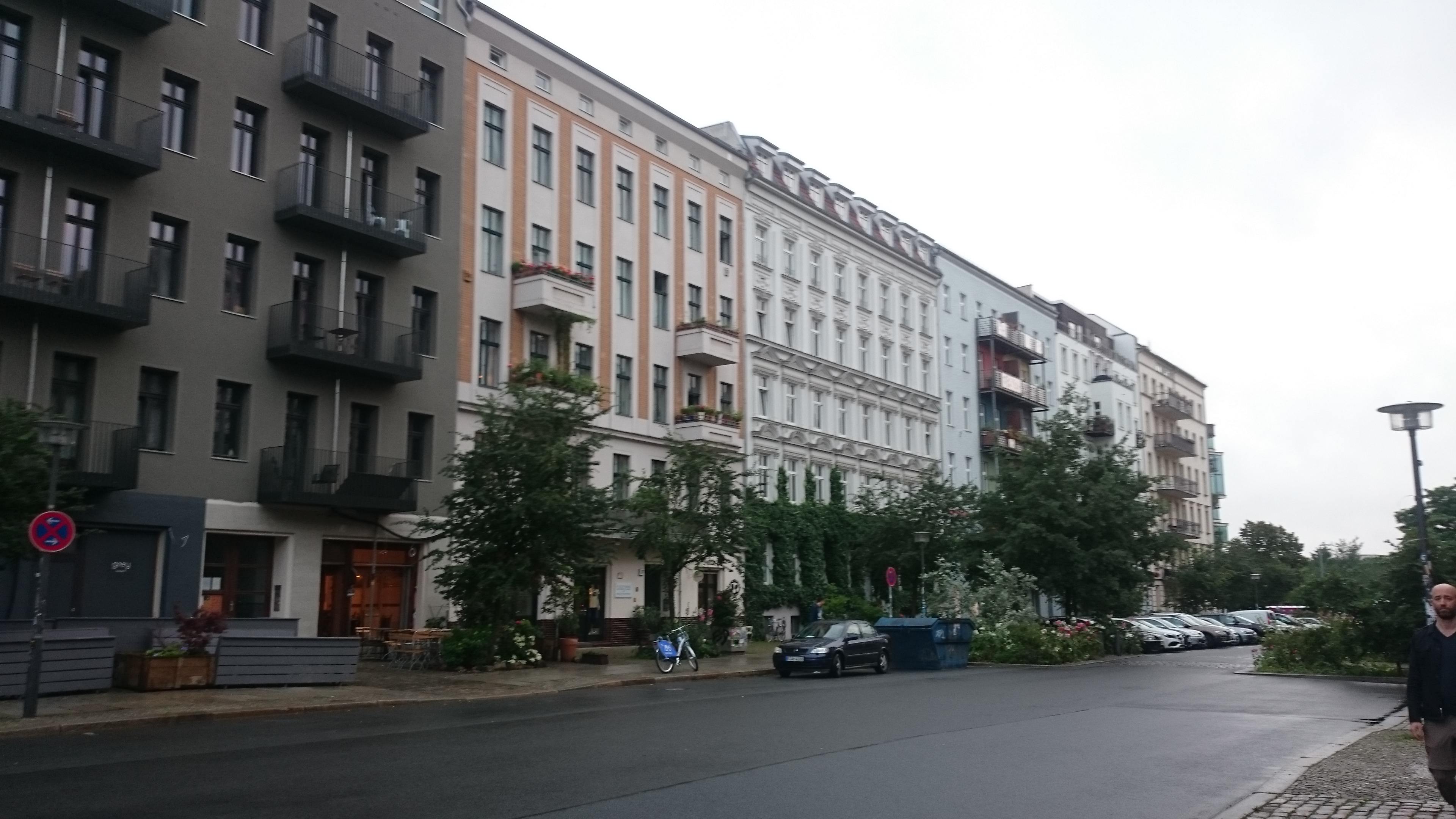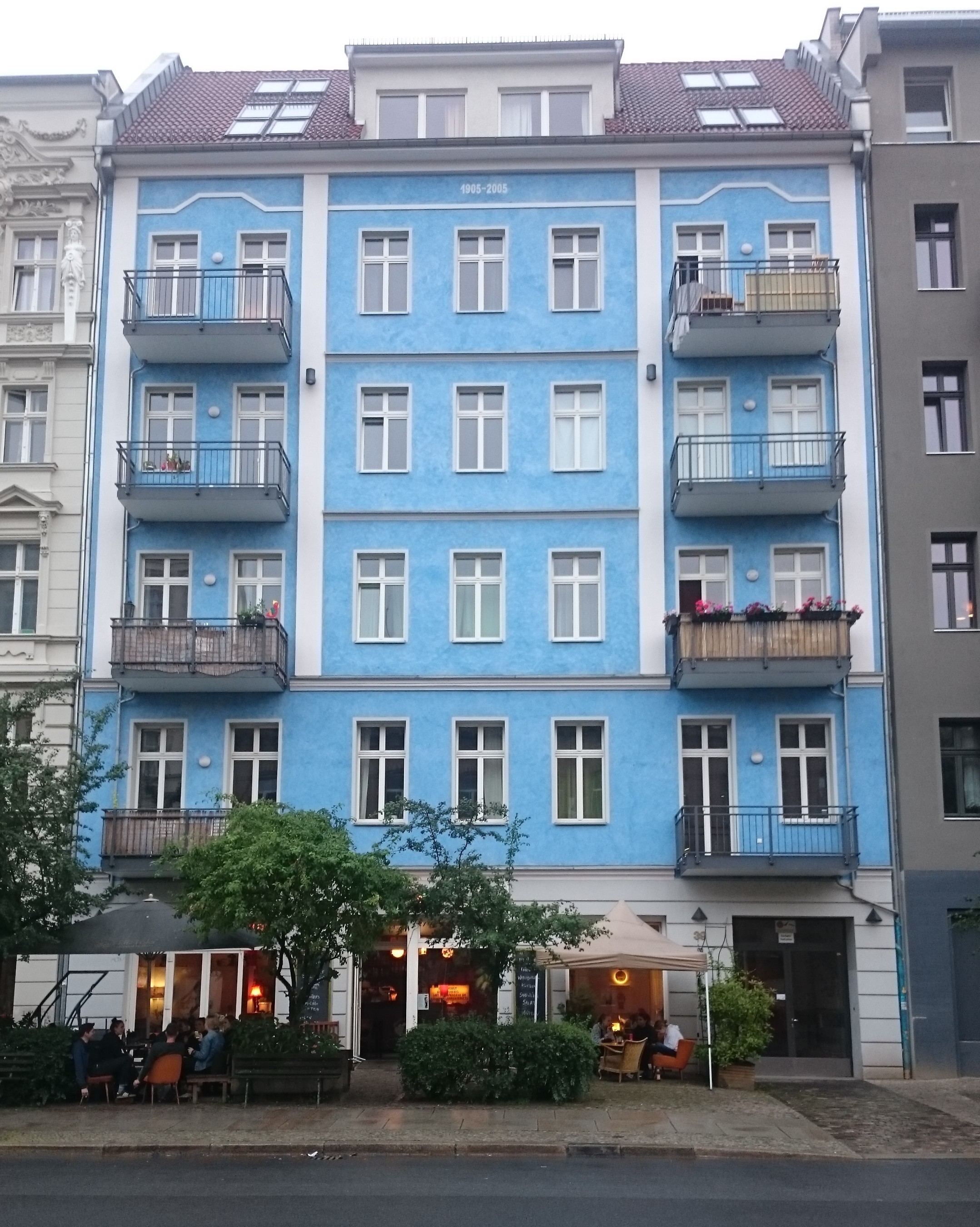 15-)
You can visit Drachenberg which offers a fantactic top-view of the City. After that you can go and visit Teufelsberg Spy Towers which was a listening station during the Cold War.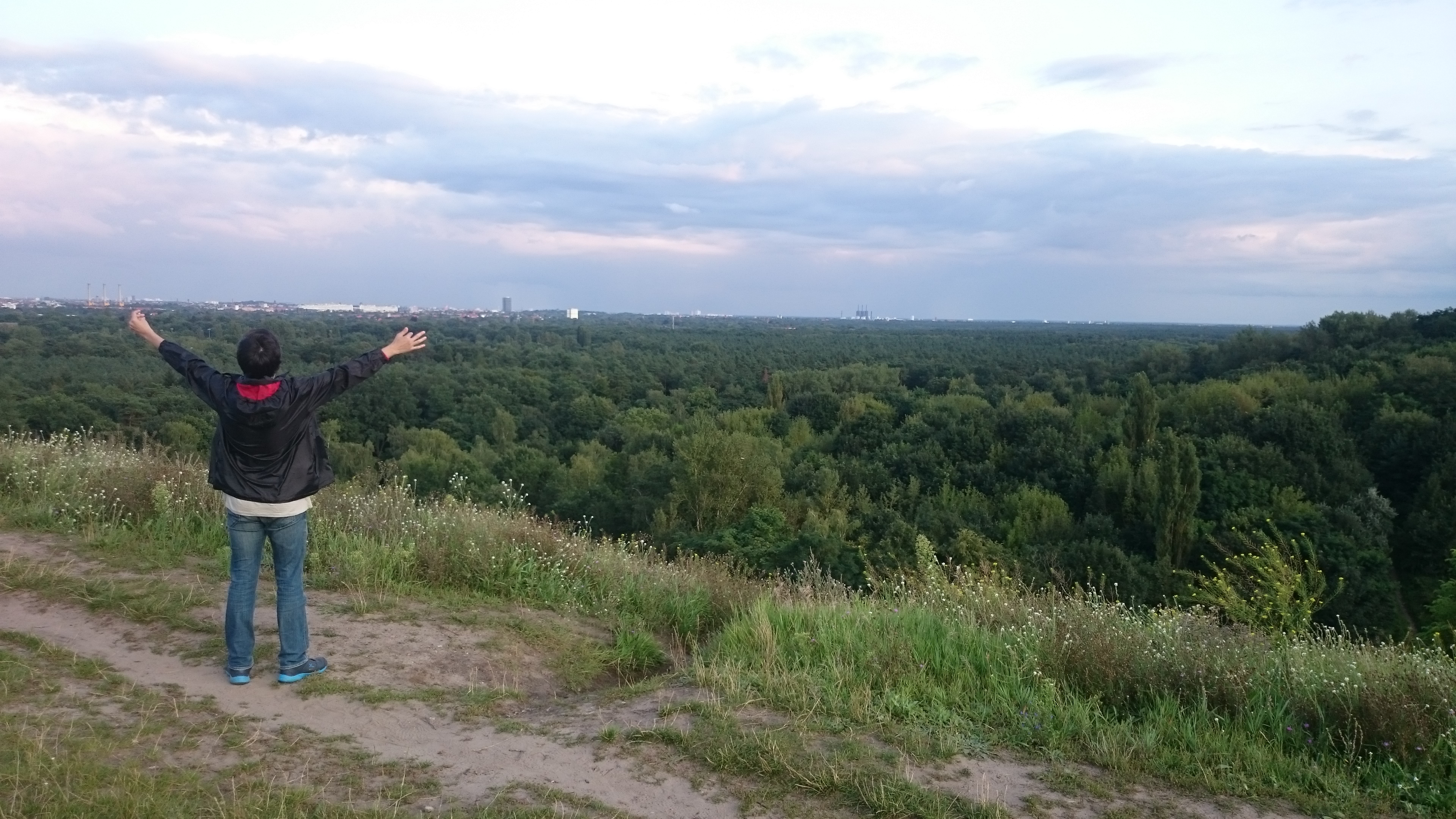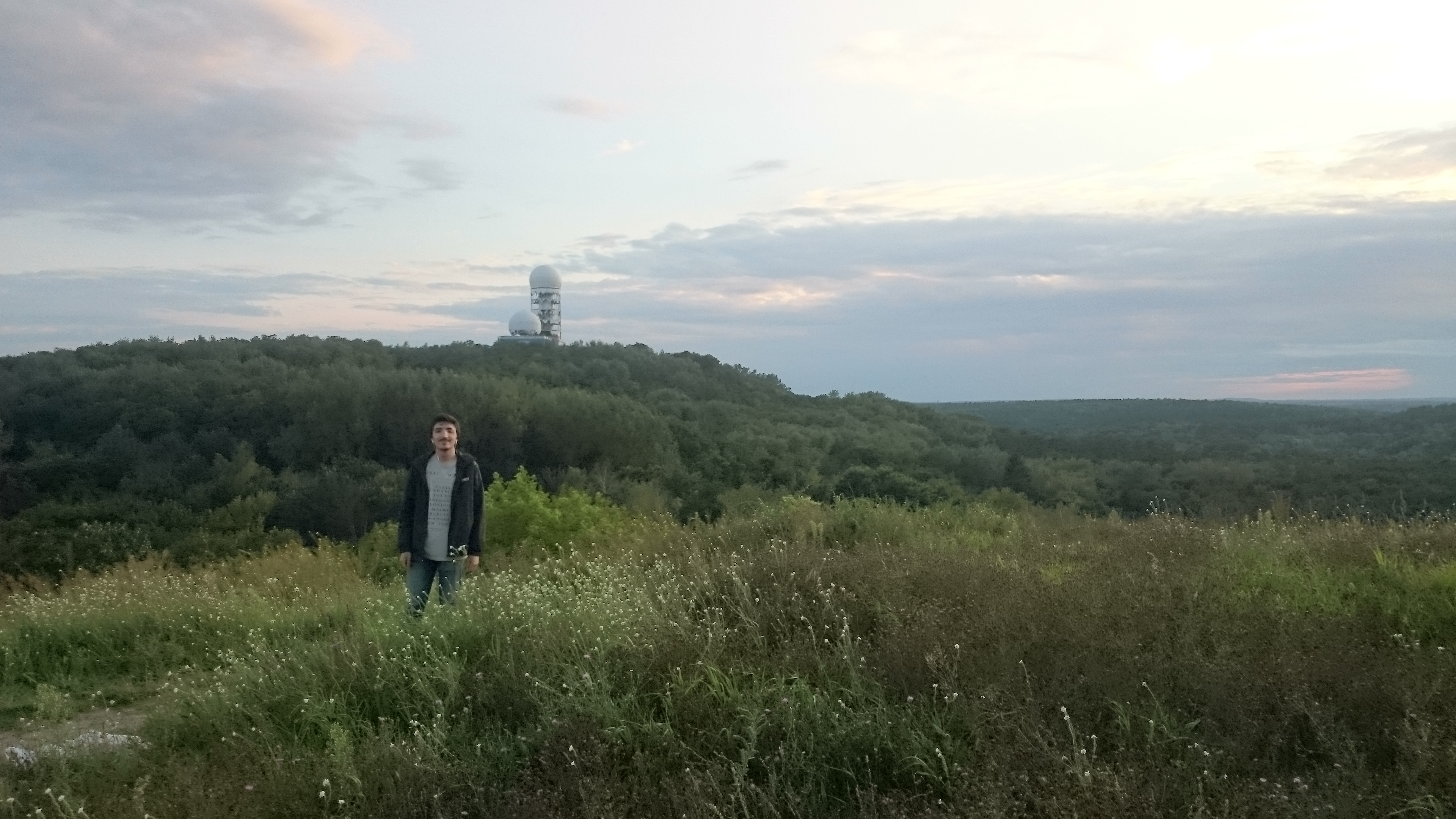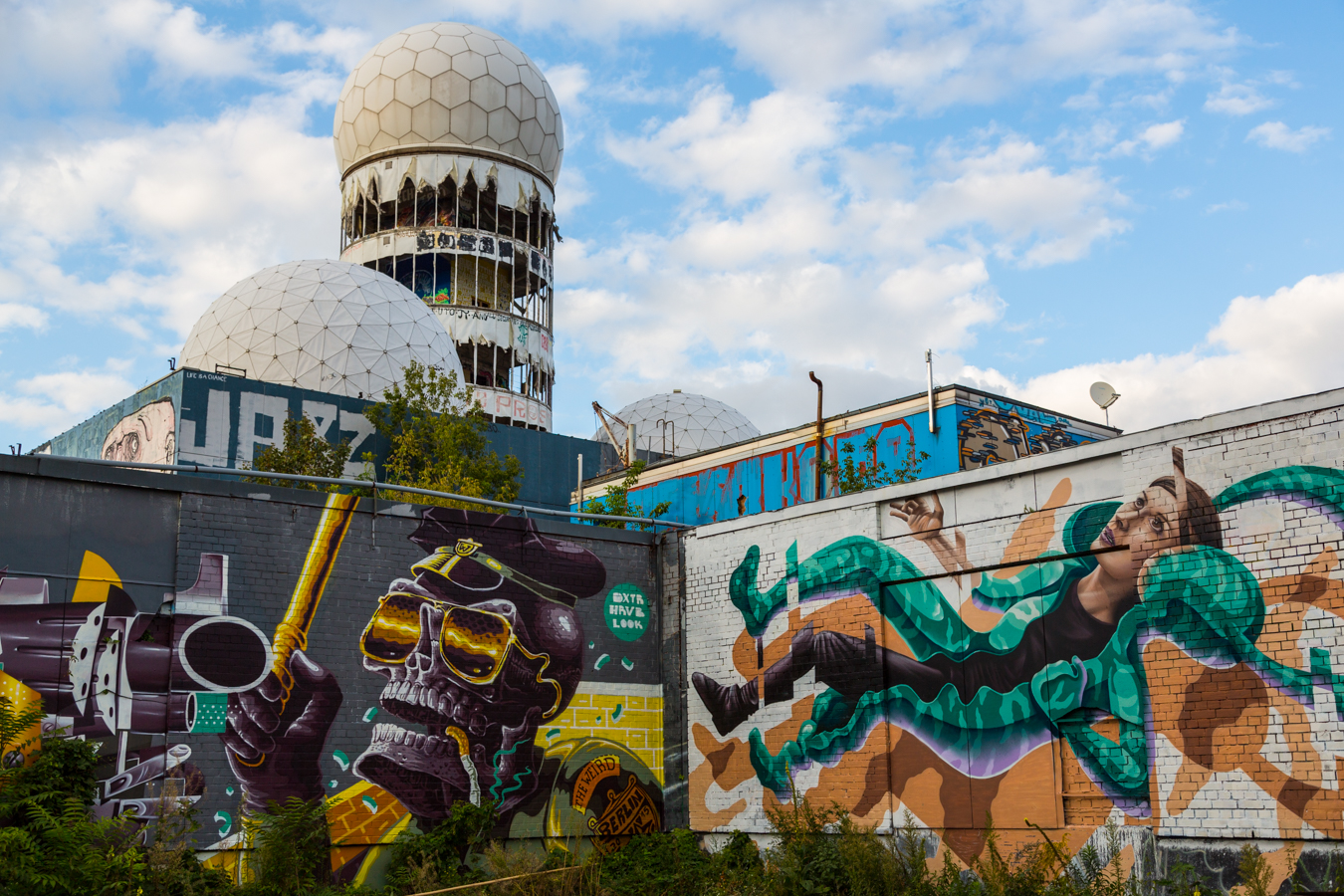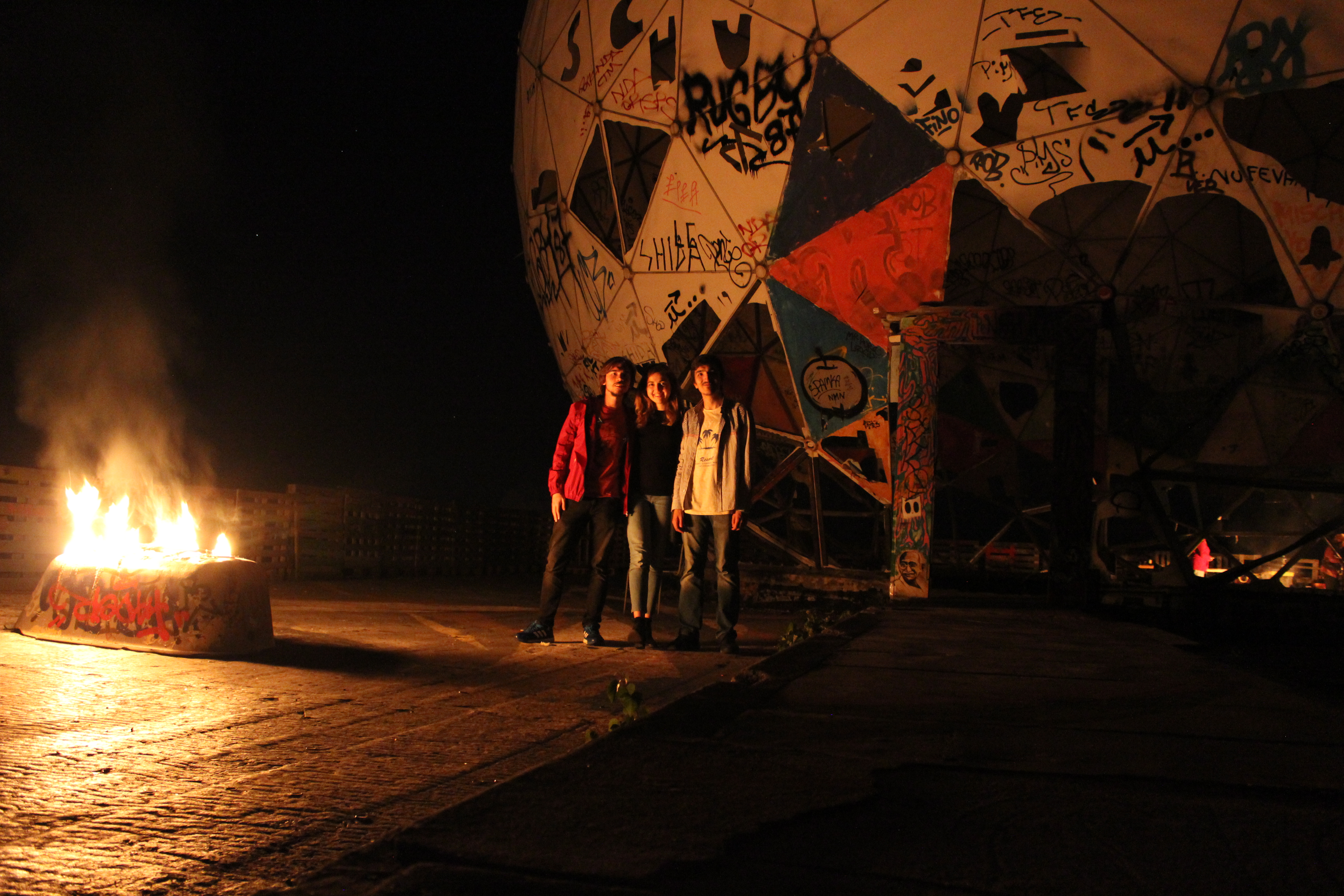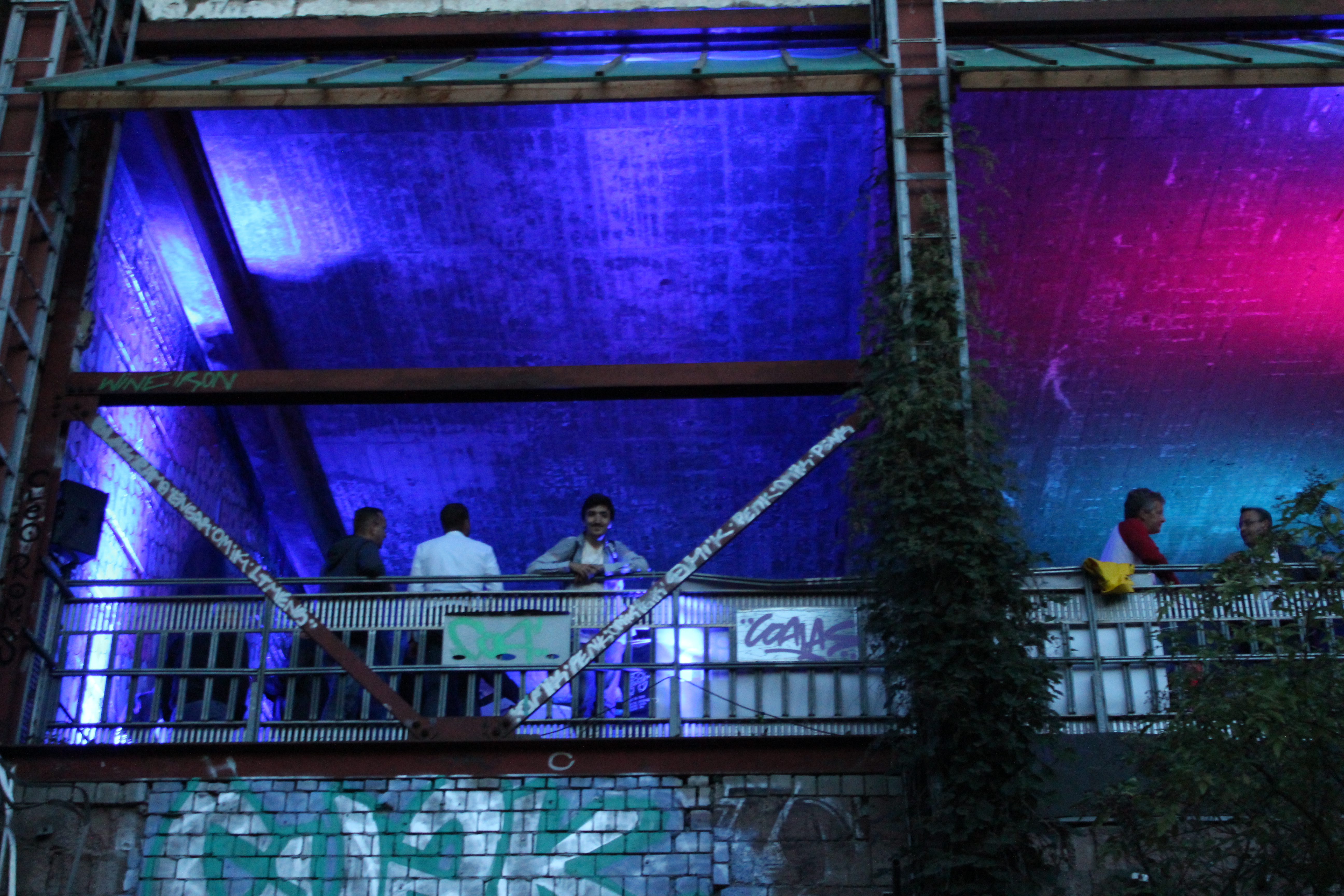 16-)
Germany Parliament Building Reichstag, which is still actively used, must be seen. If you book in advance (like 2-3 week before), you can visit characteristic glass dome Reichstag Dome for free. It is the only place in Reichstag that Hitler never stepped foot in. You can also get quite informative audio guide for free.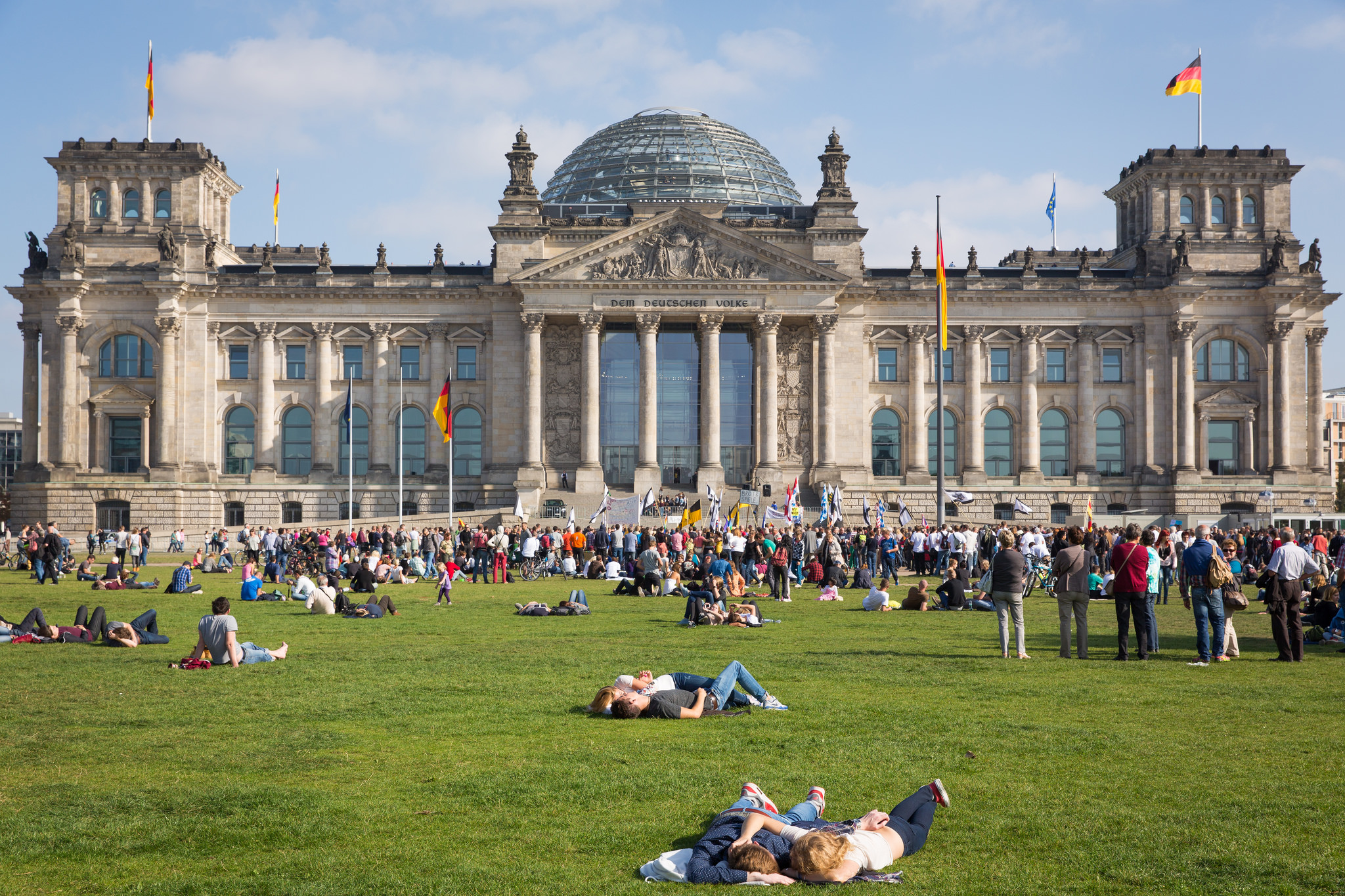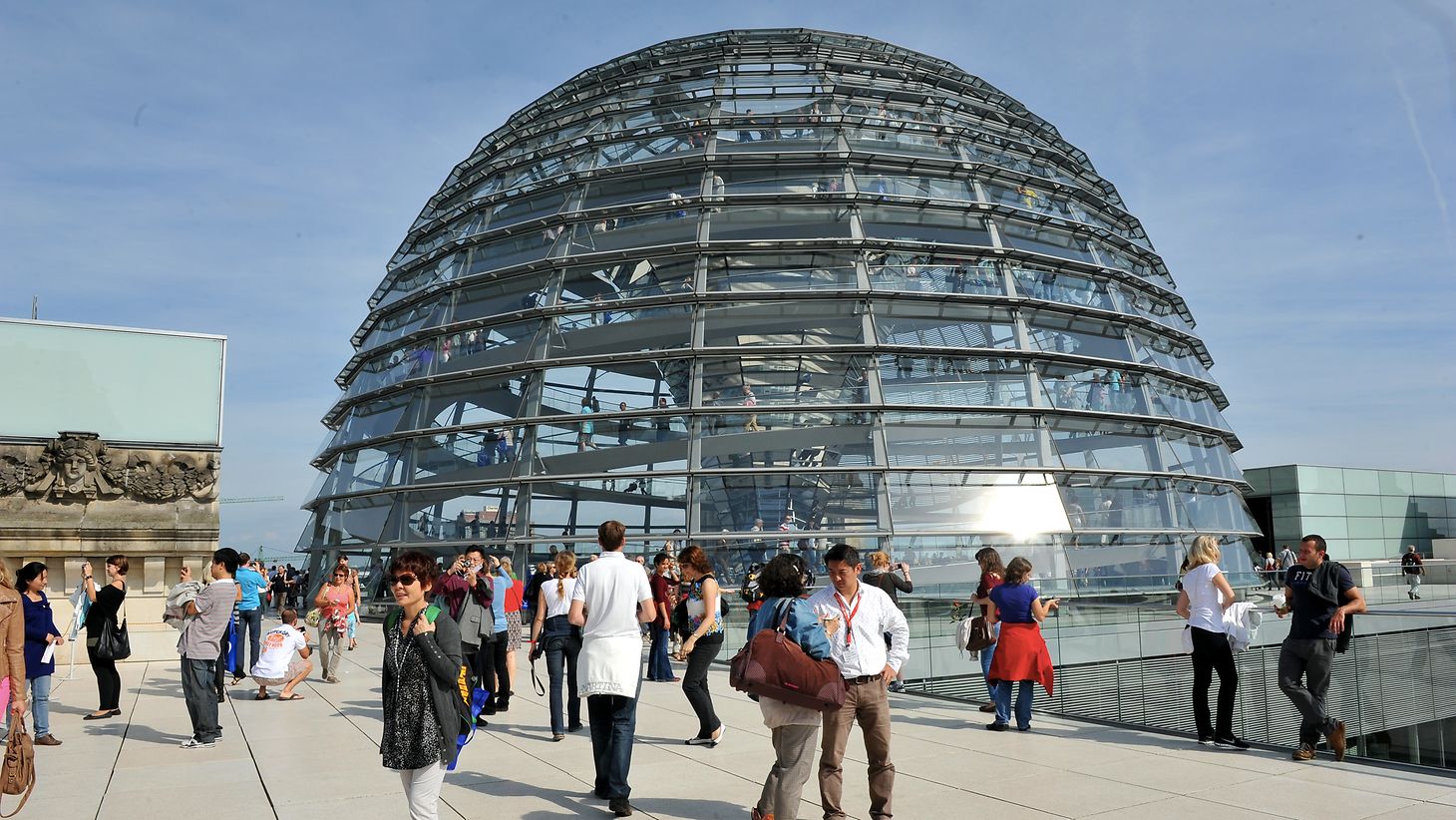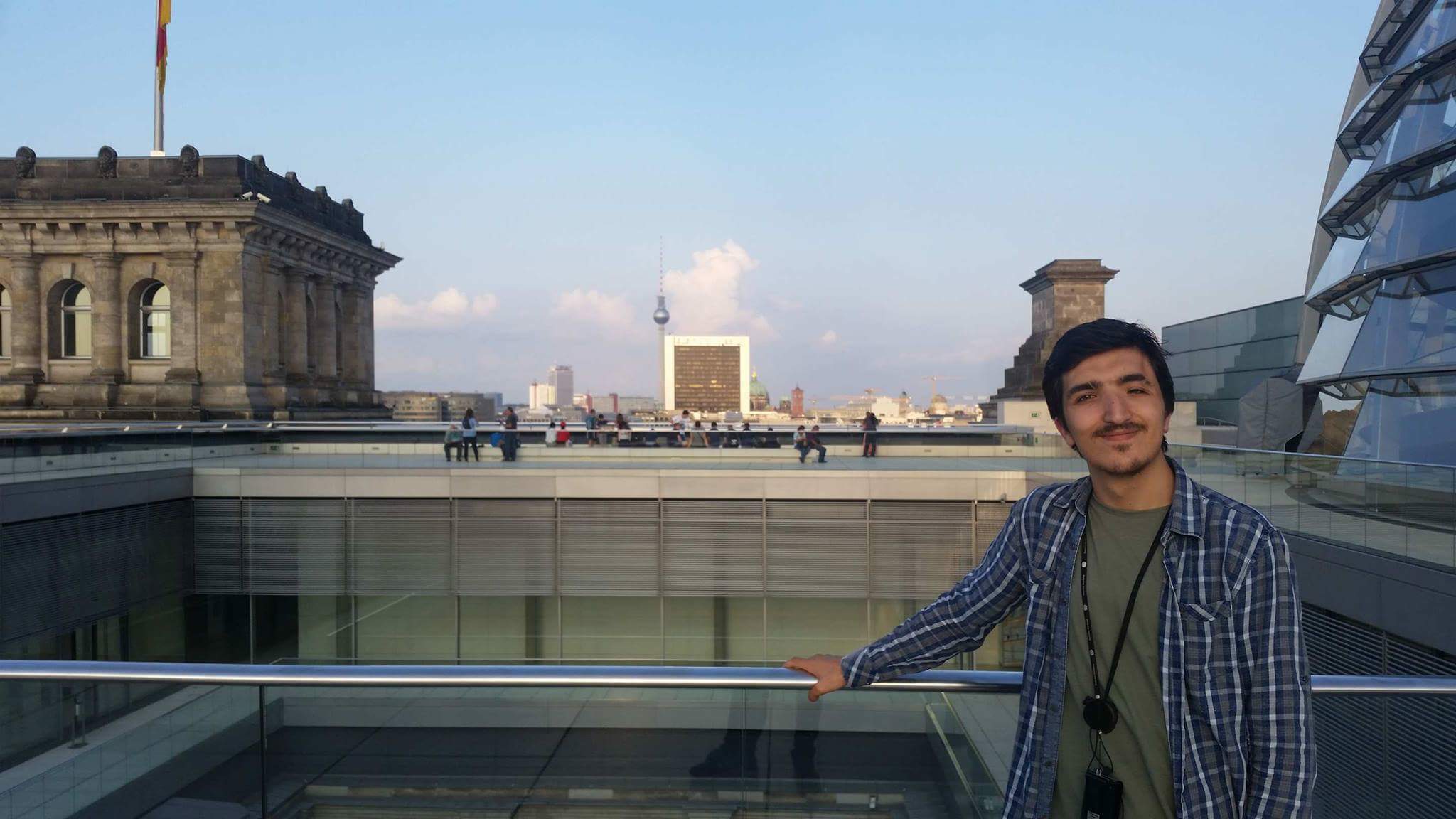 17-)
Holzmarkt is an excellent place near the river which has very exotic pubs and cafes. I like the bar Holzmarkt Pampa's atmosphere.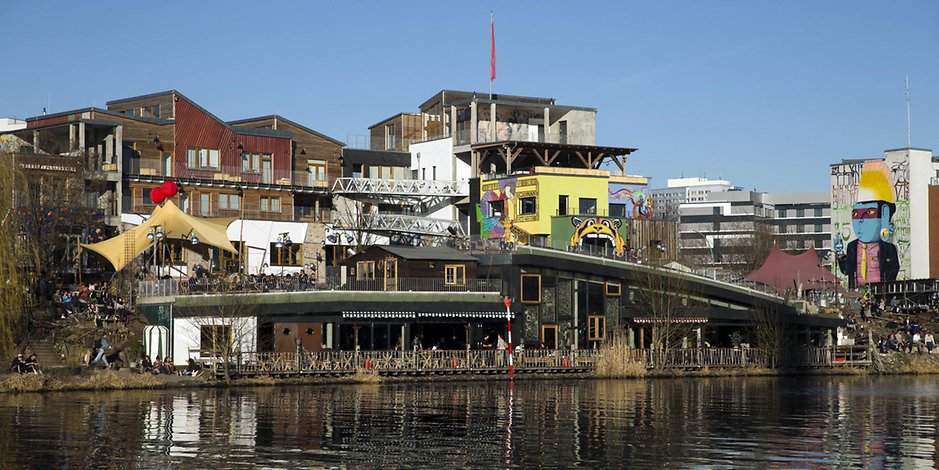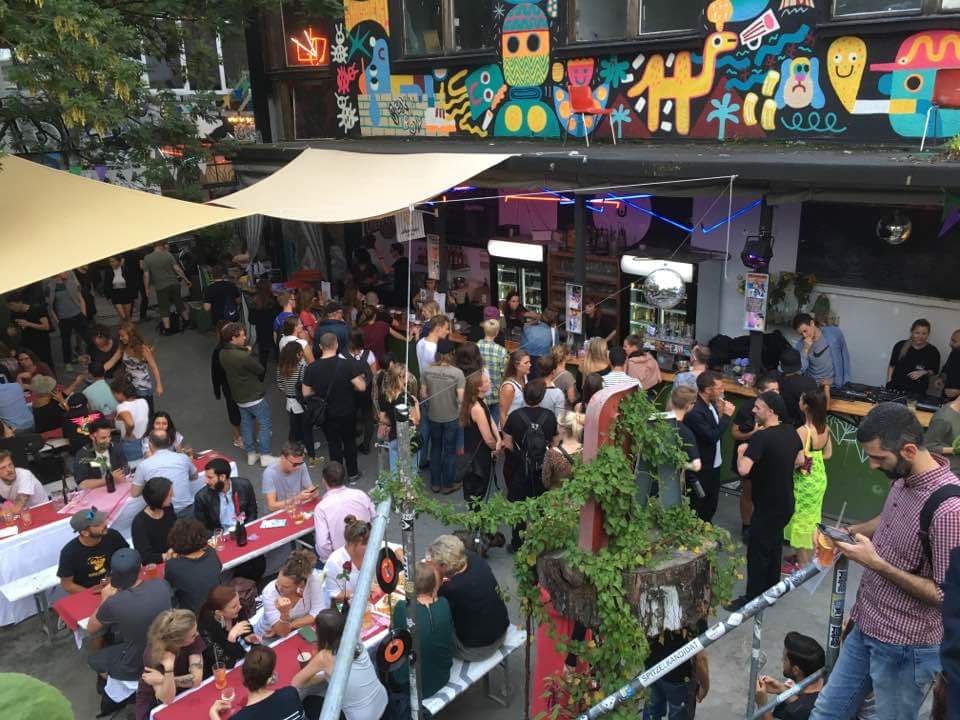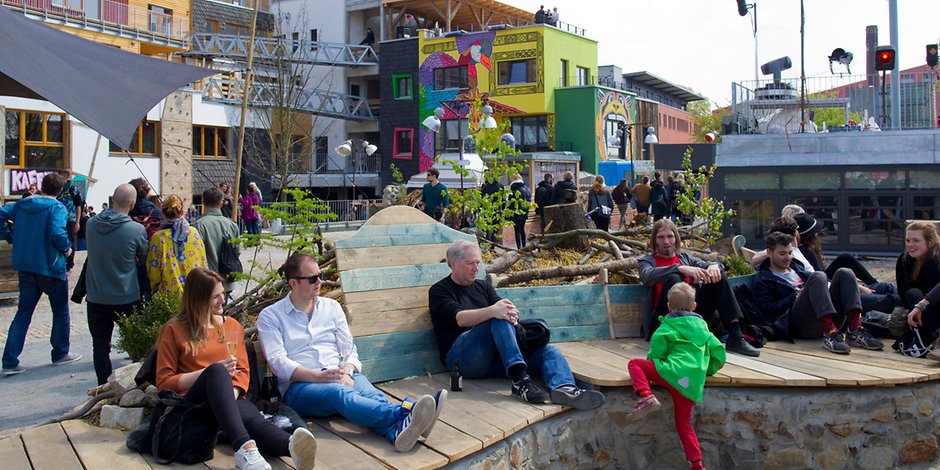 18-)
You can visit rococo style Charlottenburg Palace and its huge garden. Although there is an entrance fee for palace, beautiful garden can be discovered for free. Moreover, you can also visit all the palace for free in the last Sunday of each month. There is no nearby market to the Palace, so it is highly recommended that take your snacks and drinks with you before coming.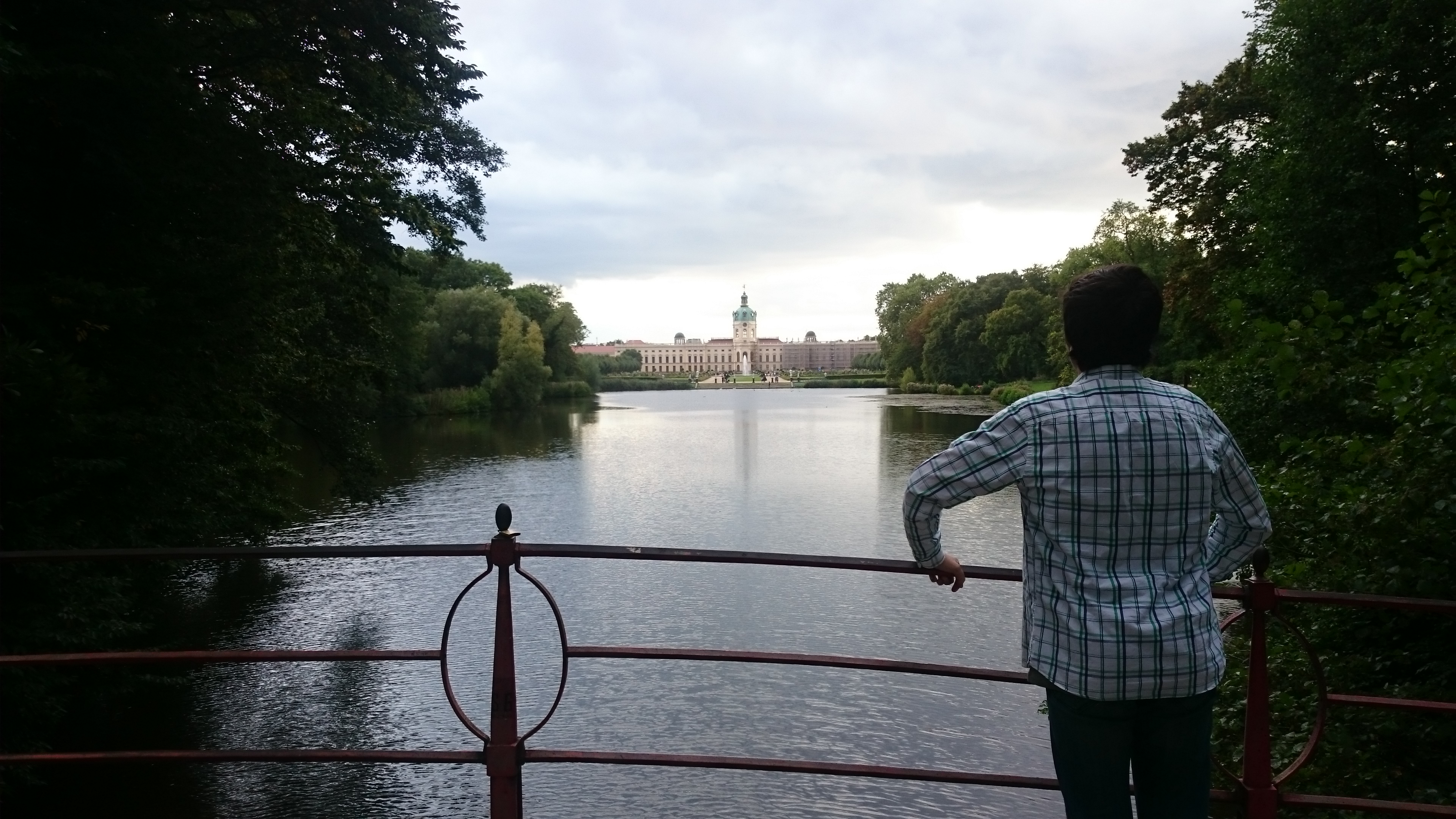 19-)
Cafe am Engelbecken is lovely, cosy and calming cafe which is located near a small lake. The prices are not too expensive especially if you think about its location. It might be a perfect place to read your book while enjoying your coffee.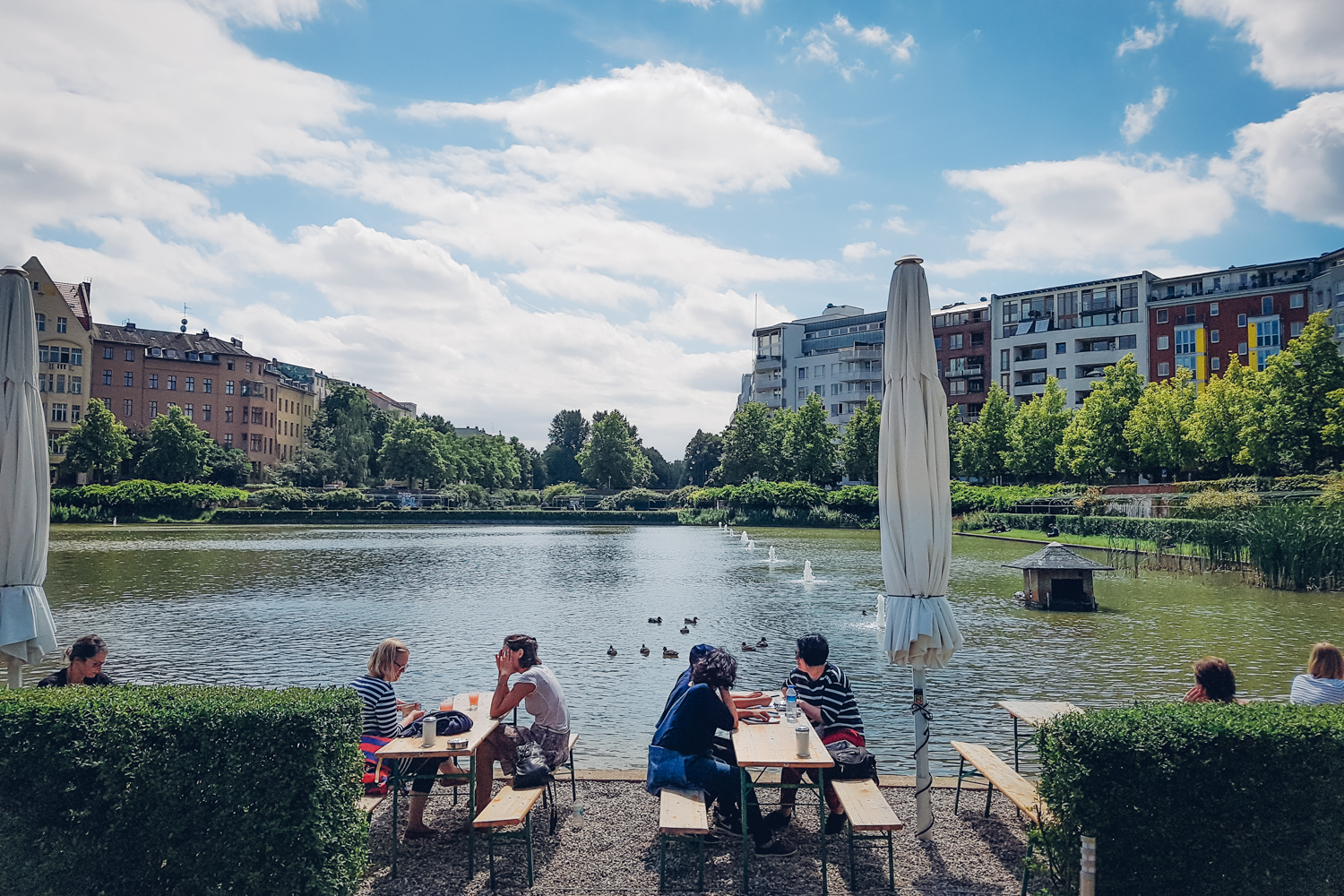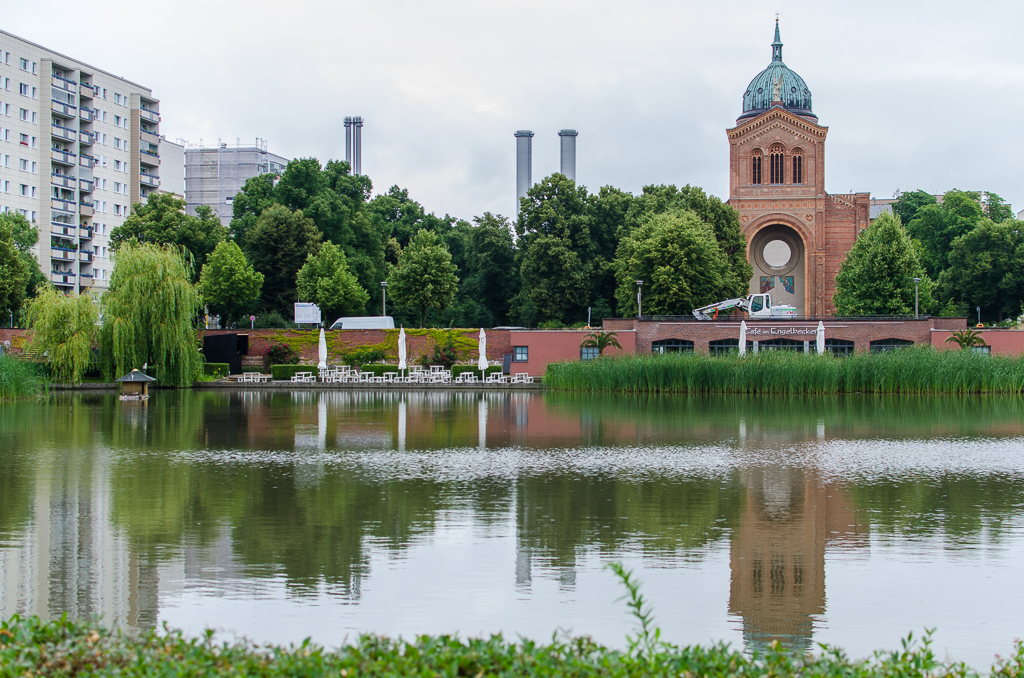 20-)
If you are looking for a boat ride, instead of paying money for touristic cruise tours, you can use BVG's Ferry with your BVG ticket that you use in SBahns, UBahns and buses. There is a great route for this purpose. You can go Wansee using SBahn and then you can walk just 2 minutes to Wansee Station. Take BVG F10 Ferry which goes to Station Kladow. Kladow will welcome you with a great view and lovely cafes. After getting some snacks and drinks from supermarkets near Kladow Station, you can follow Imchenallee street throughout river. If you are willing to go further, you deserve to enjoy a nice coffee in Sommercafé im Landhausgarten Dr. Max Fraenkel. You can either walk or get on a bicycle, but if you are on foot, then it is better to return to Station Kladow by taking bus from the nearest bus stop Hottengrund.
WARNING: Don't forget to check the last take off time of the ferrys from Station Kladow to Station Wansee!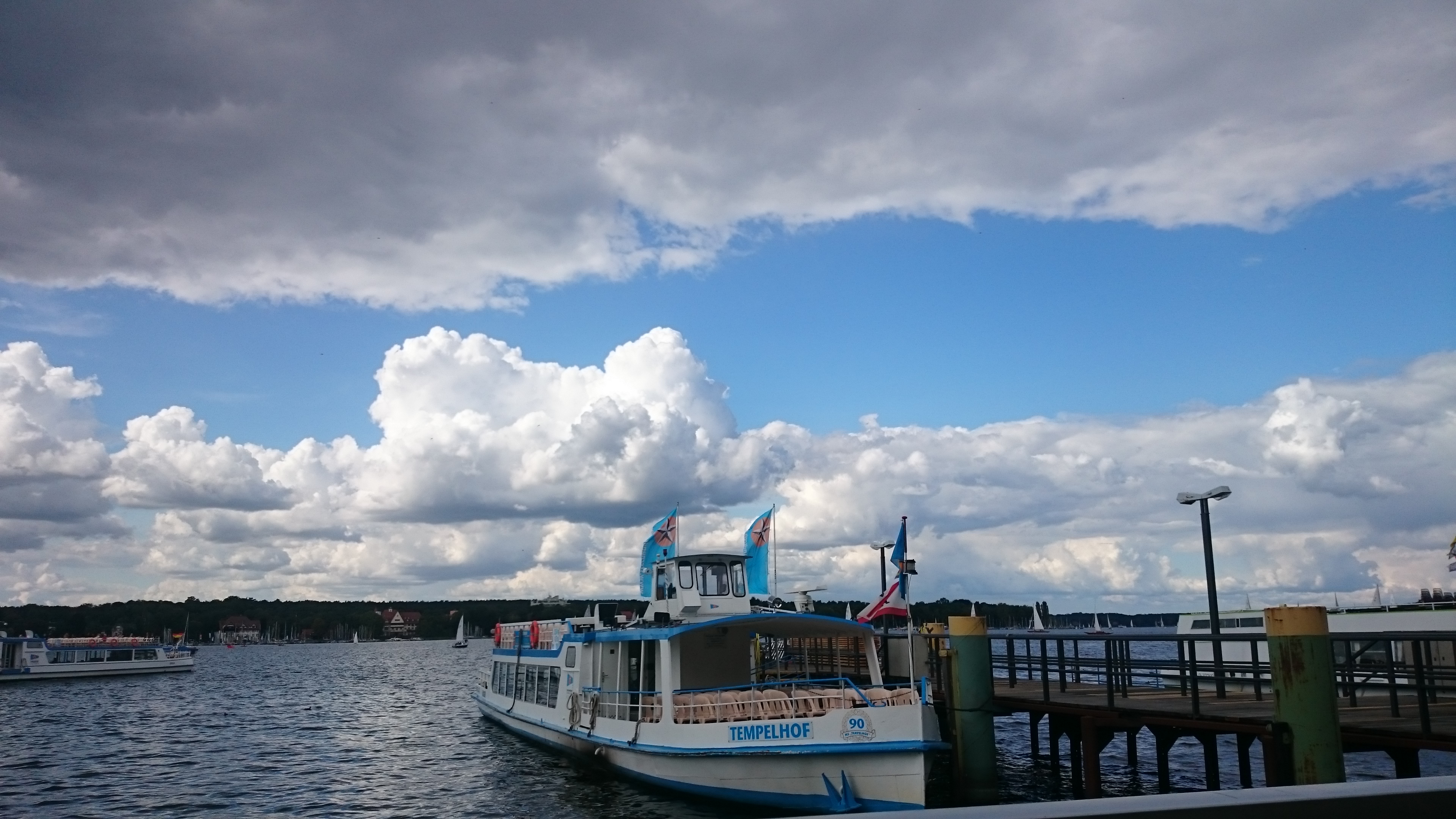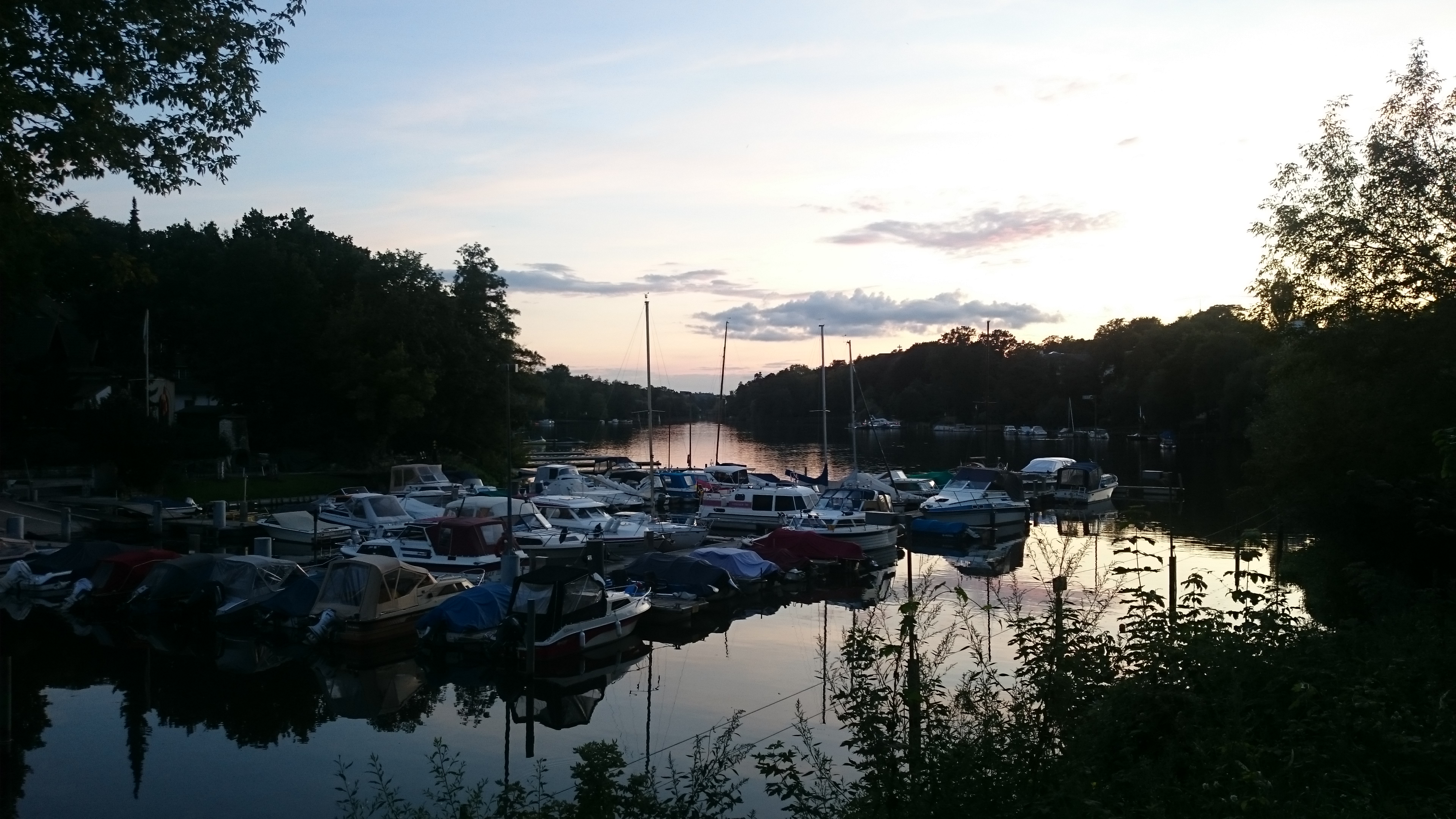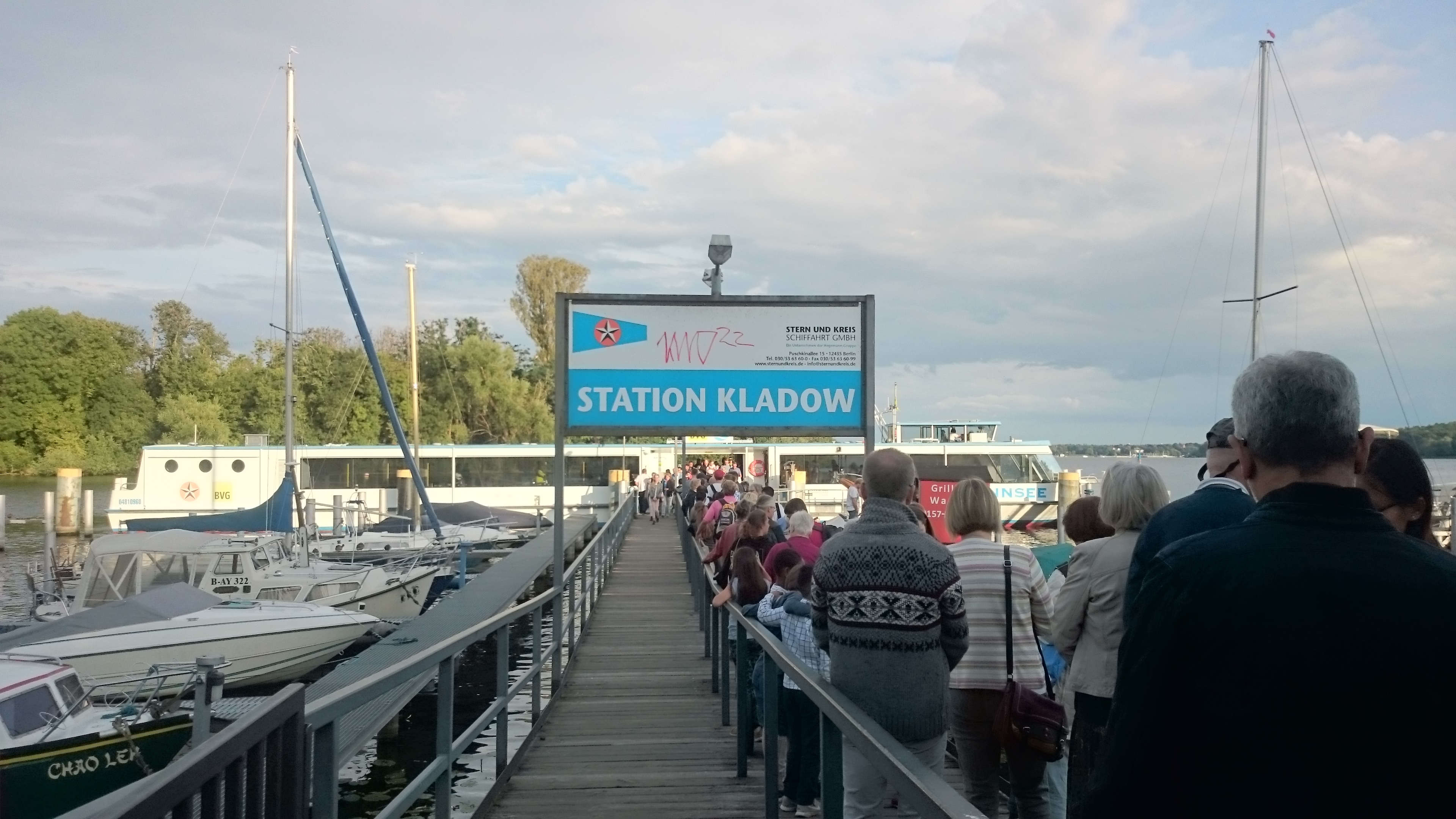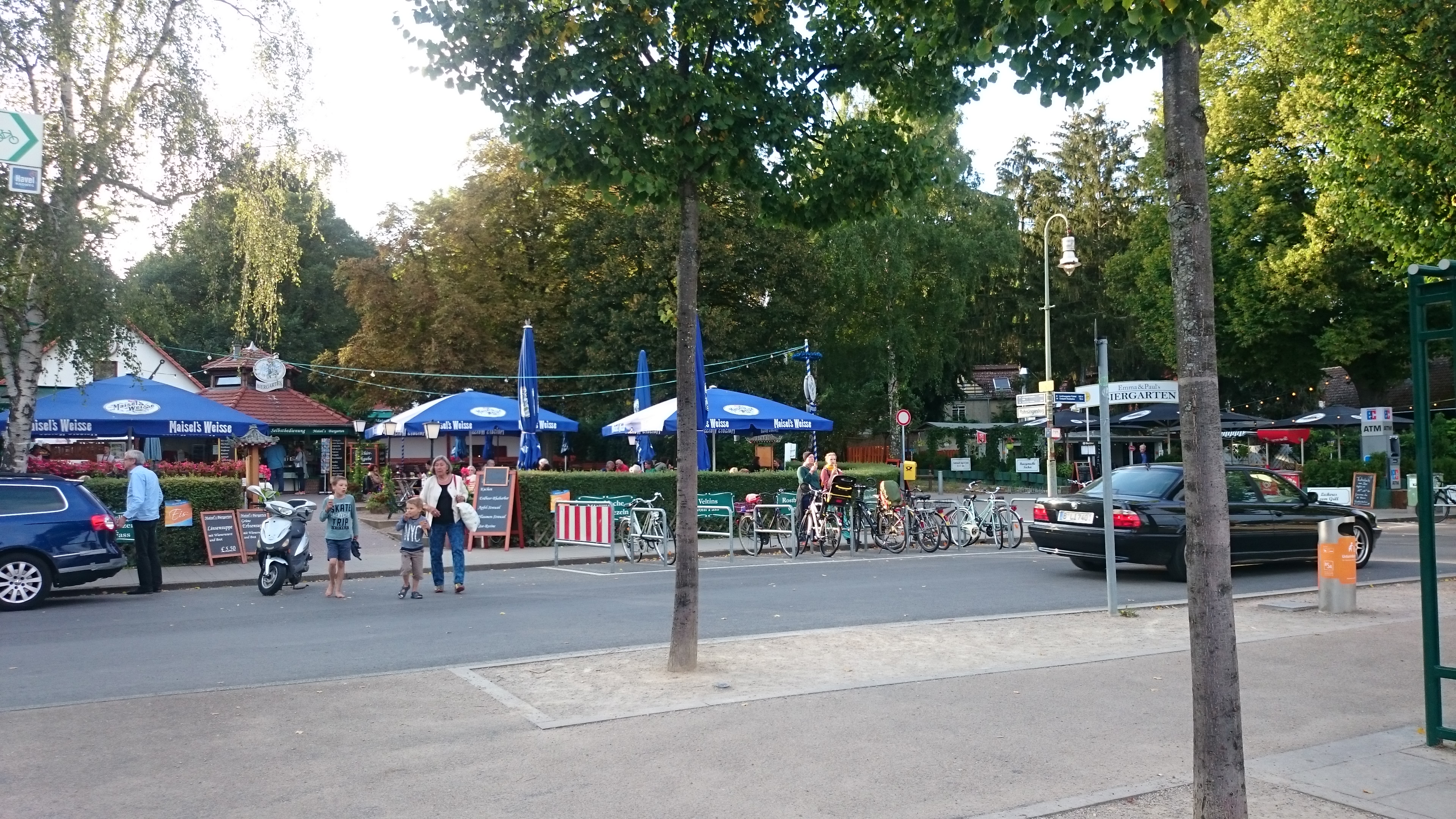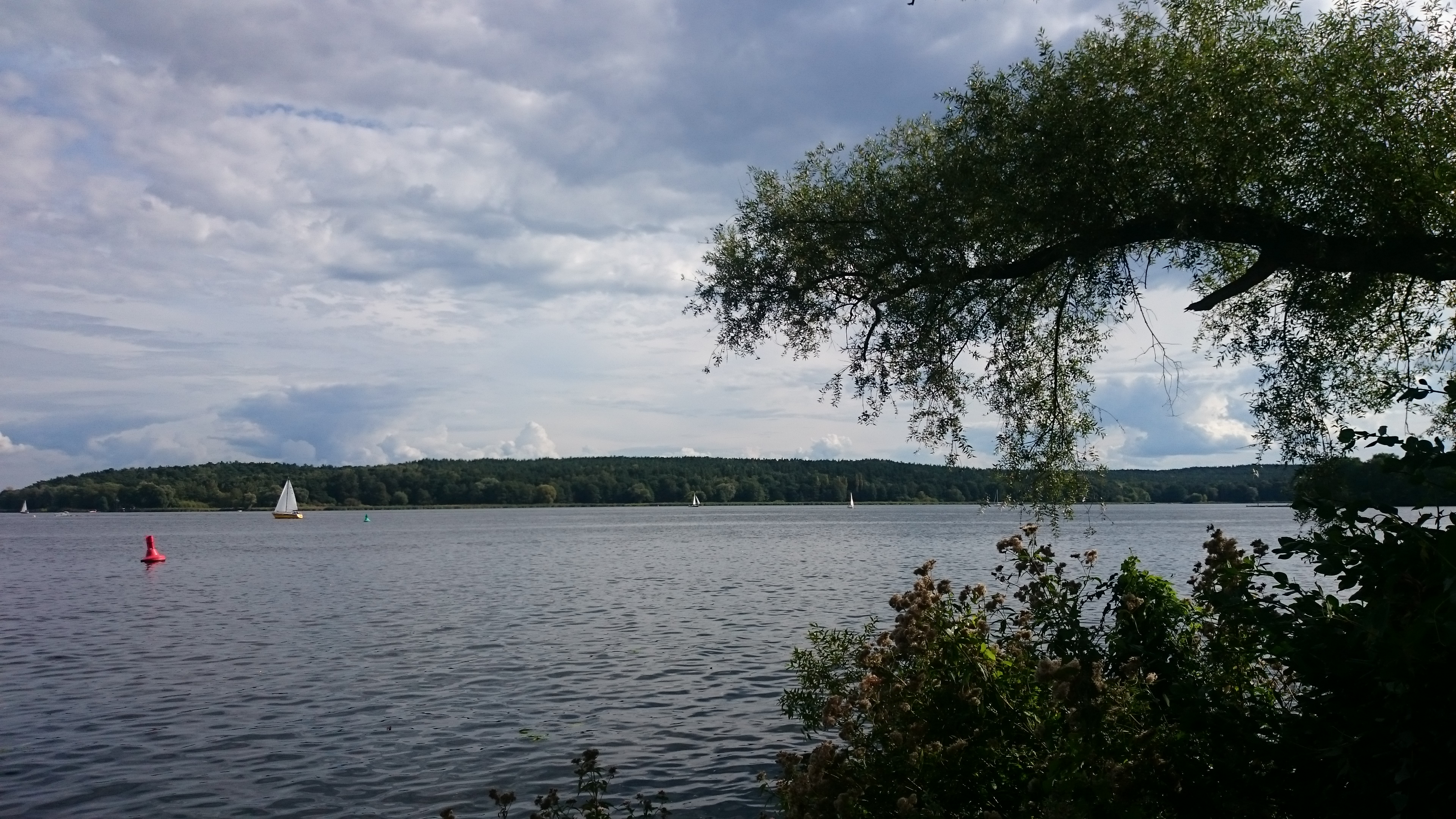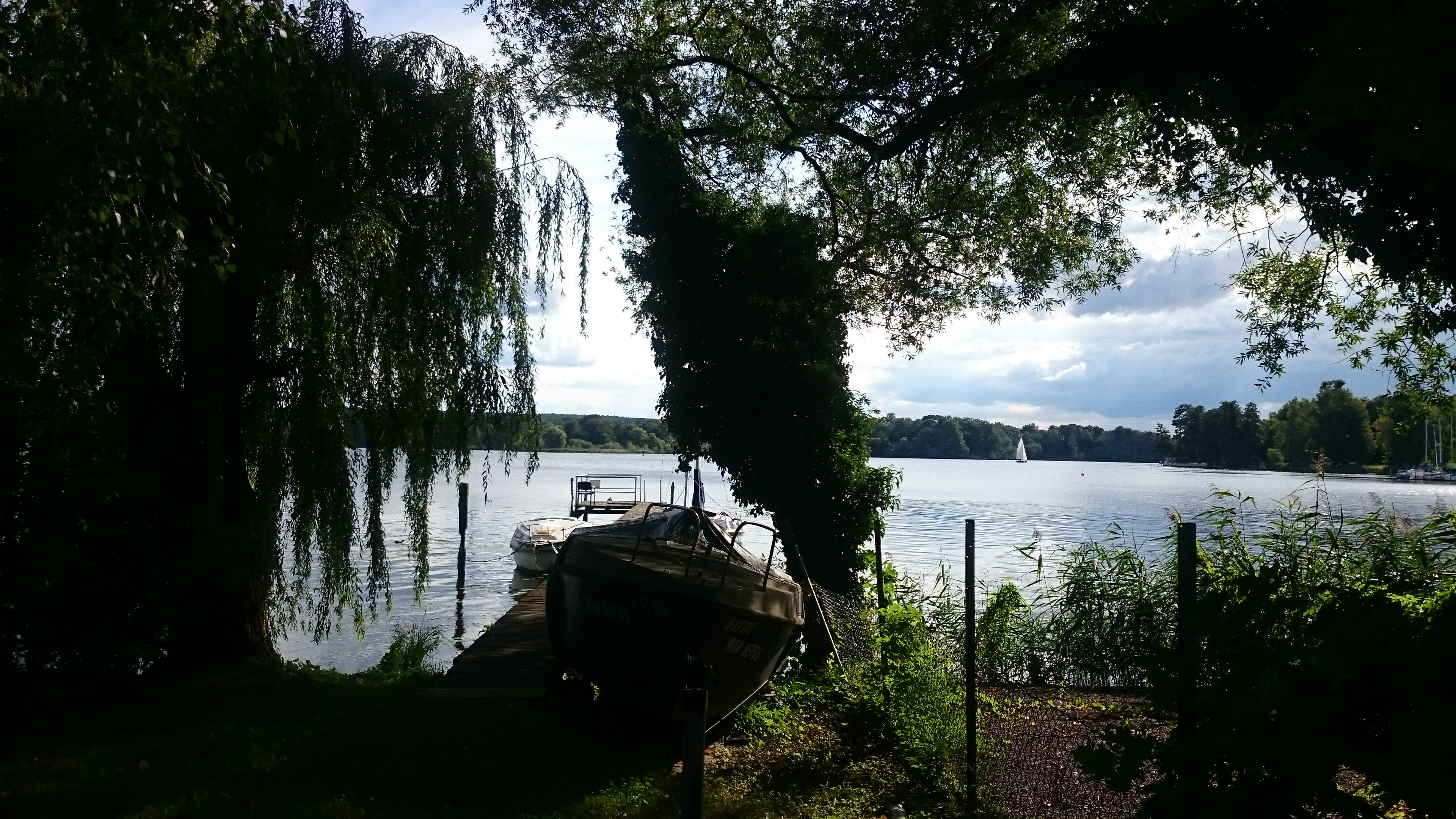 After returning Station Wansee, you can appreciate pleasing evening with sunset.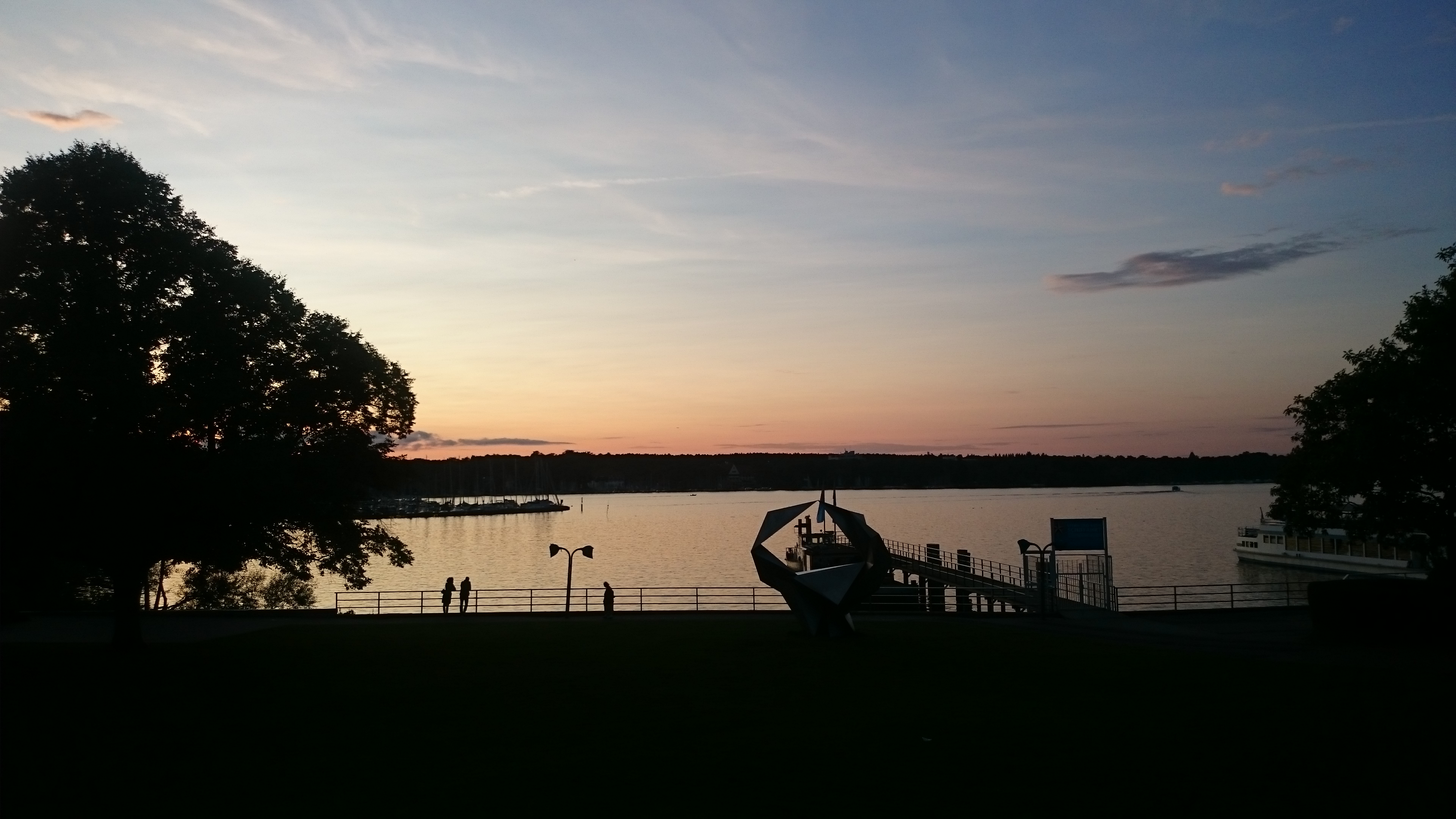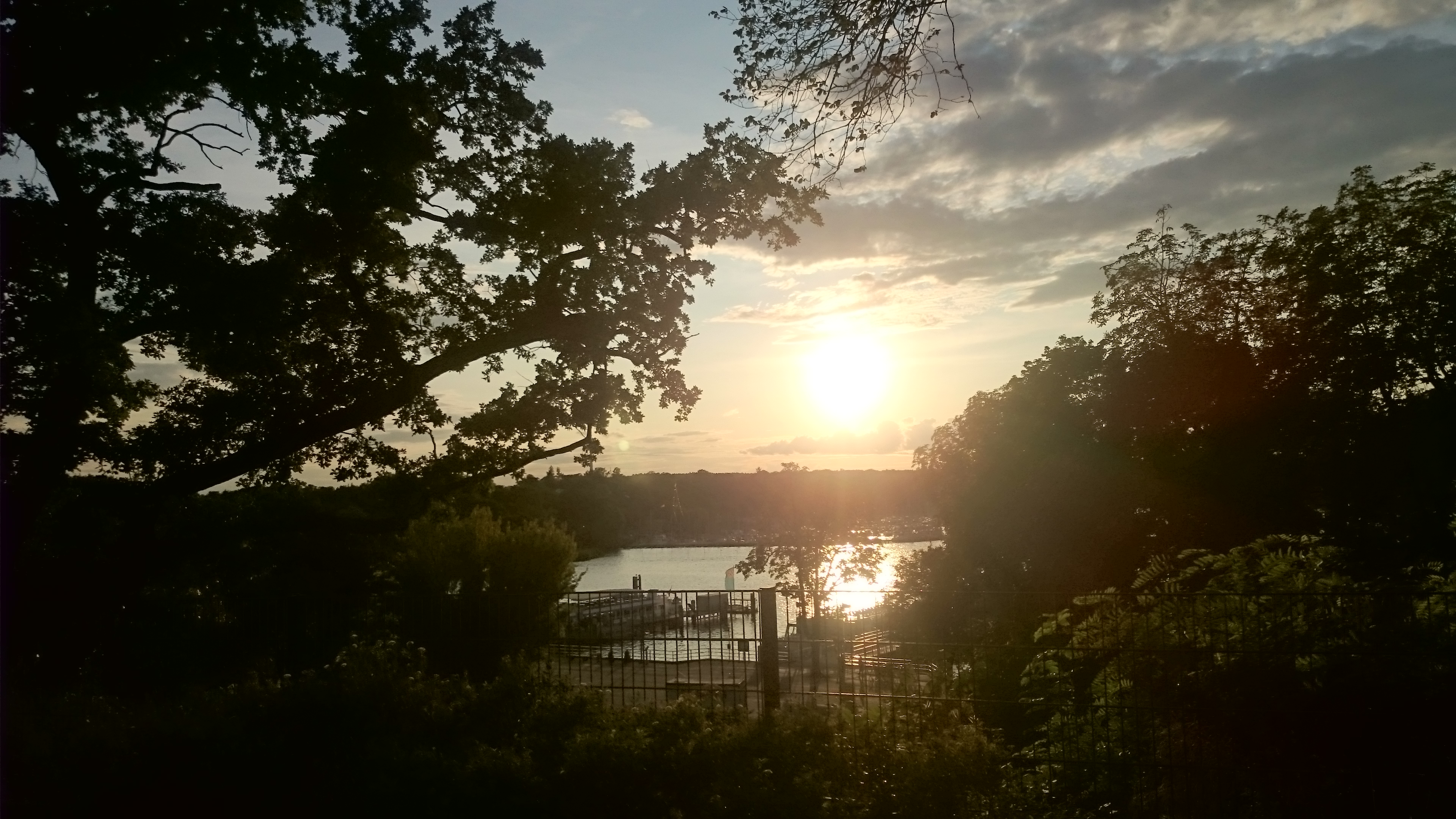 21-)
Treptower Park is one of the biggest public parks in Berlin. In the middle of the park, there is Soviet War Memorial, which is a cemetery for Soviet Soldiers in WW2. You can take pedal boats from here. There is a nearby Burger King which offers great view of the park.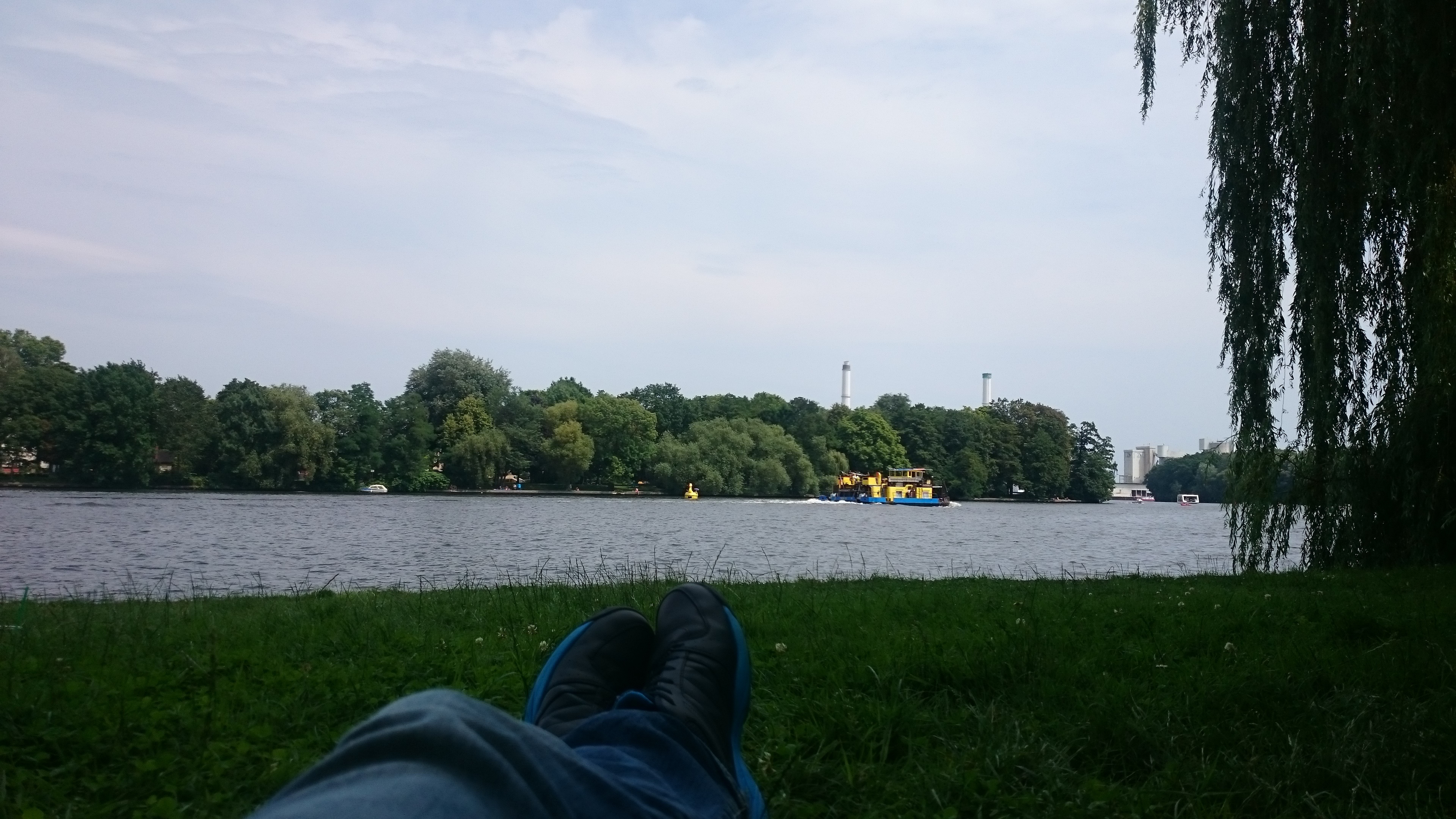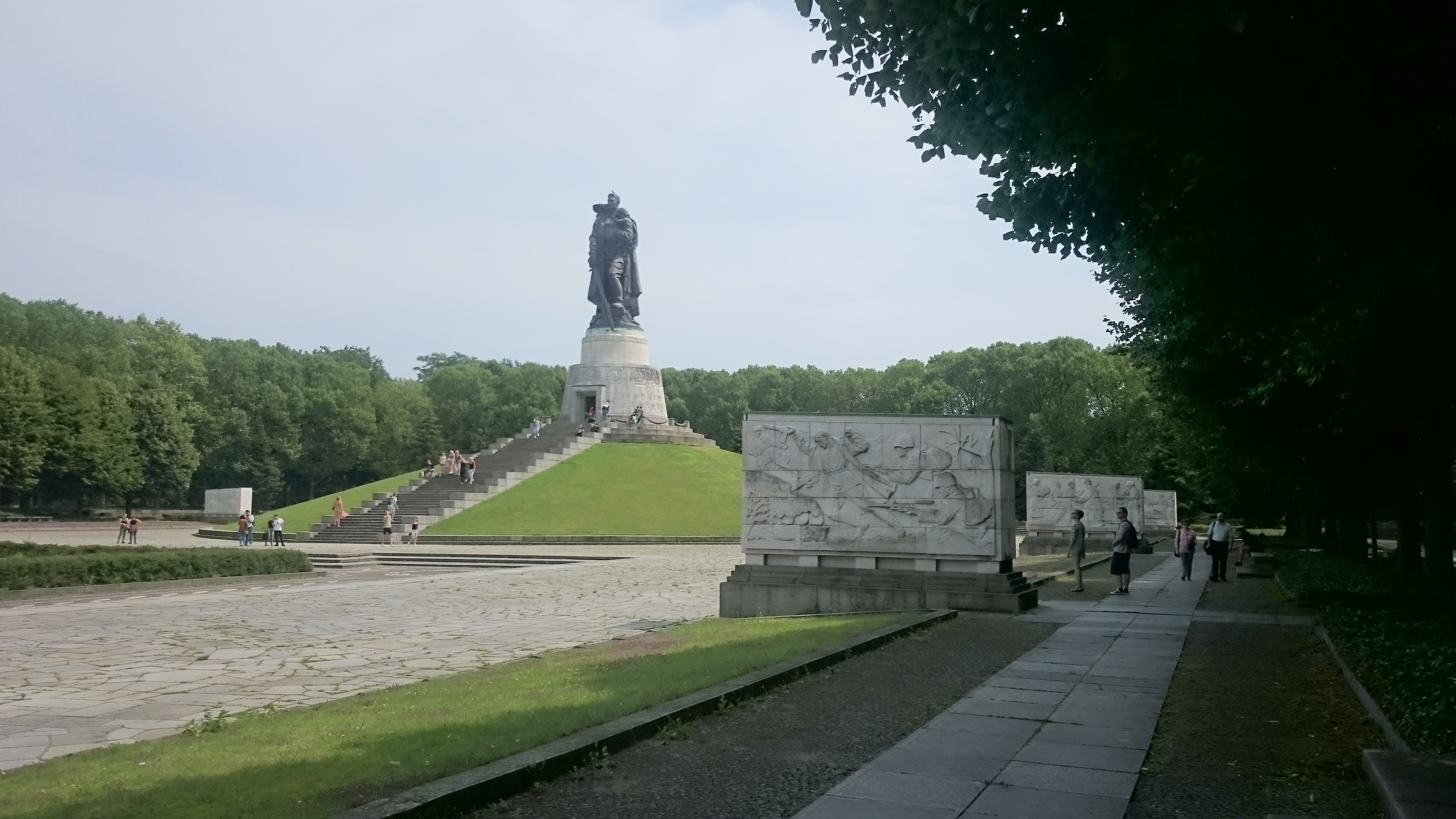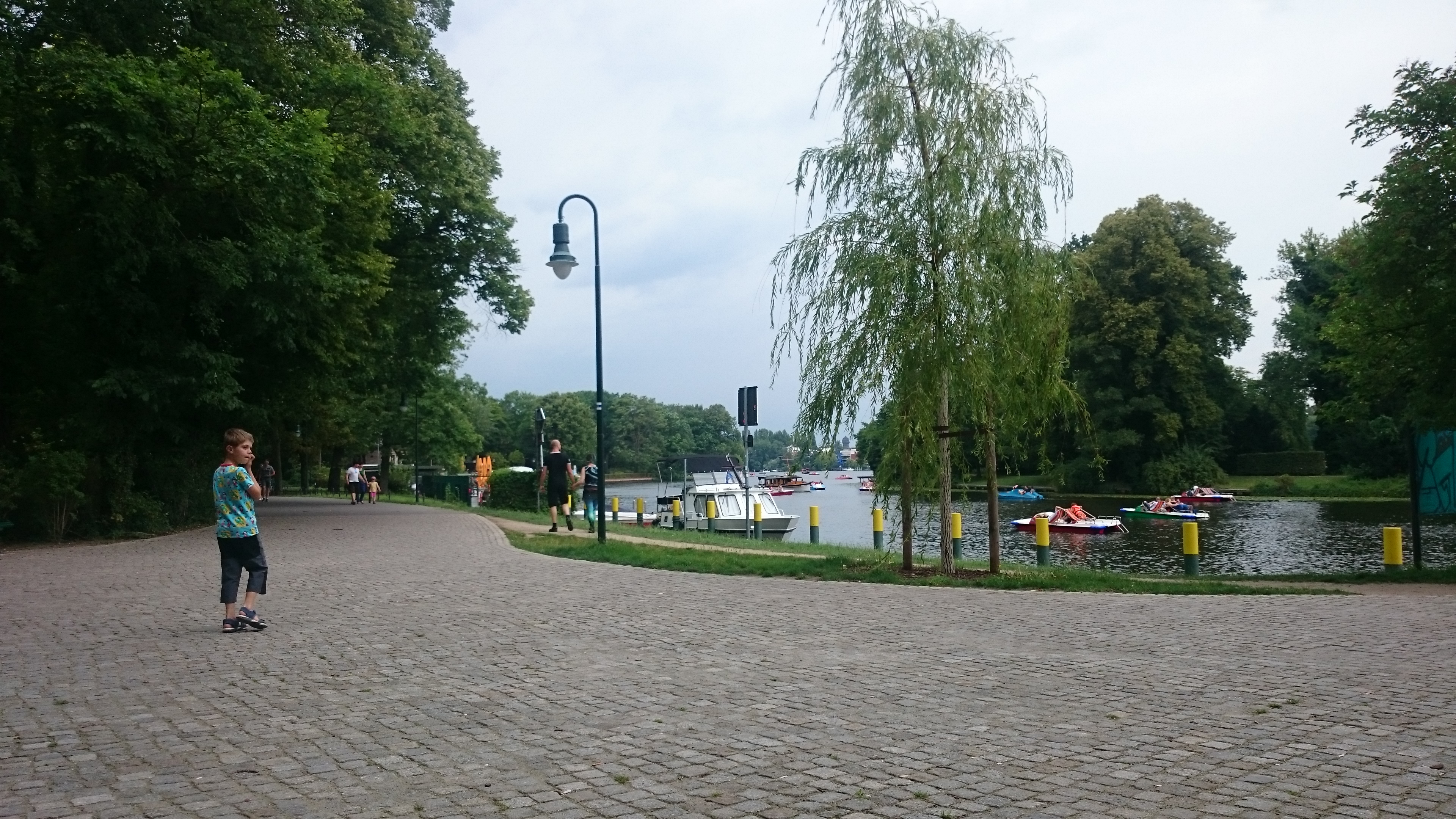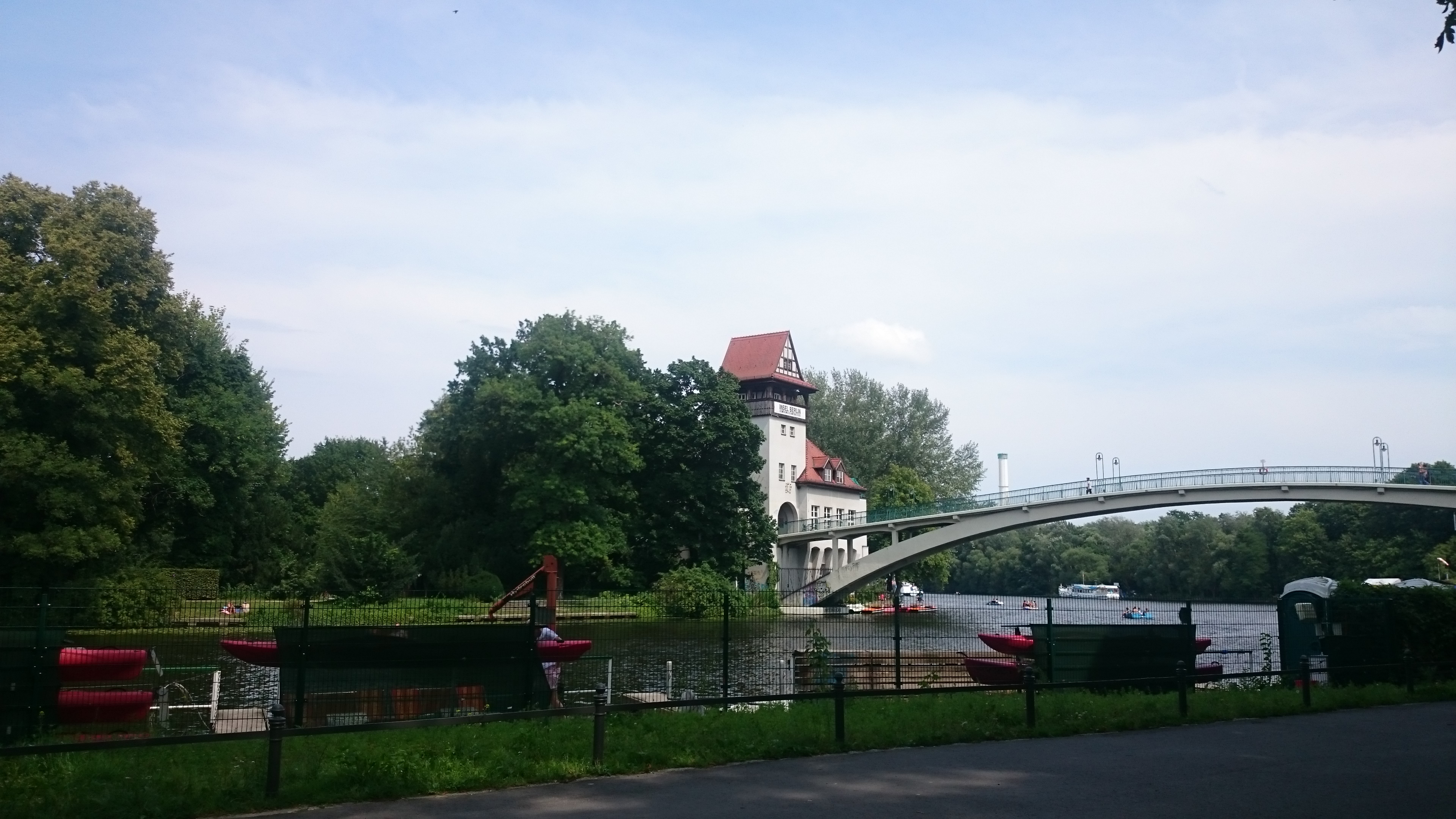 22-)
Fill your stomach with yummy street food in Markthalle Neun on Thursdays.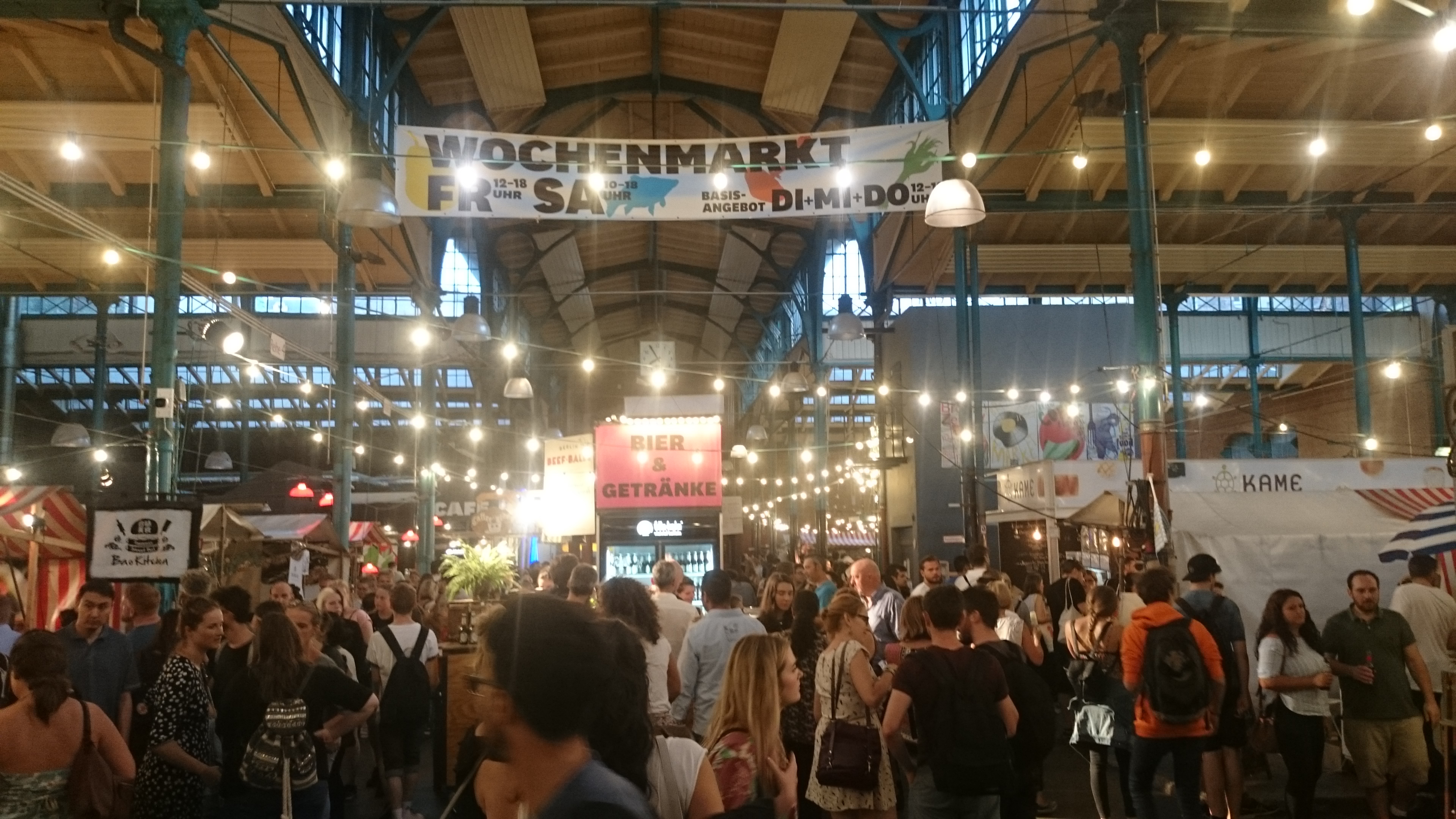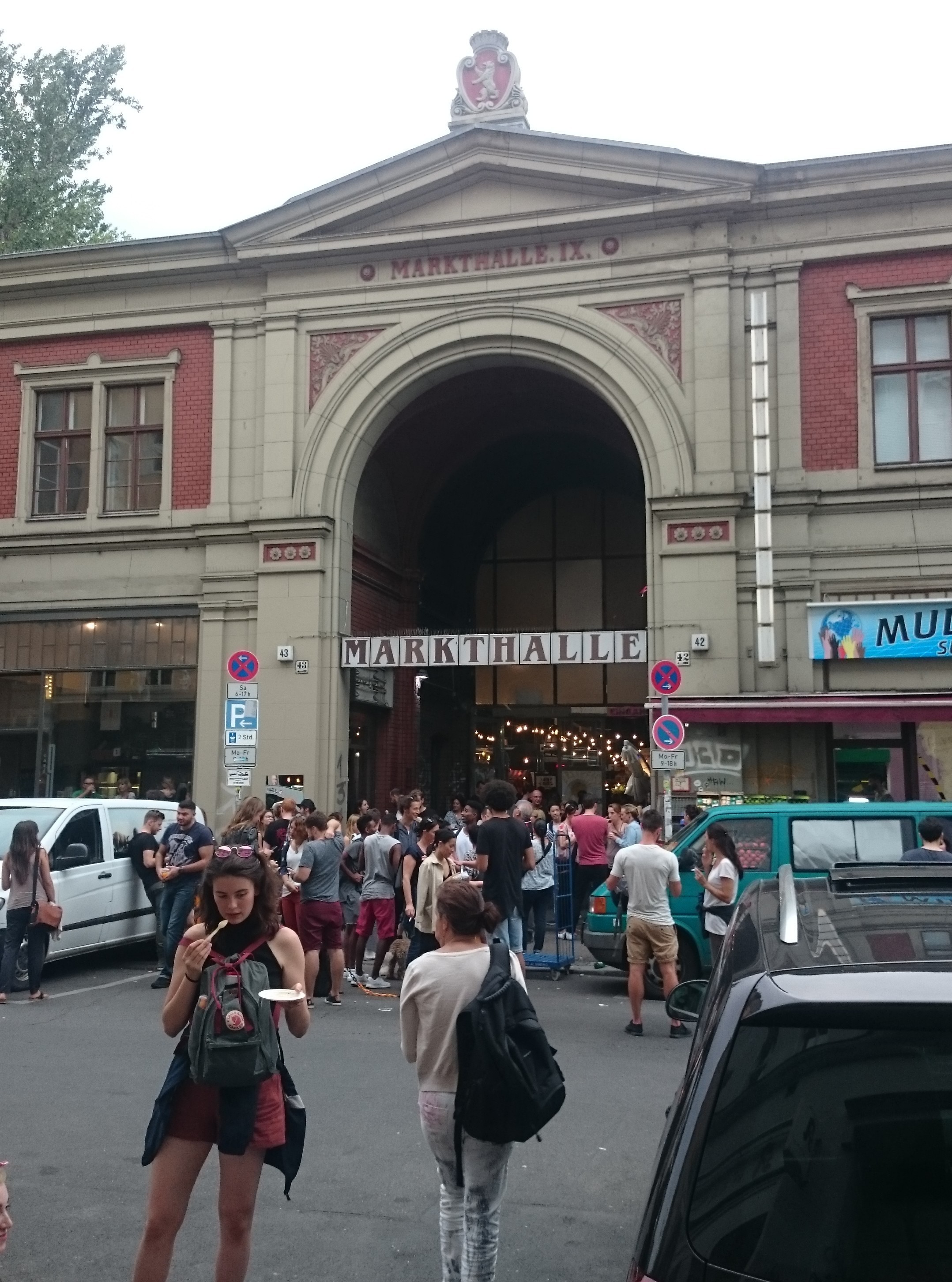 23-)
Fastfood chain RISA is like KFC, but with better taste and cheaper price. Just try it and you are going to agree with me :).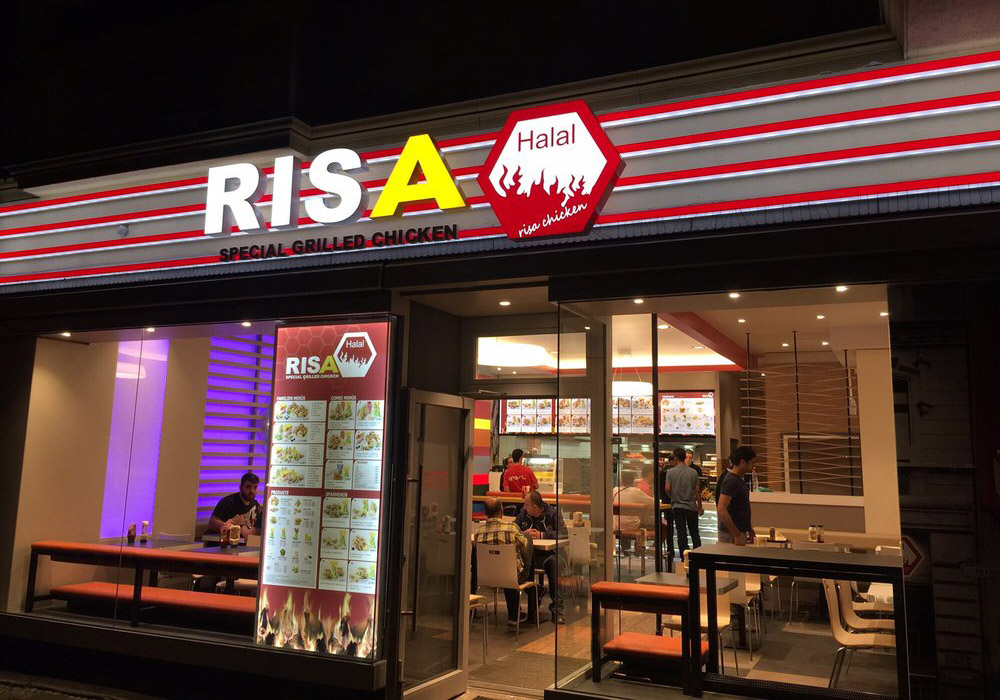 24-)
There are extremely many museums in Berlin. Specify the ones that get your attention. No need to say that Museum Island and Berliner Dome must be seen.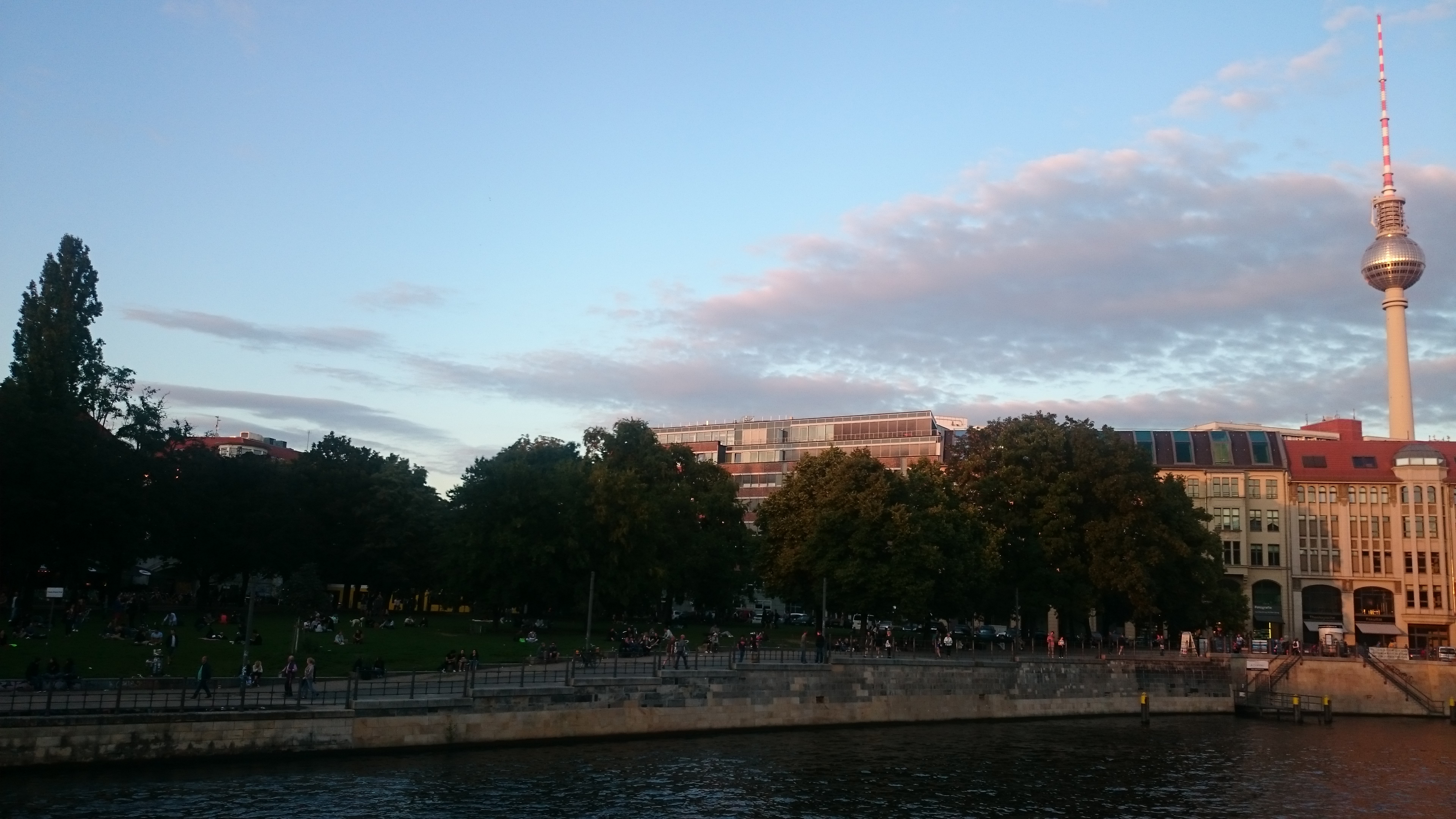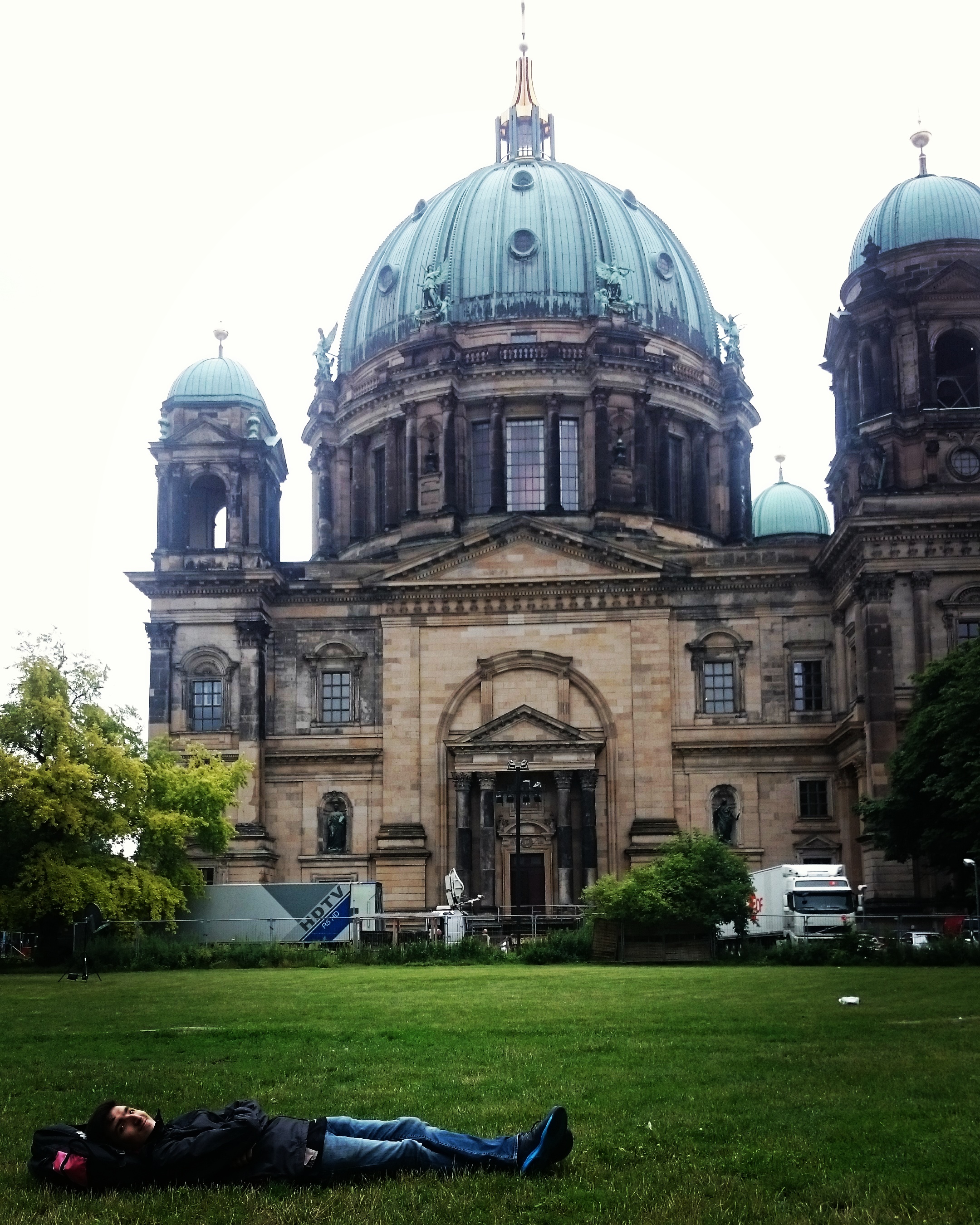 Topography of Terror: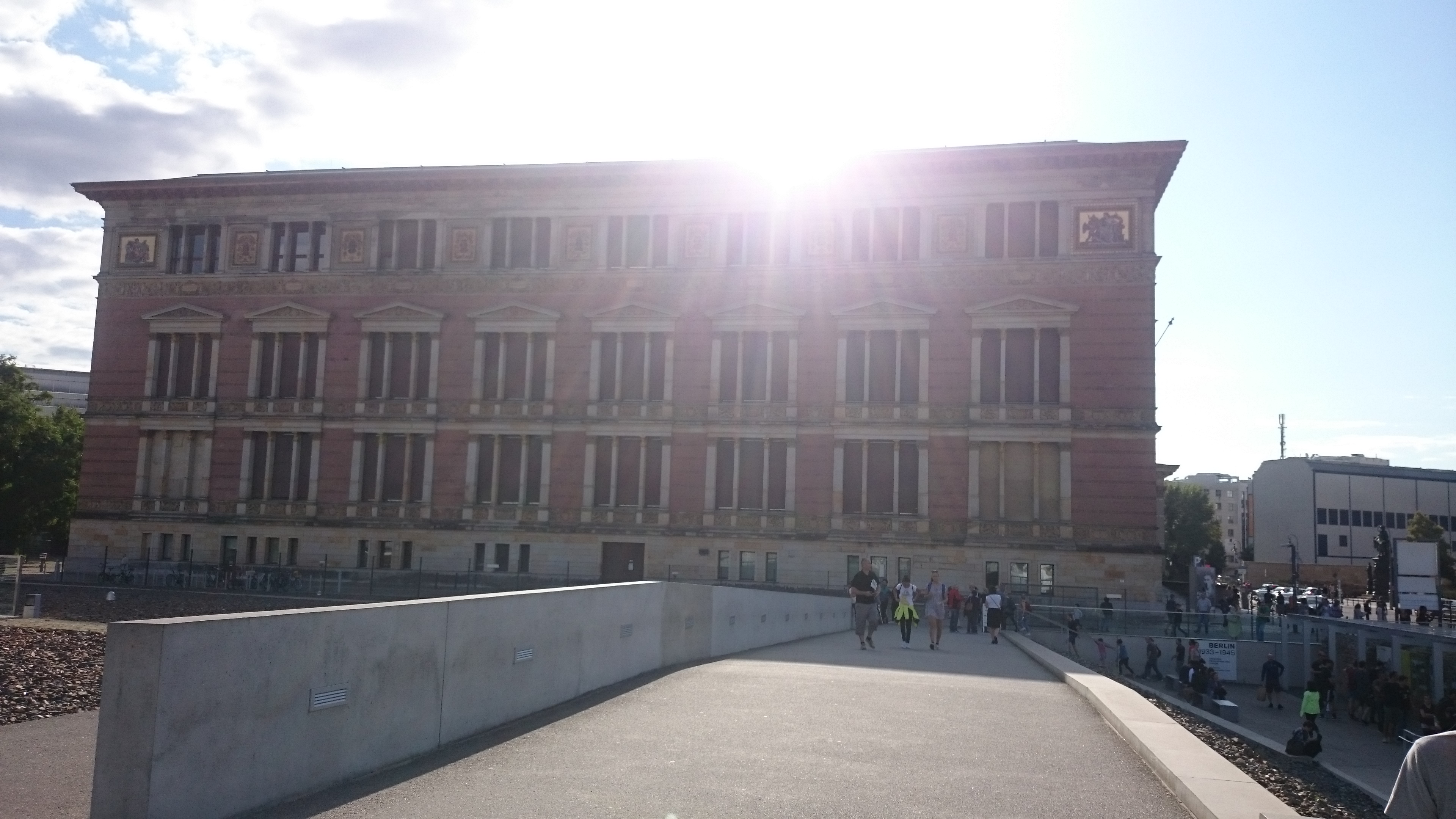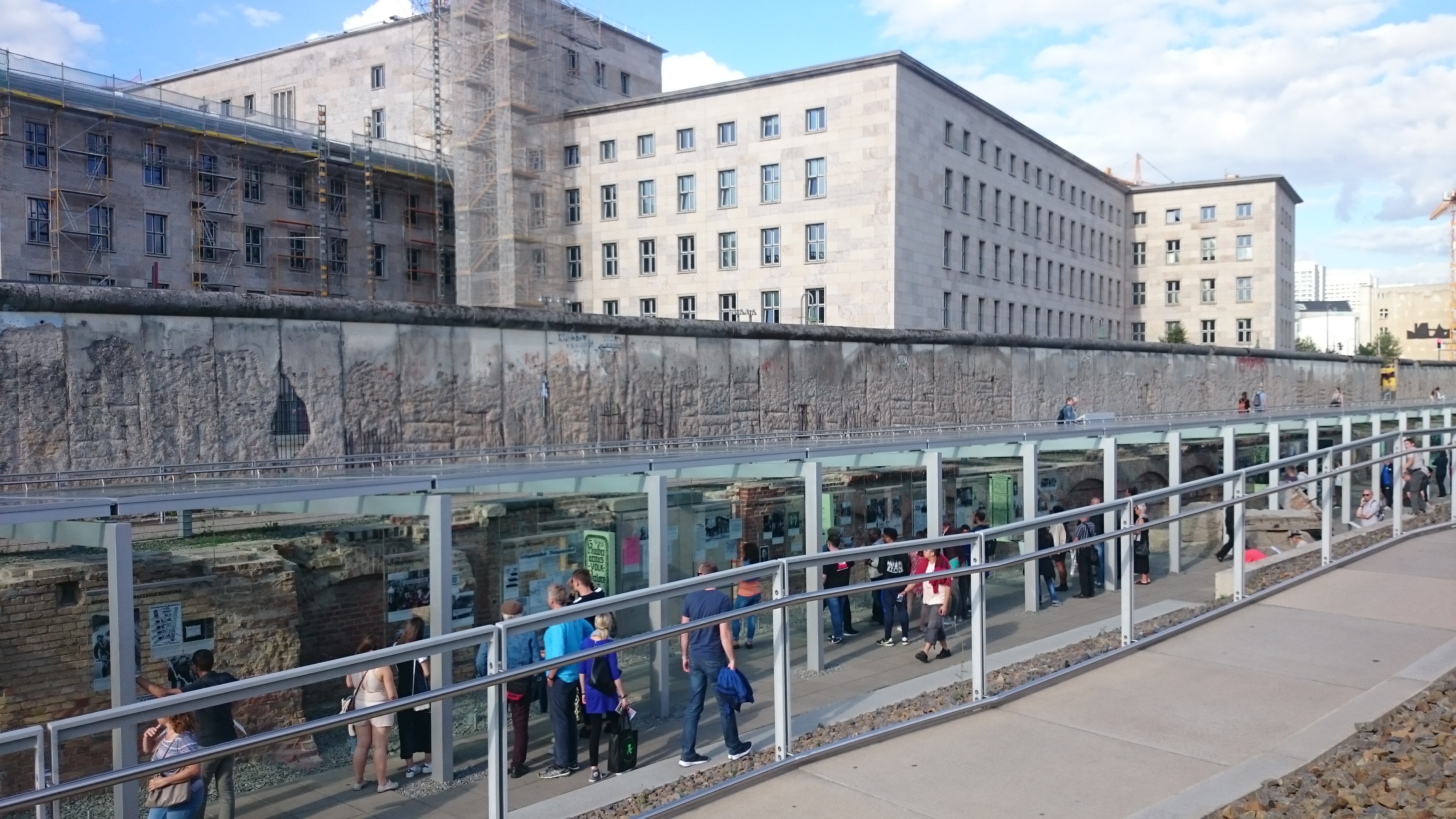 DDR Museum: Interactive museum to learn about the life in East Germany before the fall of Berlin Wall.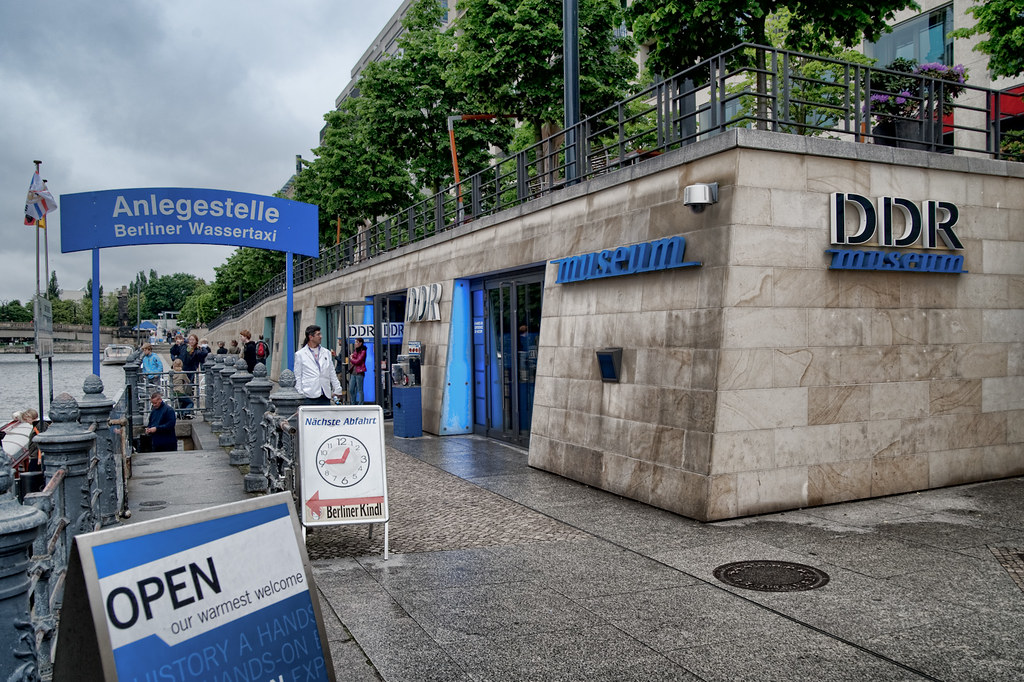 Tränenpalast: This small free museum shows the tragedy that has happened in the border of East-West Berlin.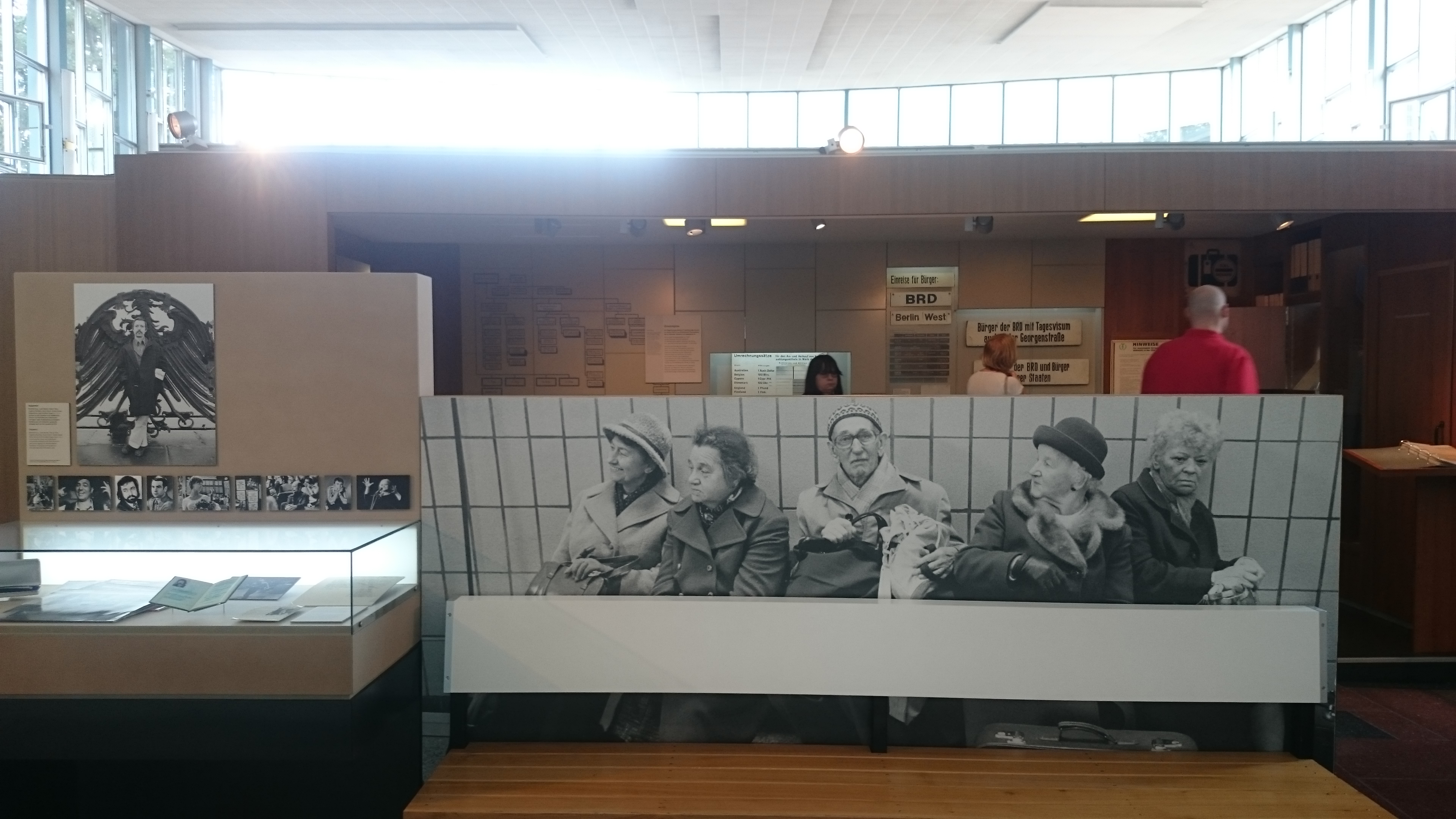 Medizinhistorisches Museum: Provides a path through medical history over past 300 years.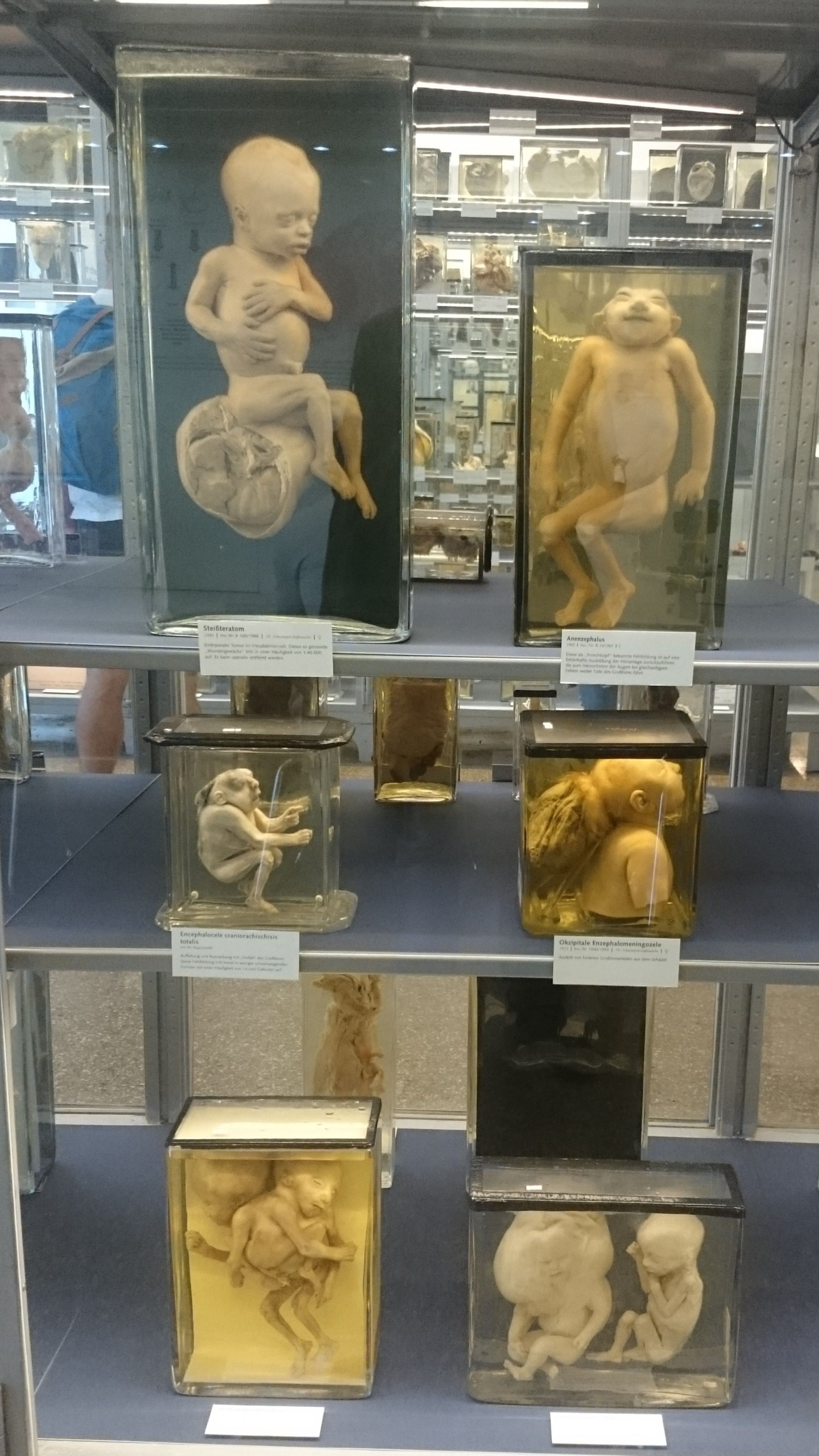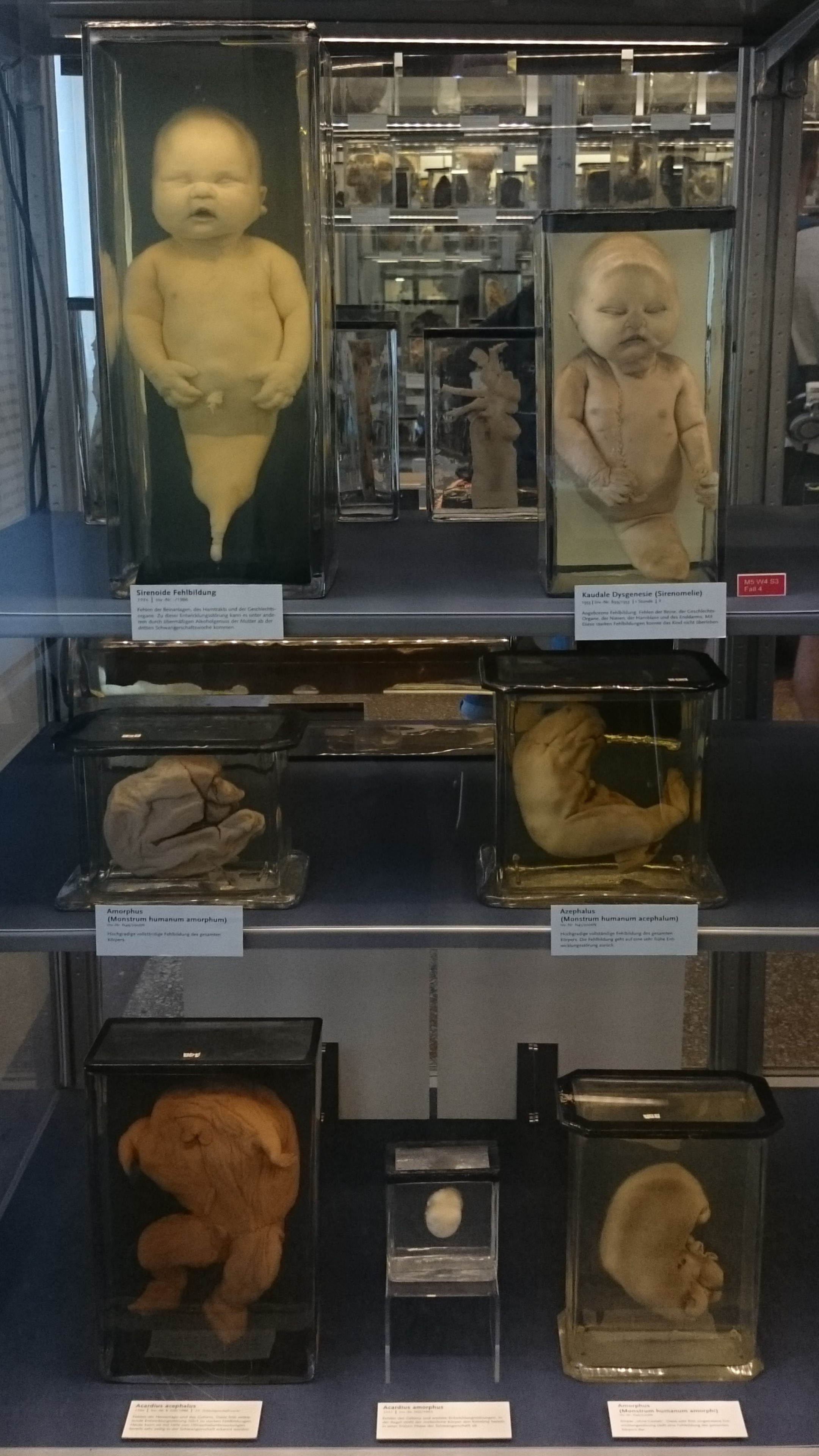 Jewish Museum: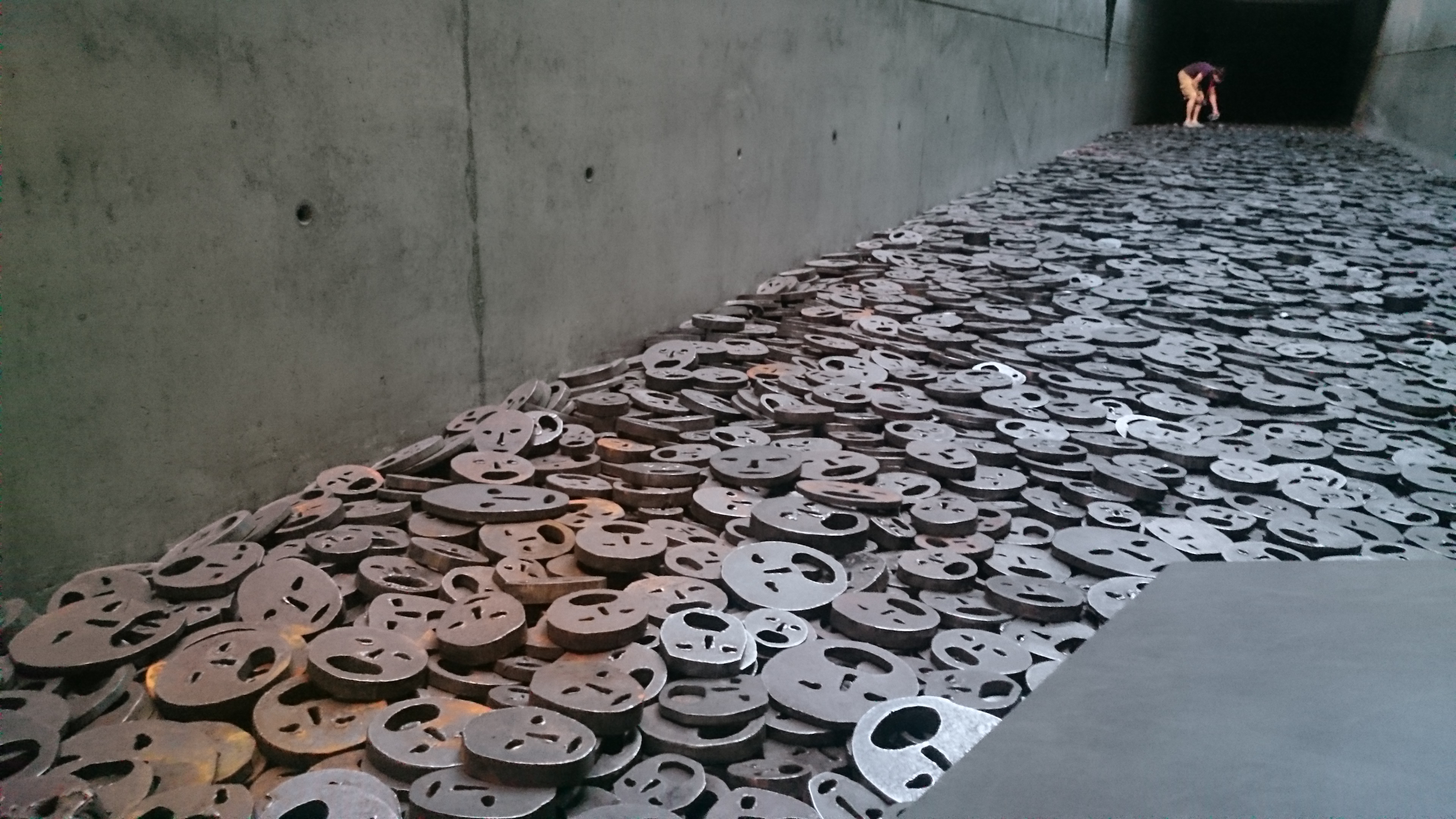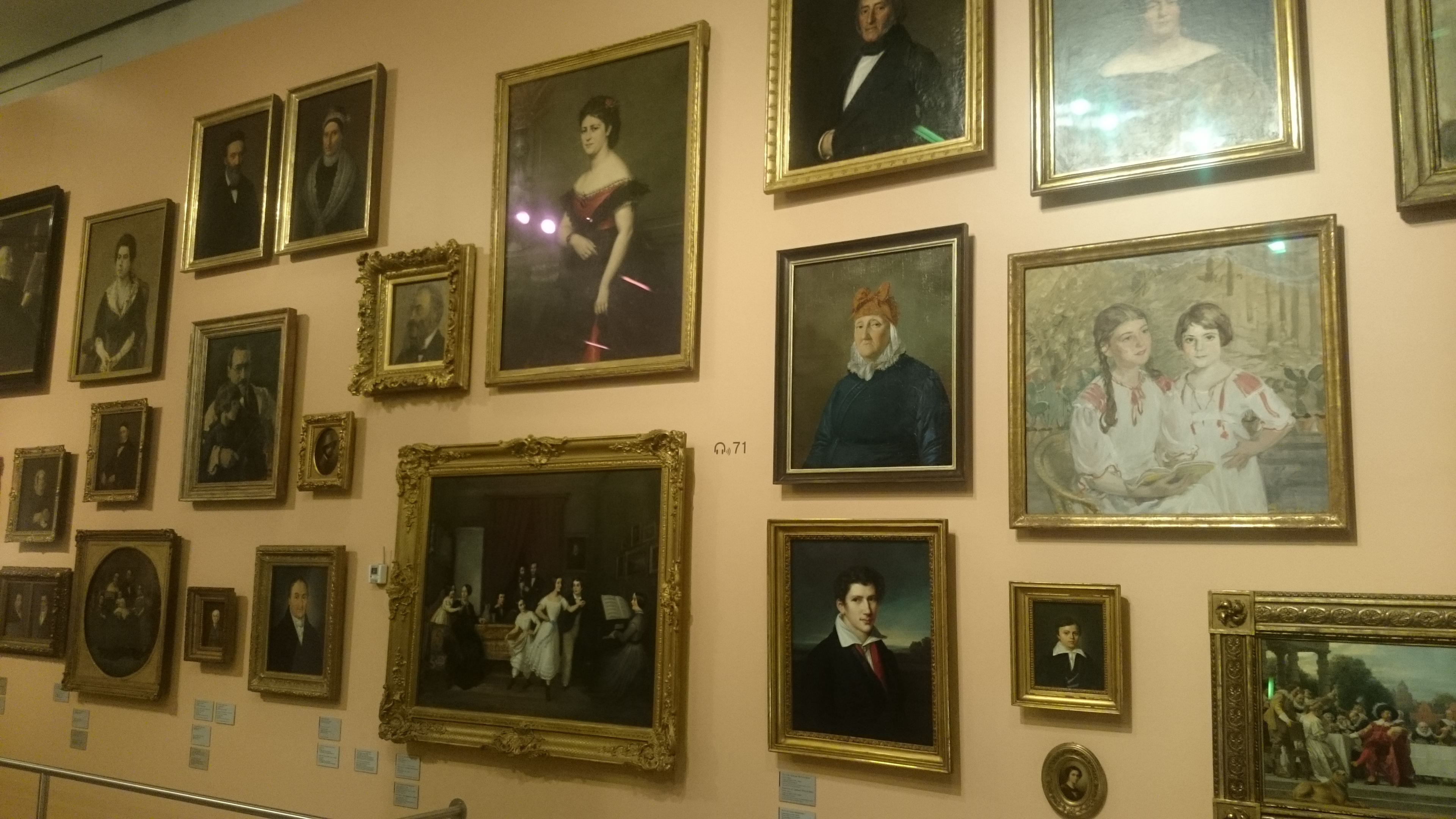 Natural History Museum: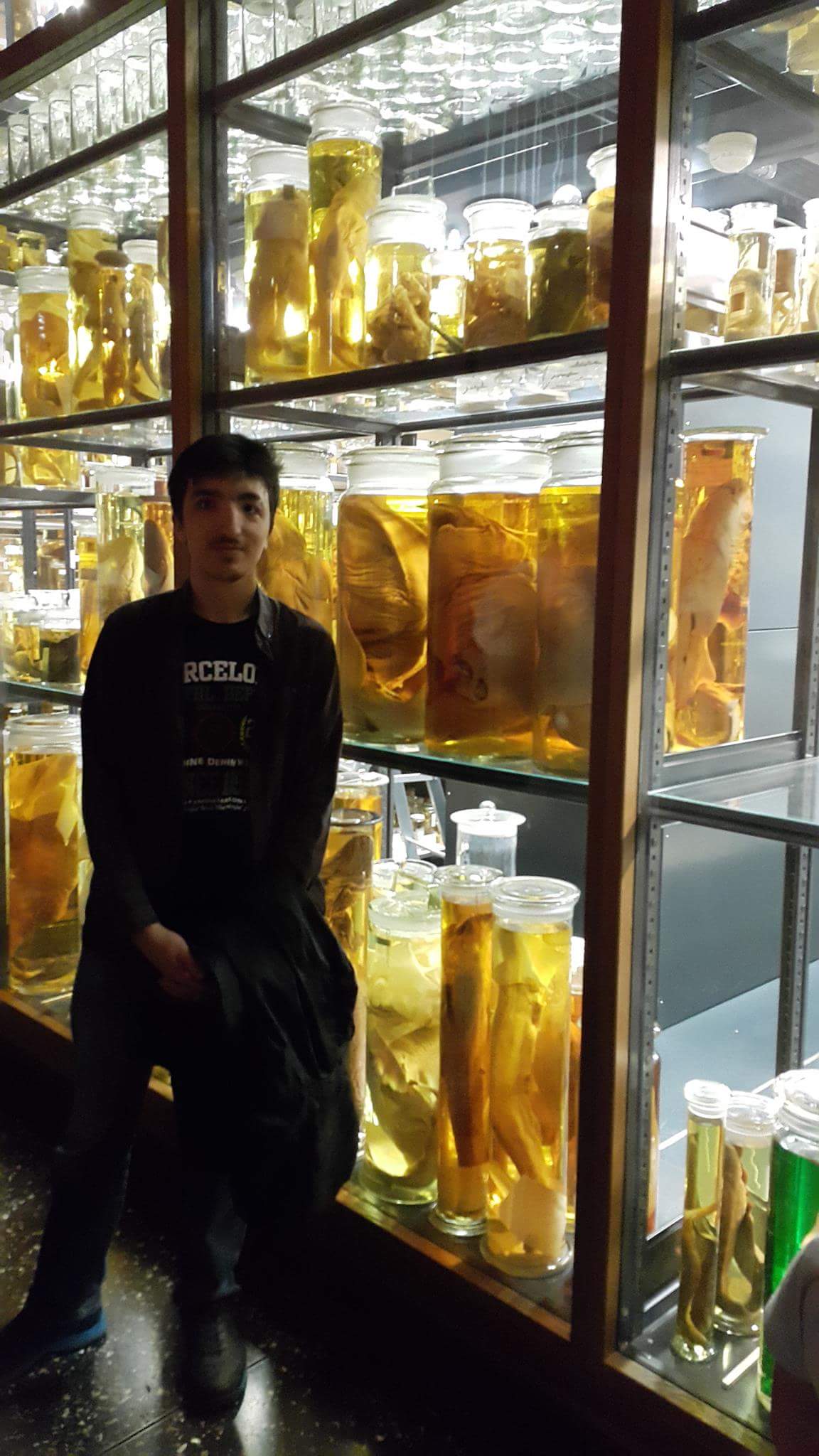 There is an annual event called Long Night Museum. During one day, almost all museums in Berlin is open during the night as well. You can visit them with only one ticket. There is also shuttles between major museums. Here is the event link.
25-)
Botanical Gardens is worth to visit if you like the nature.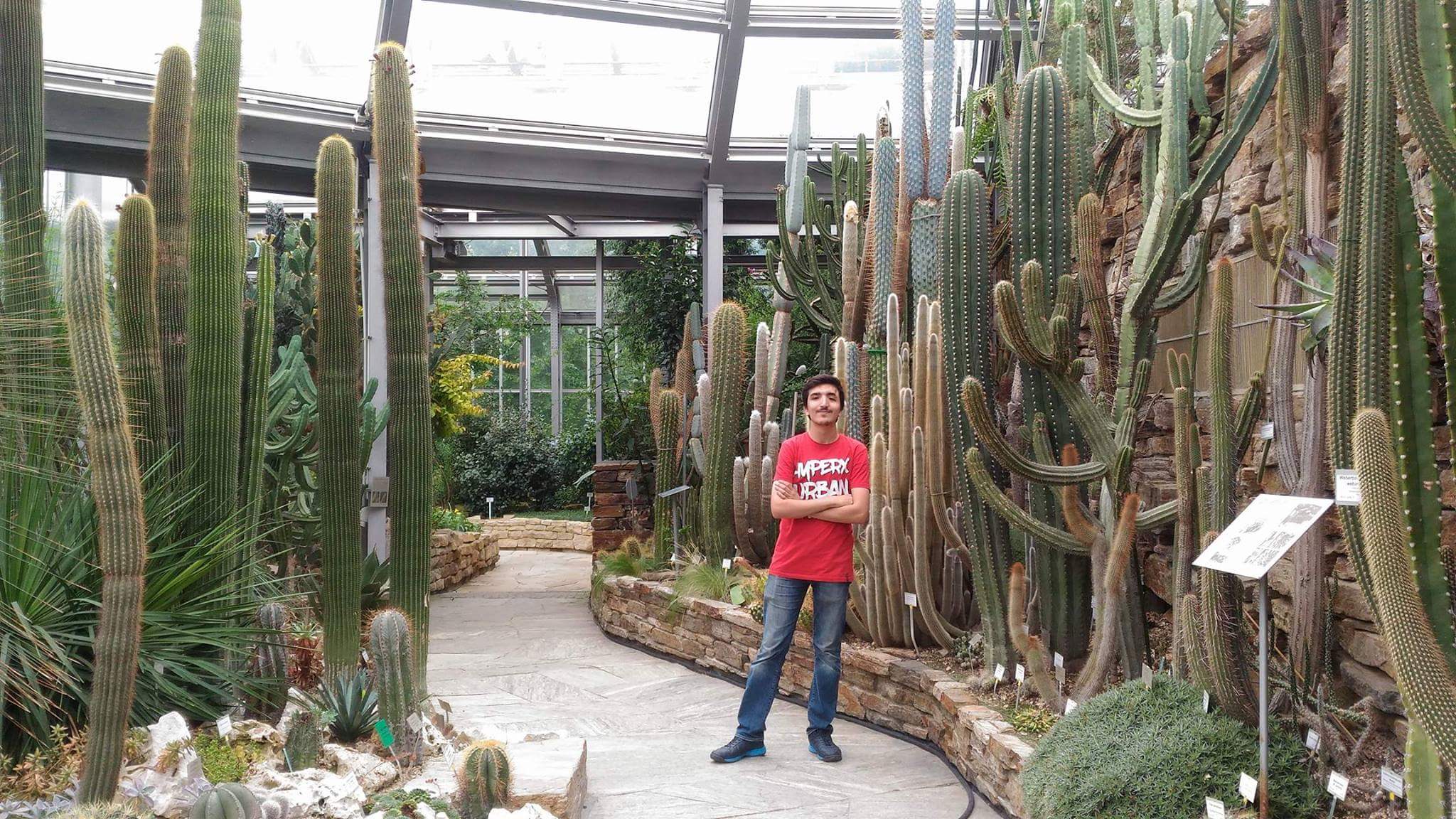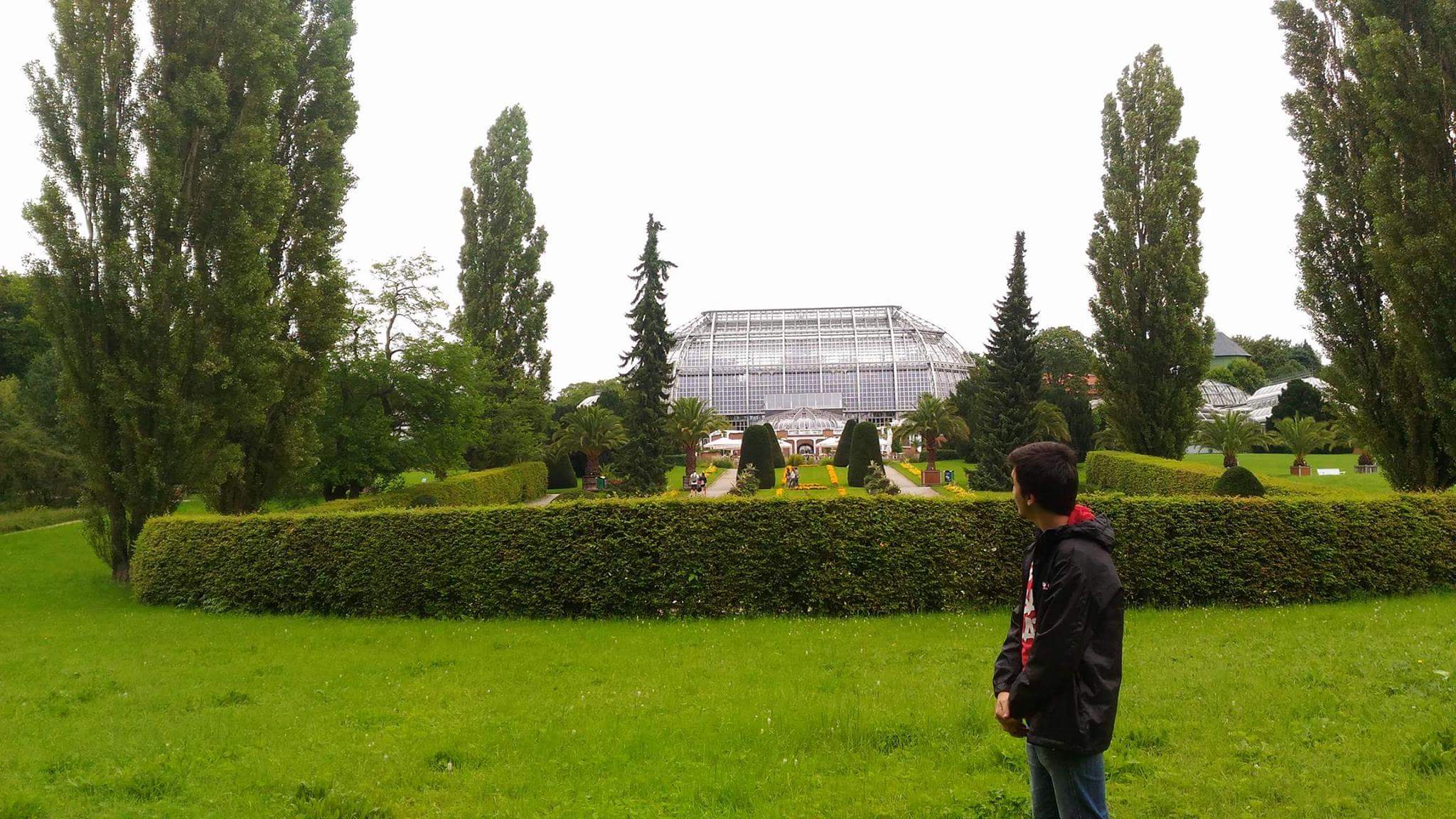 26-)
Of course, it is impossible to not mention Tiergarten, the biggest public park of the Berlin.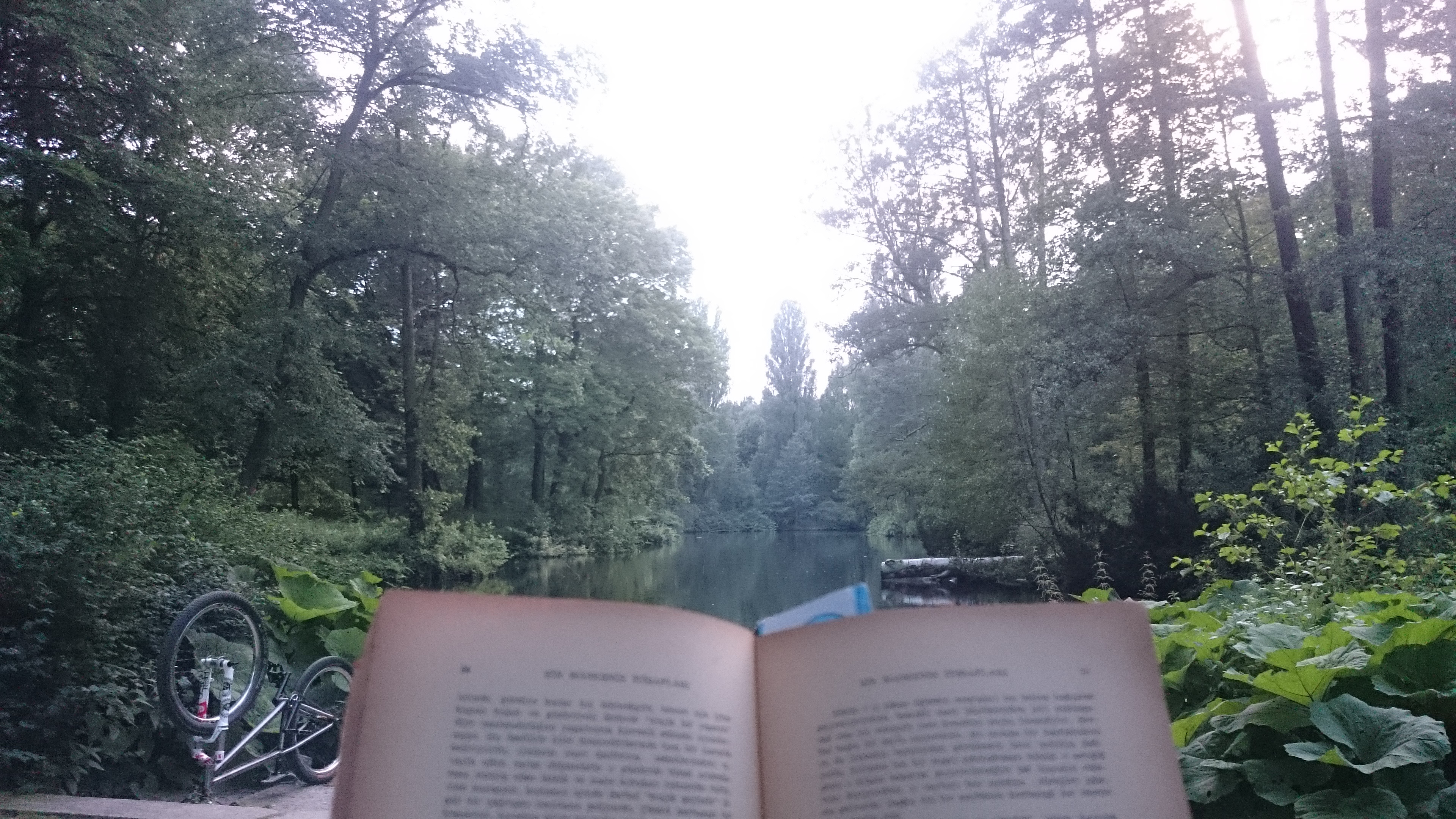 27-)
Visit Urban Nation Streetart Museum near Nollendorfplatz. You are going to see wonderful pieces even in the street of museum.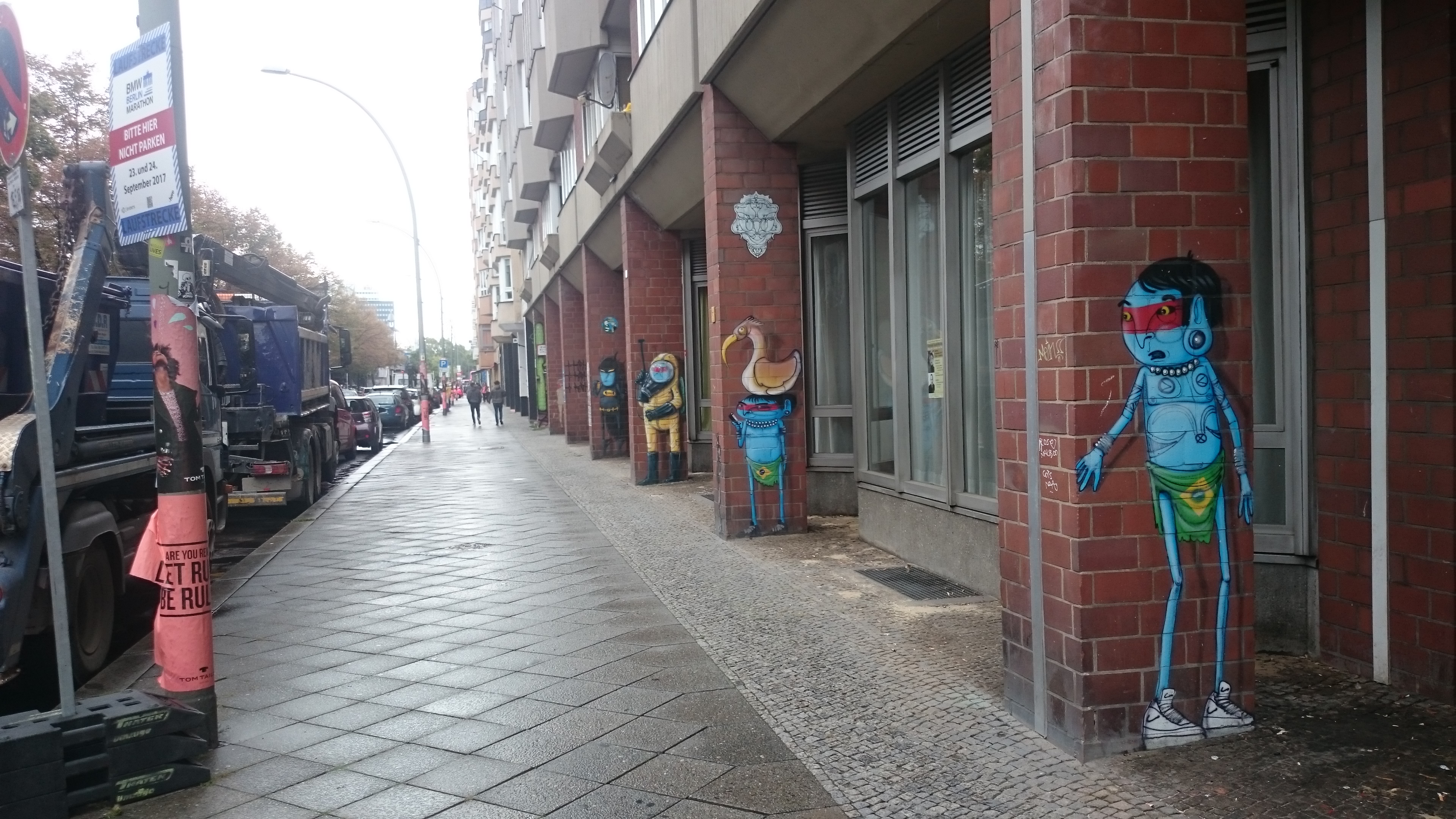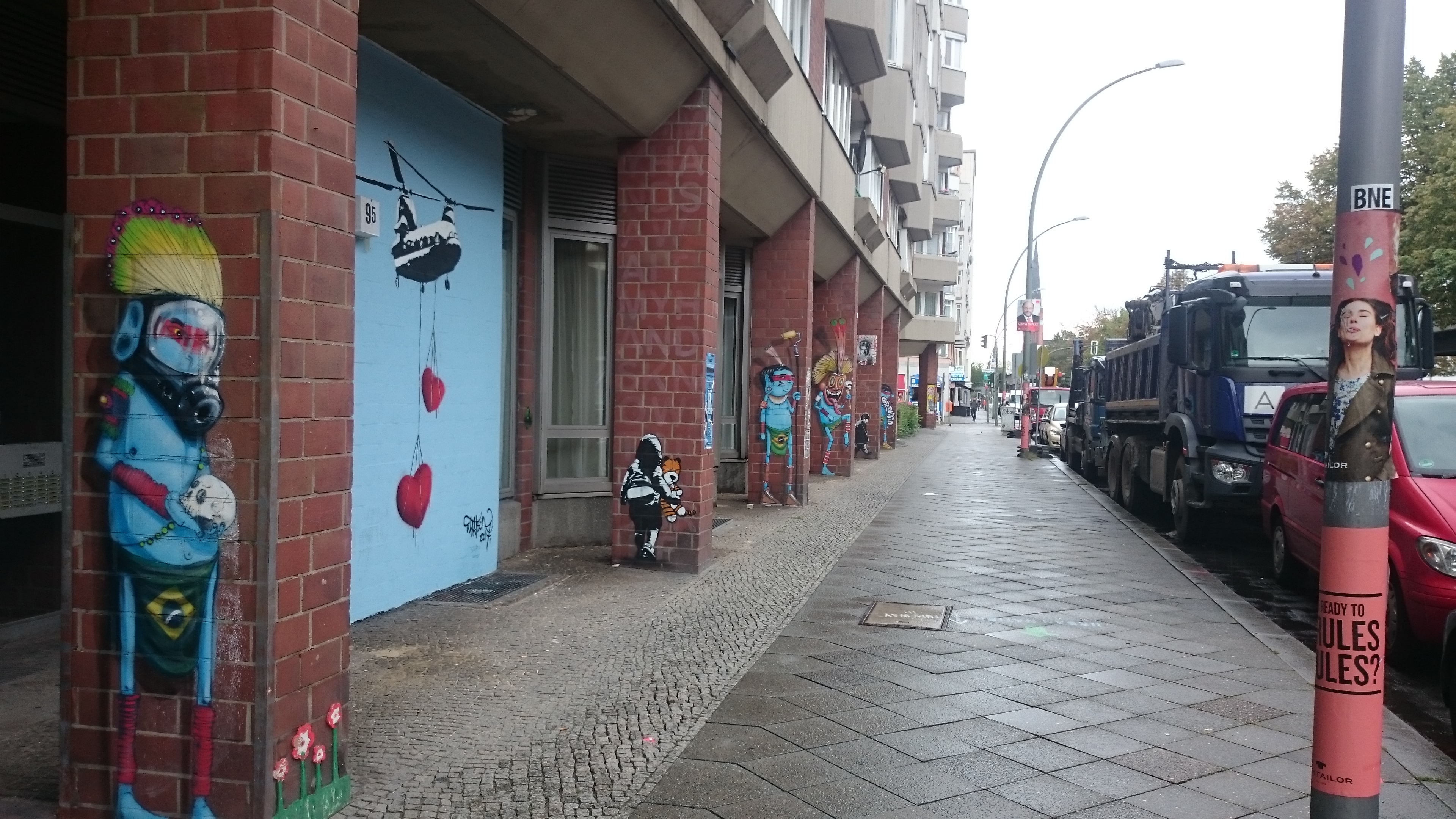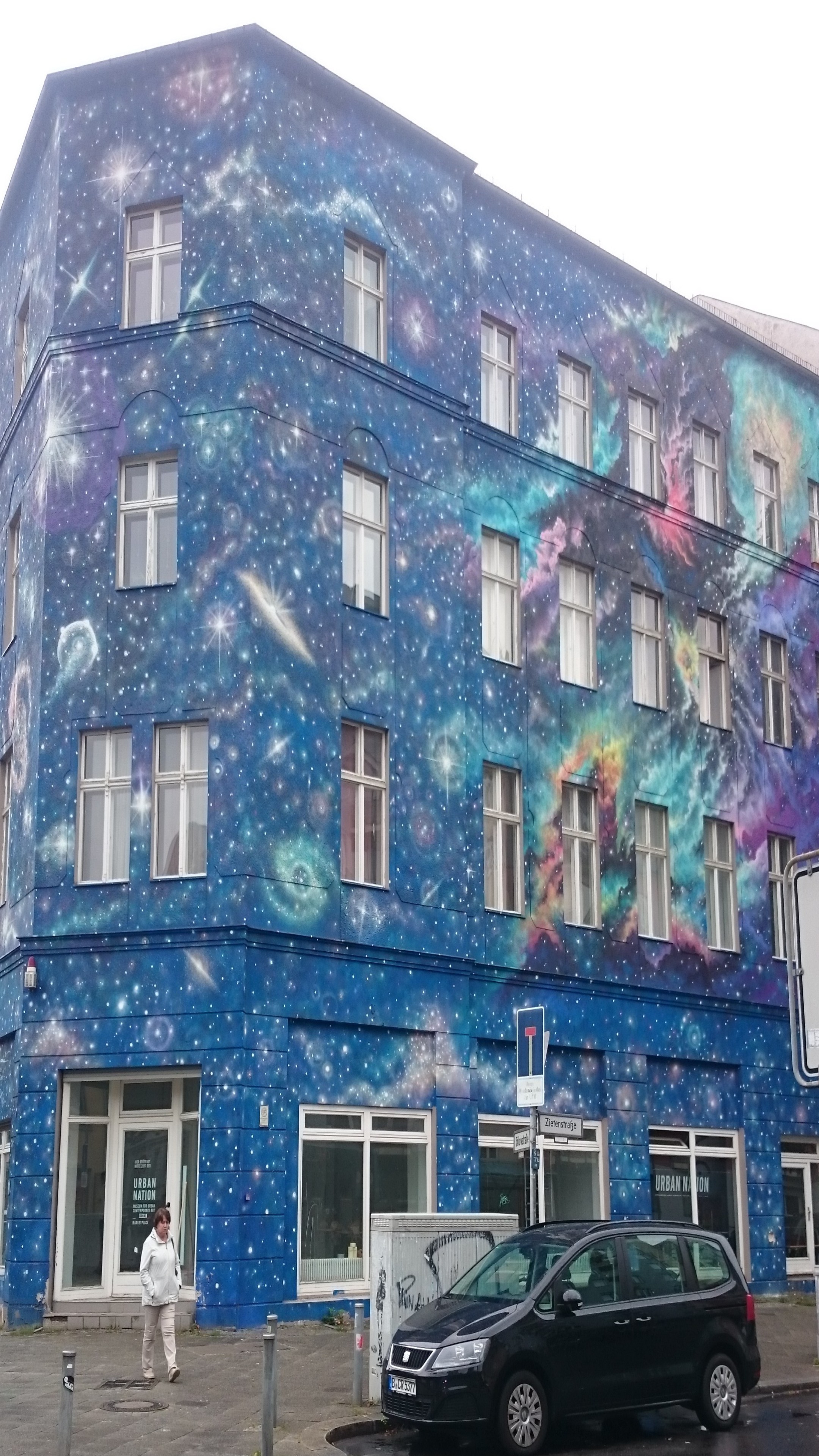 28-)
Tempelhofer Feld is a former airport which was built under Nazi regime. It is now a public park. It is definitely great place for bicyling, skating or flying a kite.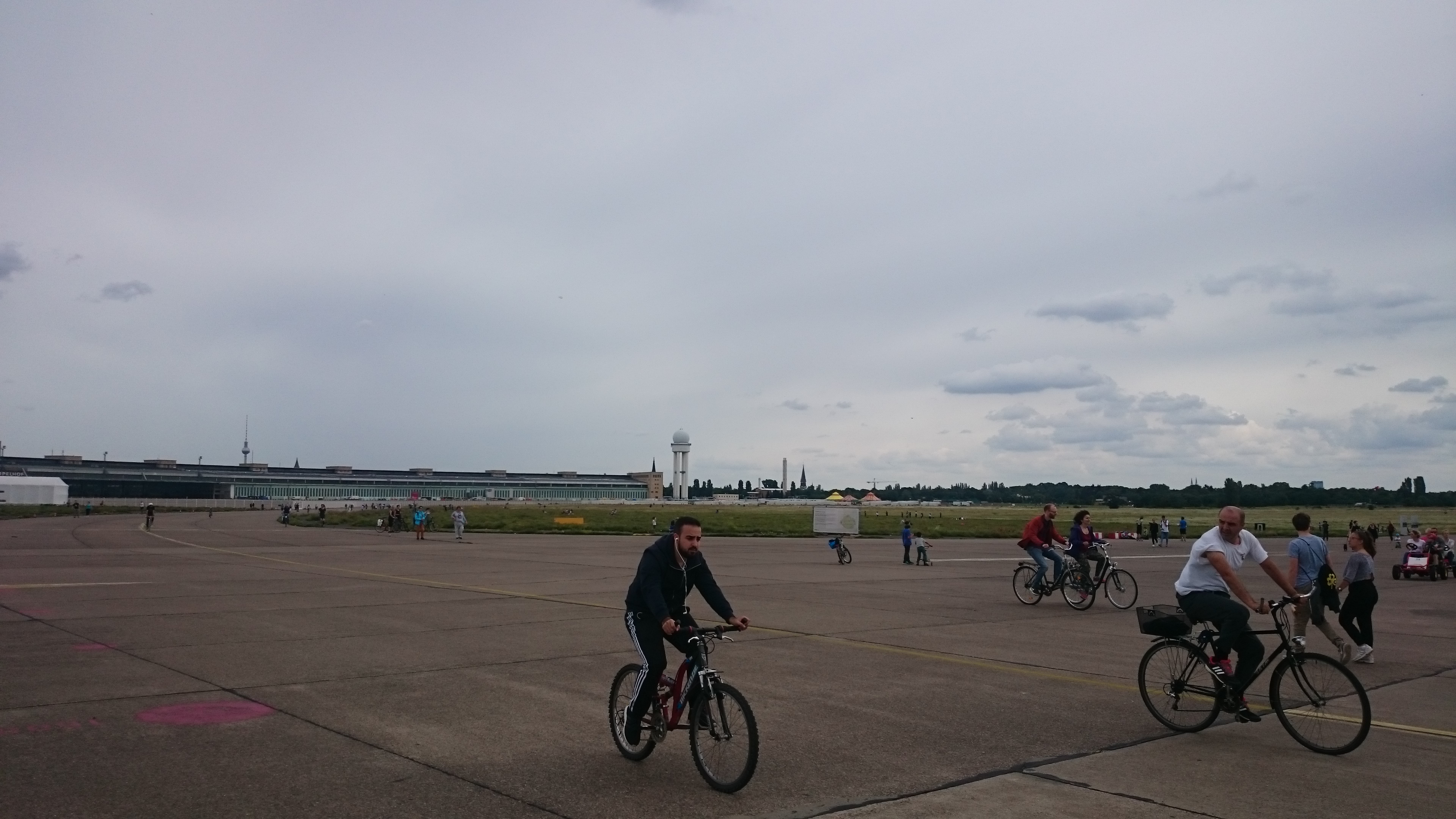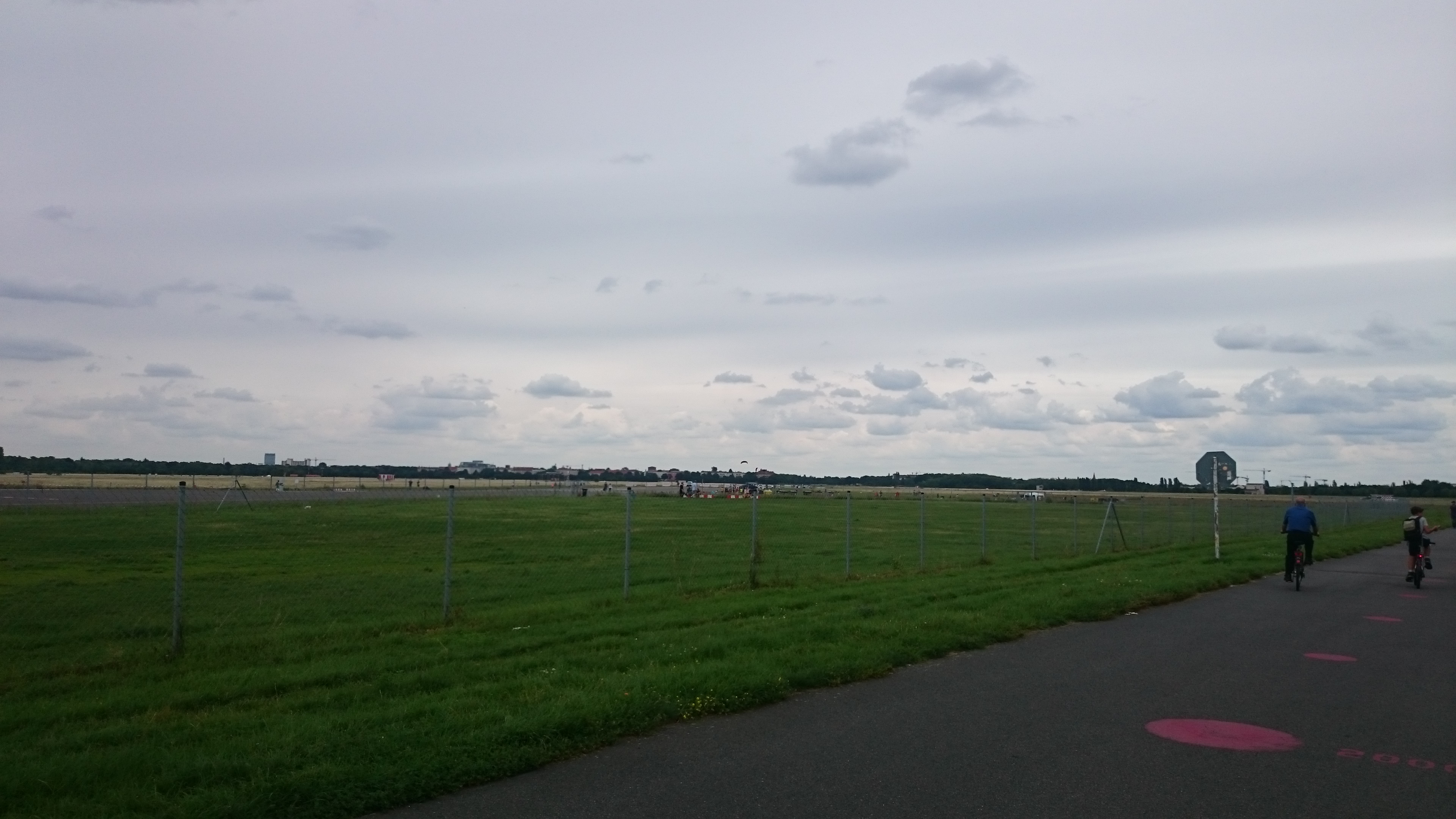 29-)
Sachsenhausen Concentration Camp is the nearest concentration camp to Berlin. It is only one hour way and you can use Sbahn to arrive here. It must be seen to embrace humanity more!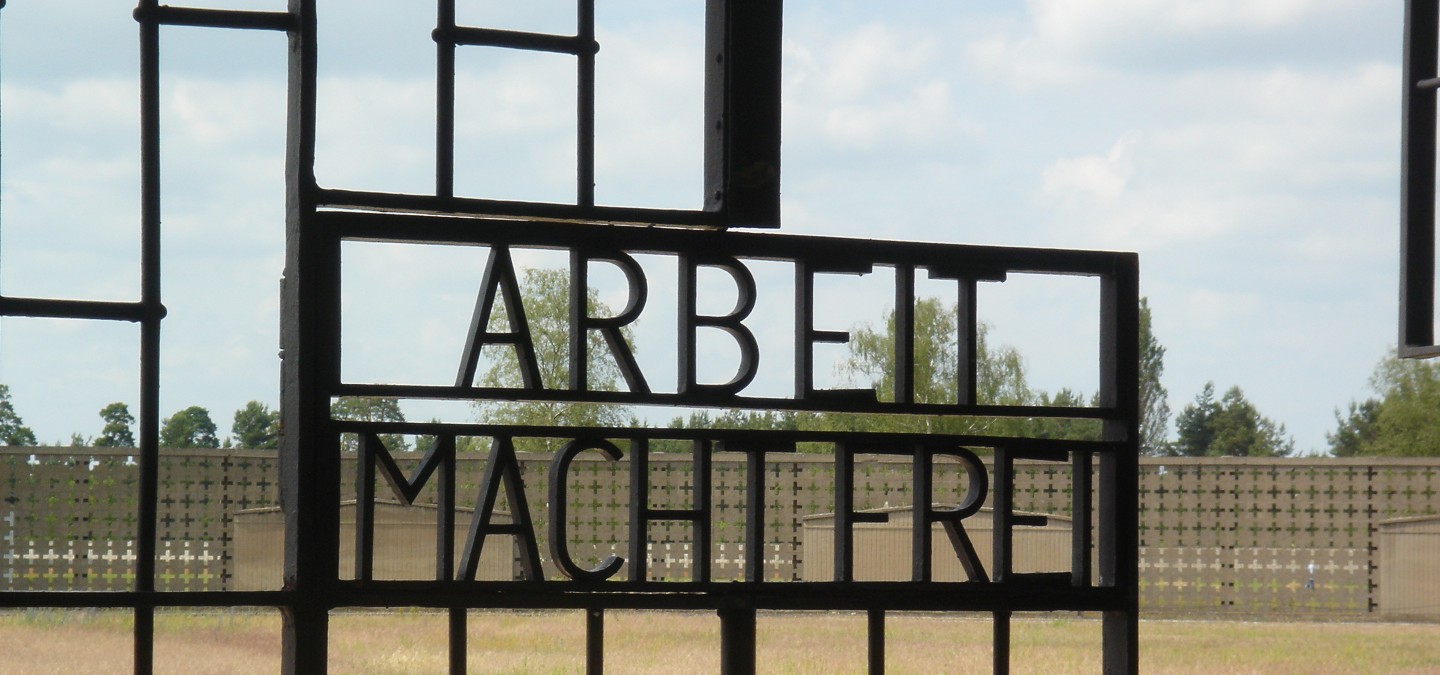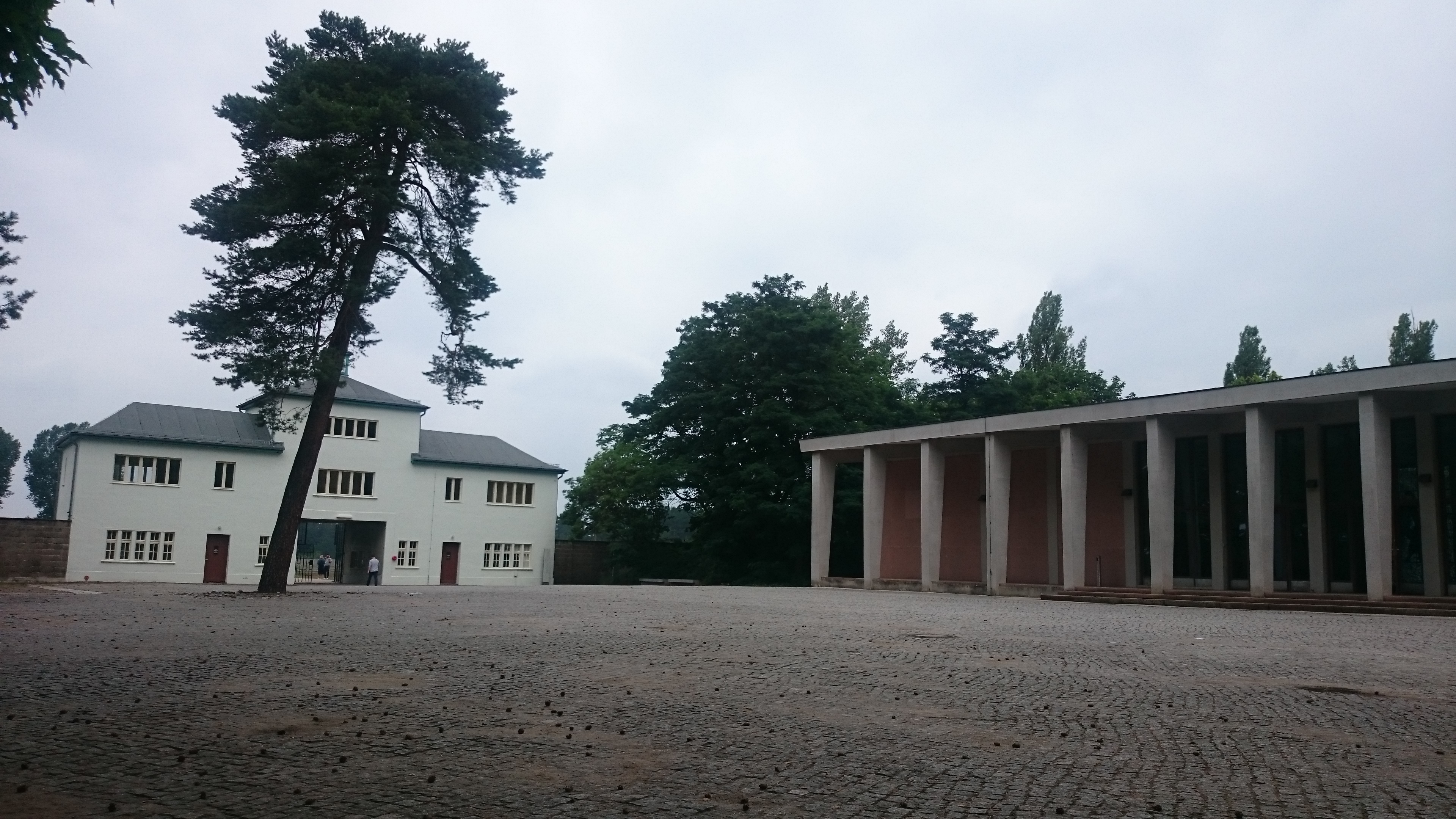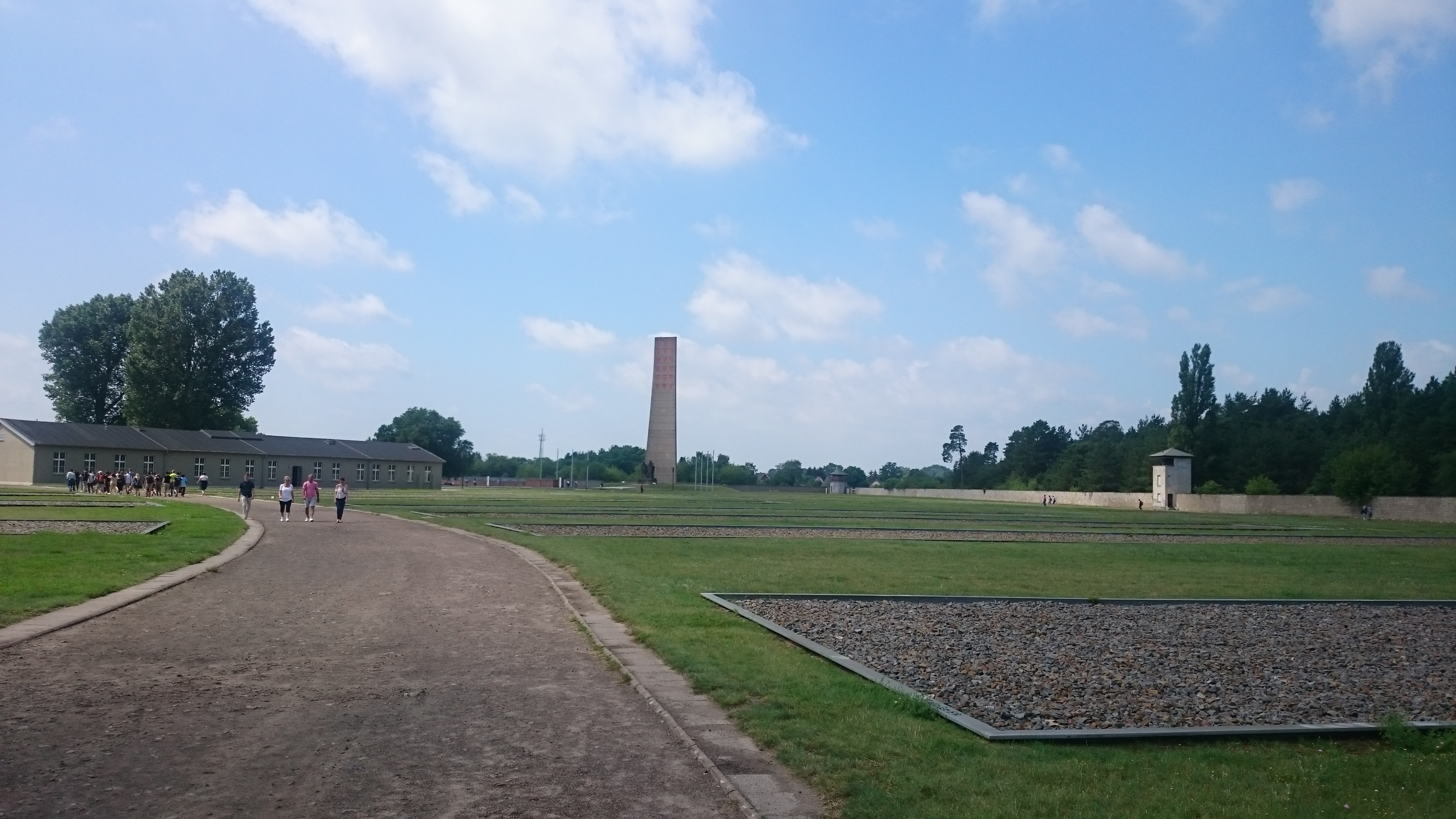 30-)
Ritter Sport is a German chocolate brand. It offers many different types of chocolates. For me, it is the best for its price. You can find these chocolates in every supermarket. However, they have their own shop named Ritter Sport Bunte Schokowelt Berlin. If you want to buy lots of chocolate, this shop is the right place. You can also design your own chocolate in here.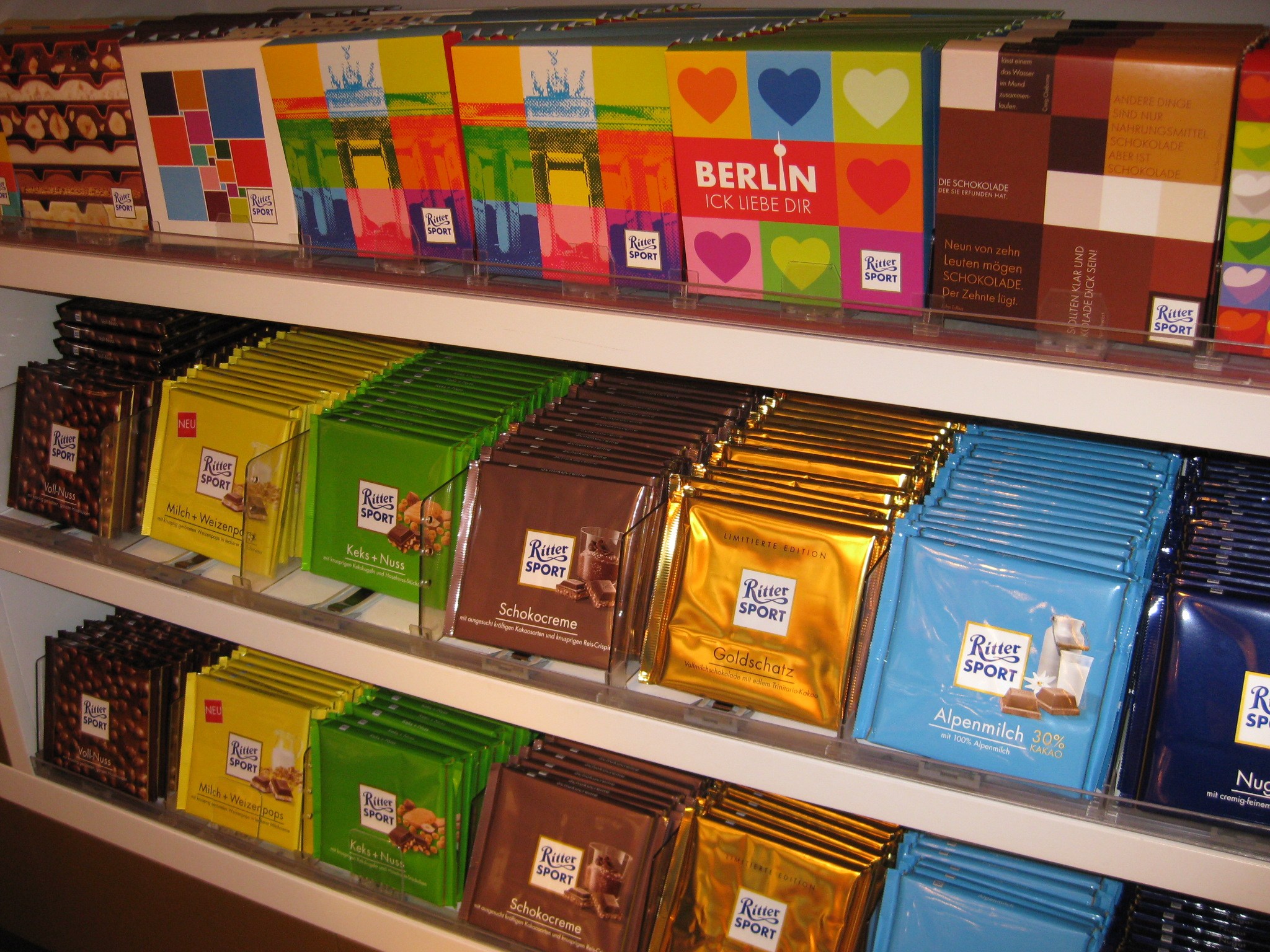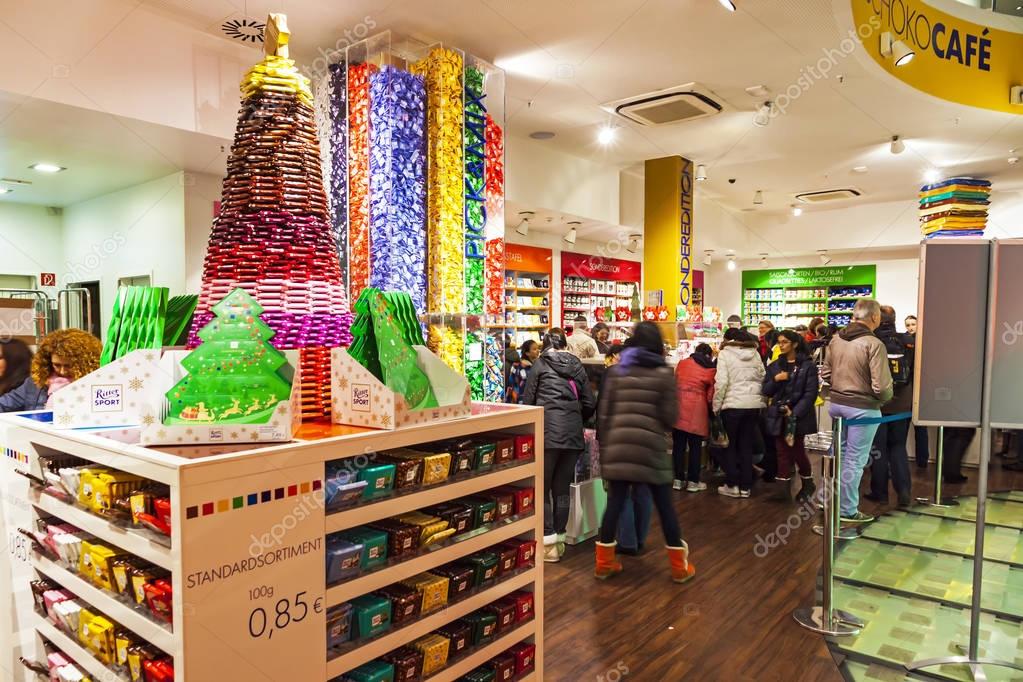 BONUS
Berlin is a great city with so much to offer for every kind of people. There are always an event, festival, concert etc. Follow Facebook events related to Berlin and use MeetUp application to socialize and find events according to your interest.